News
The Scottish Par-3 Championship shows the promise a unique venue and format can bring to stroke-play competition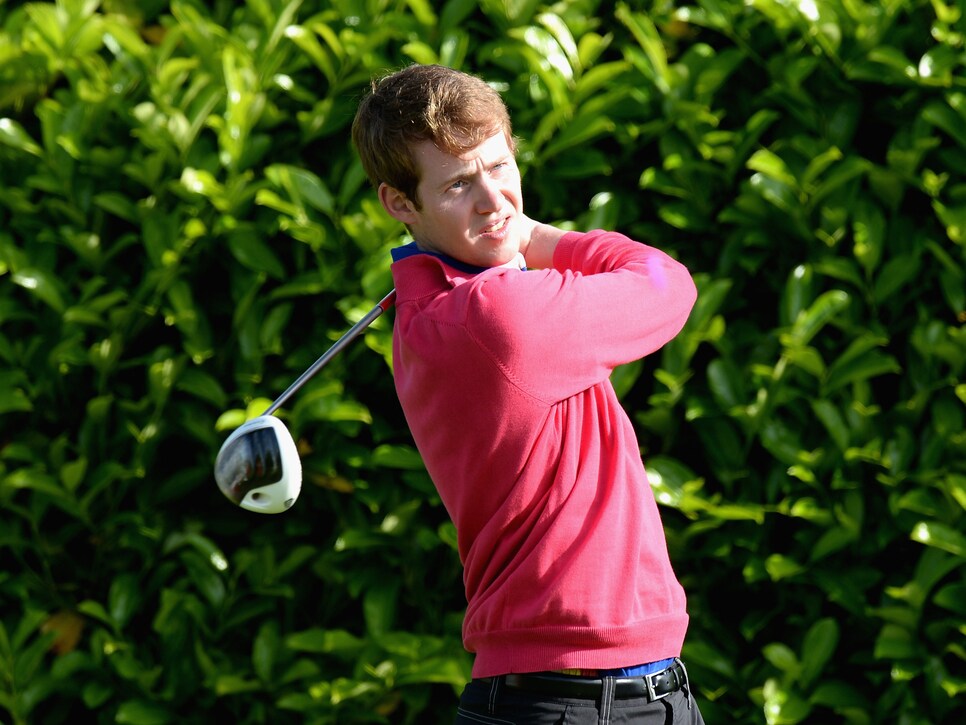 Tony Marshall/Getty Images
ABERDEEN, Scotland — Ask your average golfer to name his or her favorite holes—whether par 3s, 4s or 5s—and the responses invariably include the word "short." Hardly anyone loves long holes. Short is where it's at for most players. Think of the diminutive but deadly Postage Stamp at Royal Troon. Or the drivable 10th at Riviera. Or the 13th at Augusta National, the ultimate "risk and reward" par 5 because of its slightness. All are prime examples of holes beloved by all—and all are a long way from long. Indeed, the Postage Stamp is so short Dustin Johnson might just about be able to reach it in zero.
Multiplying that widely held preference for brevity by nine, former Open champion Paul Lawrie this week hosted the Scottish Par-3 Championship at his eponymous golf center on the outskirts of his home city in the northeast of Scotland. Over two days, four rounds and 36 holes, an eclectic mix of amateurs and professionals teed-up with EuroPro Tour (Europe's third division) player Louis Gaughan picking up his first win as a professional. A birdie at the first extra hole saw the 23-year-old Scot edge out former European Tour winner Alastair Forsyth after the pair tied on four-under-par 104. Vaughan earned £3,250 for his trouble.
The 108-strong field contained two major champions, two Ryder Cuppers and cardholders from the European Tour, the Challenge Tour, the EuroPro Tour, the German Pro Golf Tour, the Alps Tour, the Ladies European Tour, the Tartan Tour and the European Senior Tour, as well as a member of the Scottish Ladies amateur team. Connor Syme, a recent quarterfinalist at the U.S. Amateur and a member of the Great Britain & Ireland Walker Cup side that next month will take on the United States at the Los Angeles Country Club, was also in attendance.
And here's the thing: A good time was had by all. In a world where "takes too long and costs too much," is golf's most common complaint, many rounds were completed in less than three hours at a facility where an adult membership costs £300 per year (less than $400). Even more farsightedly, juniors yet to reach their teenage years can play for 12 months for one tenth of that amount.
"We were members here when my two sons were small," said Lawrie, who purchased the picturesque 1,352-yard course that sits hard by the River Dee in 2012. "We came a lot to play a few holes and hit balls. It was ideal for them. They learned how to play on a proper layout that wasn't too long for them. This is not a pitch-and-putt course though. You could put any of these holes on an 18-holer. Nothing is compromised. The bunkers are just as you would see anywhere and the holes ask for a nice variety of shots with anything from a 5-iron down.
"The great thing is that families can come here and enjoy themselves. Most people get around in 90 minutes or so. That's perfect for kids. They have a good time and don't get bored by being out there too long."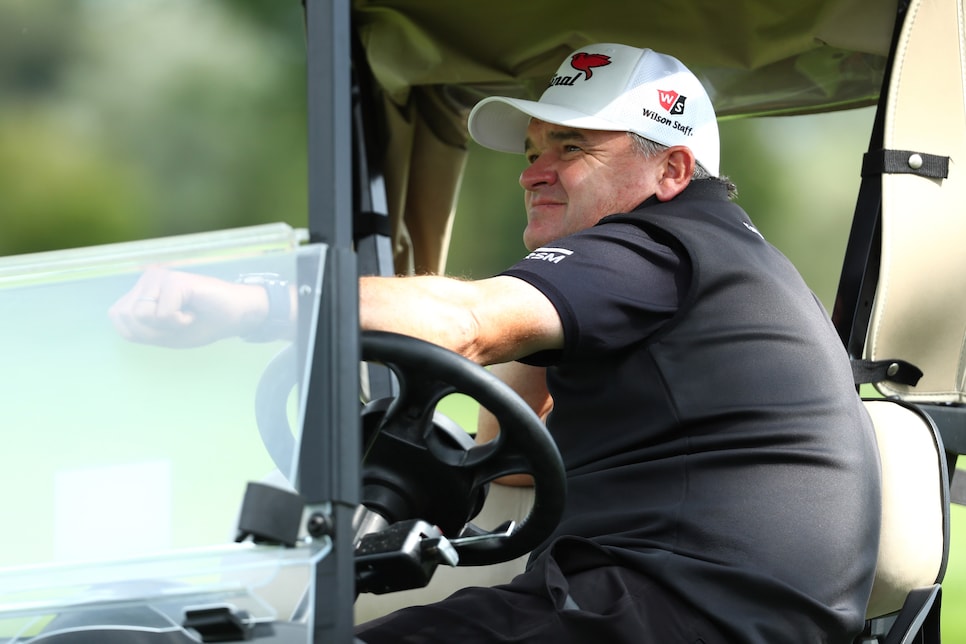 Matthew Lewis/Getty Images
Certainly, none of the competitors were complaining about any feelings of ennui at an event with a bright future. Already there is talk of moving to U.S. Open week in 2018 in the hope that majority of European Tour players not playing in the major would be able to compete.
"This is such a fantastic event and represents the future in many ways," said 2005 U.S. Open champion Michael Campbell. "The dynamics of golf have changed over the last few years, and this sort of event is going to be more common. People just don't have the five hours it takes to play most courses these days. So places like this are ideal. You can stroll round in an hour-and-a-half.
"I enjoyed it so much. I loved the variation in distances. The shortest hole is less than 110 yards and the longest is about 215. I hit everything from a 3-iron to a lob wedge. Brilliant."
Whether this inventive but not unique format—the British Par-3 Championship has been played at Nailcote Hall in the English Midlands since 2001—has a future as part of an official tour remains to be seen, but anything that interrupts the almost constant flow of 72-hole stroke-play on courses stretched to their physical limits and beyond is surely worth considering. In the U.S., the PGA Tour Champions current plays a portion of its Bass Pro Shops Legends of Golf event on the par-3 course at Big Cedar Lodge.
"Our executive director, Keith Pelley, is experimenting with a lot of different ideas, so anything is possible," pointed out European Tour player Scott Jamieson. "This could be something he might look at. I love the shorter format. It was still 18 holes, but it was so nice to play quickly. And the golf was fun, interesting and challenging. I certainly had to call on a slightly different skill set."
That sentiment was almost universally echoed elsewhere. Challenge Tour player Peter Whiteford, who finished T-8, was just one who celebrated the event's "shortness."
"There aren't any 230-yarders out there [on the Lawrie course], holes where all you are trying to do is pump the ball into the middle of the green," he said. "That's boring. Here almost anything is possible. You can be as aggressive as you like really."
All of which is great, but perhaps more important is that nine-hole facilities like the Paul Lawrie Golf Centre (one of two owned by the two-time Ryder Cup player) fill a void for those reluctant or unable to find the time and money to join a more traditional club. Unlike so many locked within that increasingly outmoded business model, the PLGC provides a welcoming environment for young people - and older citizens looking to get into the game. All those potentially intimidating rules - "Don't do this. Don't wear that. Don't walk there." - are absent. Anyone lacking experience and/or confidence is made welcome.
Fun for everyone. What a concept. With a bit of luck, it might even catch on.