The Loop
The scariest shot in golf made even tougher
That was the position Peter Hanson found himself in as he had to wait out Saturday's lengthy weather delay before taking his crack at the treacherous island green.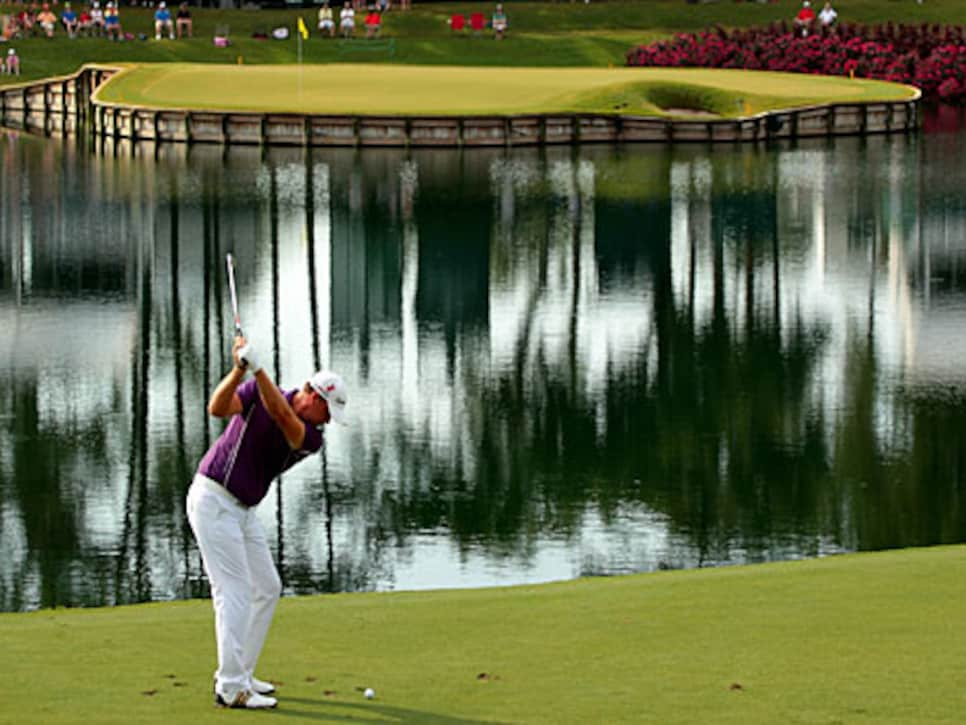 "I mean, you kind of think about that shot on 17 a few times," said Hanson of the extra-long break after leaving the 17th tee when the horn sounded to stop play. "I had the yardage 125, so I was trying to go through my head. But still when you get out there and it's your first shot of the day, you don't really know what's going to happen."
In the midst of one of the best -- and longest -- rounds of his career, the Swede pulled the trigger and avoided potential disaster by finding land. Barely.
"It's a hard shot. When it's that front pin, when it's really soft, any kind of spin on that front side and you're almost getting back in the water," said Hanson, who did at least get to play the hole under more calm conditions. "I kind of put a lot of spin on the ball even if I want to or not. So it just got saved up there."
Hanson's ball spun off the front of the green, but hung up in the fringe. He would two-putt for par and despite a bogey on No. 18, his 66 was still the day's low round by those who finished 18 holes. The round came virtually out of nowhere considering Hanson, a four-time winner on the European Tour, is competing in his first Players and had to birdie his final two holes on Friday just to make the cut on the number.
Now he finds himself in contention and in an enviable spot of not having to wake up early to complete his third round like most of the other leaders.
"Yeah, it might be a little bit of a disadvantage (for them), especially if the guys on the top are going to play 30 holes tomorrow or something," Hanson said. "It's always tough, and in this heat as well. So we'll see what happens."
Hanson will have plenty of time to think about the next tee shot he hits in competition, whenever that is on Sunday. But it's safe to say that he'll find it a little less intimidating than the the one he faced late in the afternoon on Saturday.
Follow on Twitter: [@AlexMyers3
](http://twitter.com/AlexMyers3)
(Photo: Streeter Lecka/Getty Images)