The Loop
The same Thomas Bjorn who thought he was through with golf is the one who just shot 62 at Wentworth
VIRGINIA WATER, England -- Just as Augusta National is familiar to every American golf fan, the west course at Wentworth has the same sort of relationship with European television viewers. Long-time host to the World Match Play Championship (1964-2007), the "Burma Road" has been the venue for the BMW PGA Championship every year since 1984.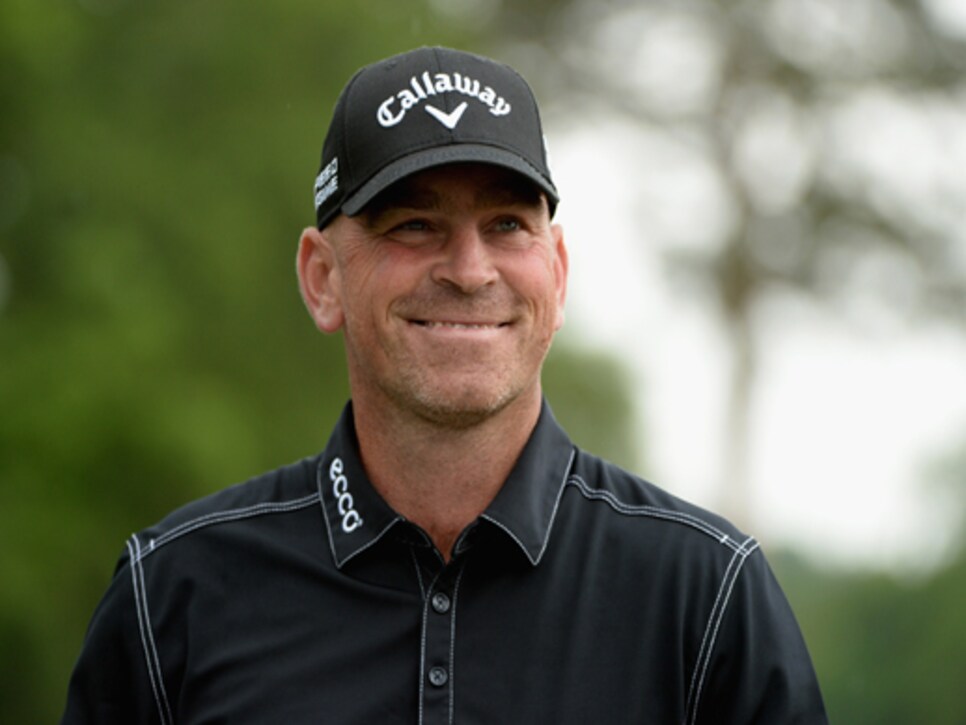 Thomas Bjorn knows the course well, too, having lived on the exclusive estate for nine years before he and his family moved back to his wife's native Sweden. Which is not to say he has always been a fan. Back in 2010, the glowering Dane and Ernie Els -- who redesigned the course -- famously exchanged a few choice words over the quality of the South African's work. Still, Bjorn's "local" knowledge finally paid off for the 43-year old Dane in the opening round of what is his seventeenth appearance in the European Tour's "flagship event.
Eight birdies and an eagle were the highlights; not once did Bjorn drop a shot in a round that simultaneously equaled the course record and was the lowest ever relative to par (Robert Karlsson shot 62 in 2010 when par was 71). All in all, not too shabby for a man who has apparently not been good enough to play in a Ryder Cup since 2002.
"If you'd asked me in August last year, I would have said another Ryder Cup for me was unlikely at best," he said. "But now it would be silly not to think I can make it. I'll be disappointed if I don't qualify."
Certainly, victory here would all but guarantee Bjorn's presence at Gleneagles in a playing capacity rather than the assistant captain role he has filled three times in the last decade. All of which is a long way from the despair he was feeling as recently as 2008, when he finished outside the top 100 on the European money list.
"I didn't think I would be playing at this age, to be honest," he said. "Between 2008 and 2009 I was really suffering. My passion for the game was gone. I found it extremely difficult to get on planes and leave home. I was getting into other stuff. I had my committee work (Bjorn is chairman of the European Tour's tournament committee). I did the US Open at Bethpage for Sky Television. I was thinking maybe I should give up playing altogether."
That would have been silly. This season alone Bjorn has won two events counting towards qualification for the upcoming Ryder Cup side and was a credible T-8 at last month's Masters. For all that, however, he arrived at Wentworth on the back of a missed cut in last week's Open de Espana.
"I have been feeling a bit frustrated with things and practice wasn't that great either," he admitted. "To play like I did today was a bit surprising. Plus, I haven't had the best record here. It's been a long time since I've had any sort of result on this course."
Asked to explain the resurgence in his form and a round he called "the best of my life," Bjorn gave most of the credit to "hard work." But his response to what had prompted such a quick turnaround in his most recent fortunes hinted at the darker side of his on-course personality.
"I've got a history of turning things around quickly," he said with a smile. "But more often than not it's the other way."
As for the upcoming Ryder Cup, he was understandably cautious.
"There's a lot of great players playing great golf at the moment, so I still think I need to do a lot more," he said.
But a couple more 62s wouldn't hurt.