News
With empathy, Jack Nicklaus says he'll be there for Tiger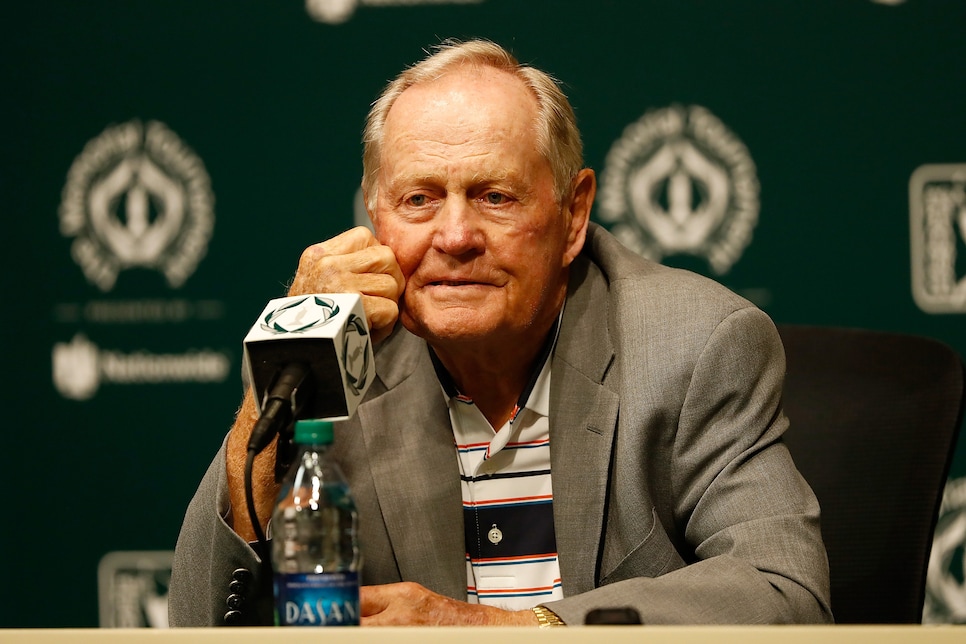 Jack Nicklaus was on stage at Muirfield Village Golf Club on Tuesday afternoon, and for 90 minutes all seemed right in the golf world.
The heart of the news conference and the subsequent time Nicklaus spent for one-on-one questions centered not on this year's Memorial Tournament or even the state of the game—although Jack couldn't help but delve into that. It was about the troubled man who chased the Nicklaus legacy from childhood. And after seeing the doleful mug shot, and reading the police report, you had to come away wondering if the self-destructive 41-year-old Tiger Woods would ever reach 77 years of age, and speak so clearly and fatherly with sage advice as Nicklaus did.
At 41, Jack had pretty much packed it in. He was coming off major championship wins at the U.S. Open and PGA Championship in 1980. Feeling he had done all he could do as a golfer, he took a step back to spend more time with his family and build a business around his growing interest in golf-course design (the 1986 Masters would be unforeseen turning back of the clock). He didn't have the four knee operations like Woods, or four back operations including the latest fusion. He didn't have to take prescribed pain medication to get by on a daily basis.
"I feel badly for Tiger as a friend," Nicklaus said in his opening comments. "He's been great for the game of golf, and he needs all our help. And we wish him well."
It was interesting to hear Nicklaus call Woods his "friend." Although Woods has won Jack's tournament a record five times from 1999-2012, there was a time when they barely conversed. Nicklaus said at Augusta in 2013 he never had a conversation with Woods longer than a minute or two—ever. "He stayed away from me from a conversation standpoint," Nicklaus said. "People ask me, 'Has Tiger ever talked to you about his record?' Never one word."
But that had changed in recent years, with Nicklaus recommending his physiotherapist and sharing time together with Woods at the Champions Dinner at Augusta National, as they did in April.
In light of Tiger's DUI, the foreshadowing of this current situation led to a discussion far more significant than Tiger bettering Jack's major championship win total of 18. Although there were questions addressing that, this was more about the comparison of Nicklaus' life to Tiger's.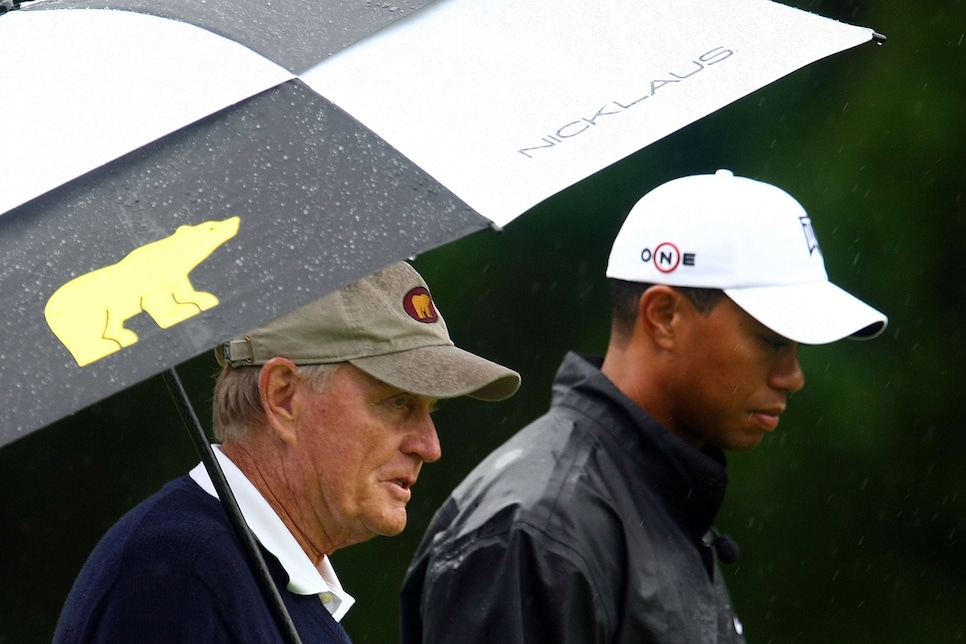 Jack was the epitome of being well-grounded, without demons to battle that allowed him to live the last 36 years with 22 grandchildren on his lap and a model wife and mother in Barbara who has always been his better half. The world was different in Jack's prime, but Jack's very much the same way now as he was in the 1980s and '90s. Well raised, old school, media friendly with nothing to be ashamed of. In so many ways the opposite of Woods' drama-filled life in the fish bowl.
"He needs a lot of support from a lot of people," Nicklaus surmised of Tiger. "And I'll be one of them."
The fact that the PGA Tour needed more than 48 hours to issue a similar statement—commissioner Jay Monahan noting, "He's a member of our family, and we're going to do everything we can to help and support him."—was surprising to me. Maybe they had enough after hosting the 2010 public apology at TPC Sawgrass. Not knowing everything there is to know about what occurred in the early hours of May 29, 2017 on Military Trail in Jupiter, Fla., maybe it was for disciplinary reasons. I reached out to TaylorMade as well. I got another "no comment" from the highest level of the equipment company that invested millions in Tiger this past January.
His peers, of course, were different. Jason Day, Dustin Johnson and Jim Furyk voiced their obvious concern, as did Nicklaus throughout the course of his State of the Golden Bear address. Their sound bites were raw and real as they reflected, like all of us, on a tragic and not so unpredictable moment in golf history.