News
Why is this man so excited? Guess you've never met Johnny Harris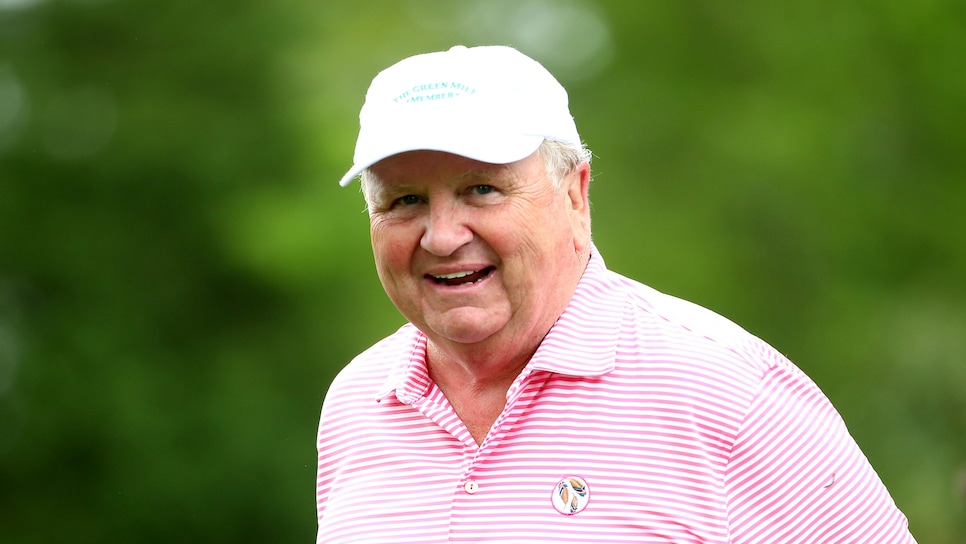 Photo By: Streeter Lecka/Getty Images
That's exactly how I expected this conversation with Johnny Harris to begin, because I know Johnny Harris. Johnny calls everybody "Podna." That includes people he should refer to with their title, like commissioners, governors, Presidents and, occasionally, even Chairman Billy Payne at Augusta National, which is one of Johnny's clubs. "You know Podna, it's been there forever," Harris was telling me this week. "It just comes out of my mouth."
Johnny is this 70-year-old, full-of-energy, larger-than-life, authentic character that will proudly host the 99th PGA Championship next week at his Quail Hollow Club in Charlotte. Describing himself as an unabashed supporter of the game, he has been club president since 1988 and literally put the Queen City on the map as a hub for tournament golf, starting with the Wachovia (now Wells Fargo) Championship in 2003, picking up the PGA for 2017 along with the Presidents Cup in 2021. When Johnny takes on a project he does it big and he does it right with a personal touch starting with that name he calls everybody.
The genesis of Johnny's trademark greeting started with one of his father's close friends, a Cypress Point member named Boney Bearden. It was Bearden who wrote the words immortalized on a plaque to the right of the club's 17th tee, asking those passing that way to pause and count their blessings. Johnny remembers Bearden calling his friends Podna.
"If you play with him for 18 holes you're going to hear Podna a lot," says former PGA Tour commissioner Tim Finchem. "John's a fun guy, and that carries on to the golf course."
"Being from New York, I was wondering what he was saying," says PGA of America CEO Pete Bevacqua. It didn't take Bevacqua long to figure it out once Johnny started telling Arnold Palmer stories and interacting on the golf course. "I had the opportunity to play golf with him and it's a blast," Bevacqua says. "There's such an energy to him, and an obvious charisma. He's someone you can tell enjoys life, enjoys being around people. It's one of the reasons why he's been successful in all walks of life. You always feel good when you're around Johnny."
Johnny is also famous for holding court and telling stories. Whether it's with the Manning Brothers on their golf trips, the annual Swallows get-together at Pebble Beach, the round table in the Quail Hollow locker room, or some of the best clubs in the world, everybody wants to be around Johnny. "You name a place and he's been a member or is a member," says golf-course designer Tom Fazio. "Or he probably will be a member."
Harris' conviviality was molded by his friendship with Palmer and the warm heart of his father, John Harris Sr. Johnny was 11 when his father brought together a group of the most influential business leaders in North Carolina to raise money for the golf club that stands as Quail Hollow. The guest speaker that night was Palmer, and afterward Johnny remembers sitting in the family library, listening to Arnold tell stories about his victory in the 1958 Masters.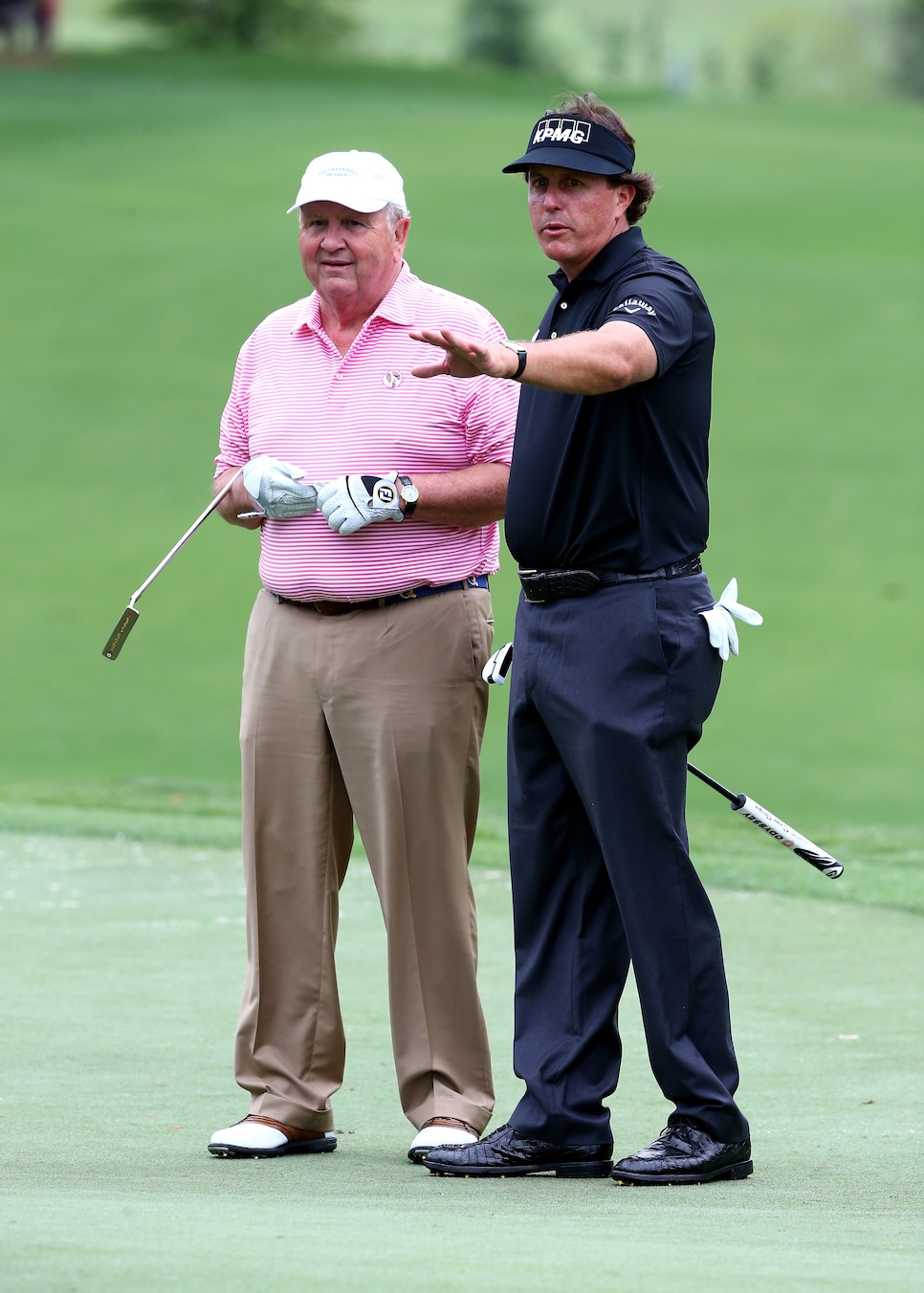 Streeter Lecka/Getty Images
Among other enterprises, Johnny's father was owner of the largest dairy farm in North Carolina, so land for this course in Quail Hollow would not be an issue. Neither would future leadership. After playing lacrosse and graduating from UNC, Johnny became a low single-digit handicap golfer, and one of the most successful businessmen in the South. He was asked to follow in his grandfather's footsteps and run for governor, but turned that down to focus on his development business in Charlotte, the second-fastest growing city in the United States.
Palmer became one of his closest friends. They talked about the things that were important in Arnold's life, his father and mother in Latrobe and "the game." When Arnold walked off Augusta National for the final time as a competitor, one of those he shared the moment with, in the Champions Locker Room, was Johnny Harris.
"I've said it before," Harris said. "The two most important men in my life were my father and Arnold Palmer."
Therefore, one of the toughest conversations Harris thought he was going to have in his life were approaching Palmer about using Fazio—the architect entrusted to oversee course changes at Augusta—to redesign Quail Hollow and get the attention of the PGA Tour. The original Quail routing, done by George Cobb, was never a favorite of tour pros competing in the Kemper Open from 1969-1979, or the Senior PGA Tour events sponsored by Paine Webber and Home Depot from 1983 to 1989.
"I called Arnold, asking to see him, and he said, 'Something's bothering you, what is it?' " Harris recalls. "I need you to know we're going to let Tom Fazio look at the golf course. The first thing he said to me was, 'Well, if you're not going to hire me, you might as well have second best.' " Palmer declined Fazio's offer to cooperate in the project, saying to Fazio, "Tom, you do your product. Don't mess it up by having me cooperate."
That was the starting point in a series of golf-course redesigns, clubhouse expansions, better traffic grids for public transportation and continued Southern hospitality, all turning Harris' vision into an overnight success on the PGA Tour schedule. Johnny offered incentives like valet parking for the caddies and flights to the old Vanderbilt mansion in Asheville for wives and significant others. Phil Mickelson is a regular. Tiger Woods won in 2007 and played every year when healthy. Rory McIlroy and Rickie Fowler recorded their first tour victories at Quail Hollow.
The idea of hosting a PGA Championship came to Harris while he was attending a reception of golf's power brokers with his wife, Deborah, during the 2004 PGA at Whistling Straits. Sitting with past president M.G. Orender, Harris turned to Deborah and said, "All these people are here looking for a Ryder Cup and a PGA. Why don't we do that?" So with that he reached out with Orender, who brought the idea to then PGA CEO Joe Steranka. The club was officially awarded the PGA on Aug. 31, 2010.
"That was $10-15 million ago," says Harris, who is famous for taking care of the little things like personally overseeing changes to the service roads to a major decision of re-designing the opening three holes just after the final round was played of the Wells Fargo in 2016. This one took some selling with Bevacqua and Kerry Haigh, Chief Champions Office for the PGA. With a 90-day window and rotating crews working around the clock, club members were playing the new holes on the 89th day. More improvements are planned for the Presidents Cup in four years.
"First of all, John is the kind of person that is always looking for how you can do it better," Finchem says. "It doesn't matter what it is. And to do that, he's a good thinker ahead of time. As far as how golf tournaments go, this is very important. If you're going to make significant change in progress, you've got to have a long–term strategic plan that works out over a period of time. He's the guy to say, where are we going to be in five years, where are we going to be in 10 years? What's the best thing for our club, for our members, what can we achieve for charity in Charlotte over the years to come? He's always thinking way down the line."
Playing off what he learned from Palmer, the theme for this week's PGA is that Johnny wants this to be the happiest PGA ever. And in some ways it already is, with Quail Hollow setting a record for corporate hospitality even before Baltusrol set the record a year ago. As Fazio points out, Johnny is a doer. He makes things happen.
"It doesn't cost any money to smile," Harris says.
So the message for all the volunteers, all the employees, everyone that comes to Quail Hollow next week, is simple. You're all one of Johnny's Podnas.