News
Nick Price, Mike Davis and a new path for the USGA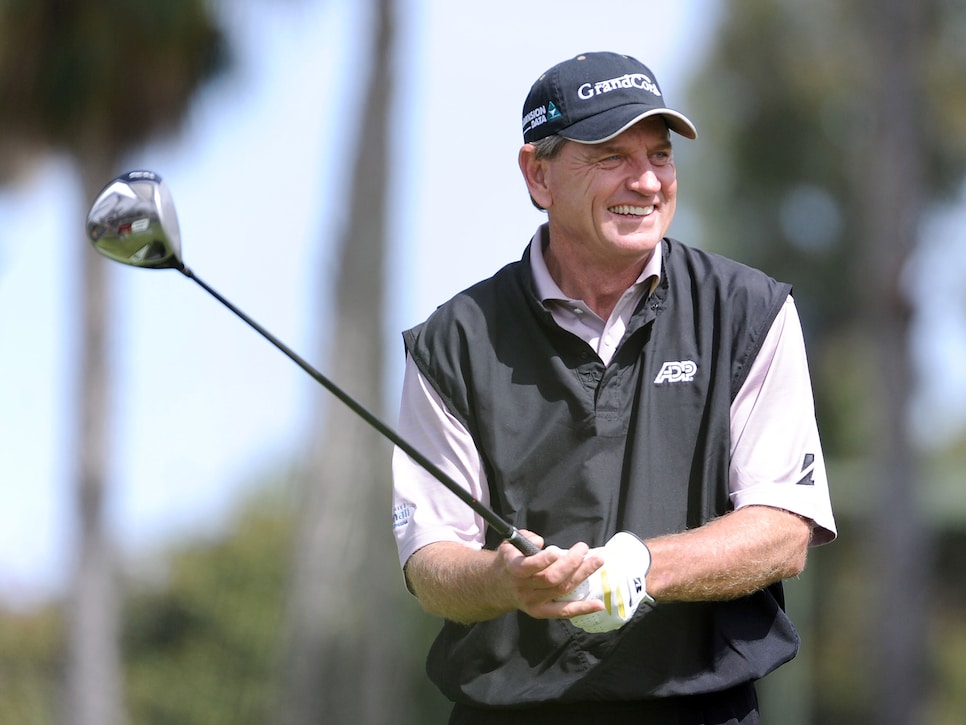 Photo By: Harry How/Getty Images
Nick Price had been friends with Mike Davis for a while, the two, joined by their wives, having shared dinners together on occasion at the waterfront restaurants along the Jupiter Inlet. The Hall of Fame player and the executive director of the USGA were connected through their memberships at Seminole Golf Club, but it was while breaking bread that Davis got to thinking about Price joining the USGA's Executive Committee.
During their meals Price would pick Davis' brain about technological advancements in equipment, site selection of USGA championship venues, philosophy on course setups and best-practices in agronomy. It turns out their minds worked the same ways.
"At one of those dinners he said, 'Mike, I would like to somehow help you guys in any way I can,' " Davis told me. " 'I'm getting to the point where I'm not going to be playing competitive golf that much longer. I just want to give back to the game.' That give back to the game resonated."
Price's interest and passion resonated with members of the the USGA Nominating Committee, who added him to their 2018 slate for the 15-person board that will be voted on at the USGA Annual Meeting next February. Iconic amateur golfers Francis Ouimet, Bobby Jones and Fred Ridley, the new Augusta National chairman, have previously sat on the committee, but never a tour professional of Price's caliber. That's why Price rates this honor ahead of winning the USGA's Bob Jones Award and the PGA Tour's Payne Stewart Awards for service to the game.
"This is new ground," Price told me. "I'm just humbled they chose me. There are 100 other guys they could have asked to do it, so it's very humbling. This is a major step forward for the USGA. I'm excited to be a part of it, I really am. For decades, for as long as I can remember, there was an attitude that it was our way or the highway. These should be interesting times ahead."
What could provide the most interest is not Price being the link between amateur and professional golf, or his assistance in setting up U.S. Open venues to avoid controversies and the potential criticism from tour players. Some of the USGA's patriarchs like Joe Dey, P.J. Boatwright and Frank Hannigan might have been uncomfortable with this dynamic, but it shows that in the wake of various recent rules controversies that the USGA is willing to admit it doesn't always have the right answers on everything.
"It's good for us to have relationships with players, whether it's a recreational golfer, an amateur golfer, junior amateur golfers, senior golfers or men's and women's tour golfers. I think definitely it improves our relationships with the tours," Davis says, while admitting, "It's gotten away from us some, and our role is to get better at that. At the end of it, if we do well, it's good for the game of golf, and as a tour player, you want to see golf excel. So I can't imagine Nick won't be a tremendous asset in terms of relationships with the players. He grew up being a player, and that's how he sees it, from that perspective. It's just different playing on the tour, that's your mindset, so it will be a welcome addition."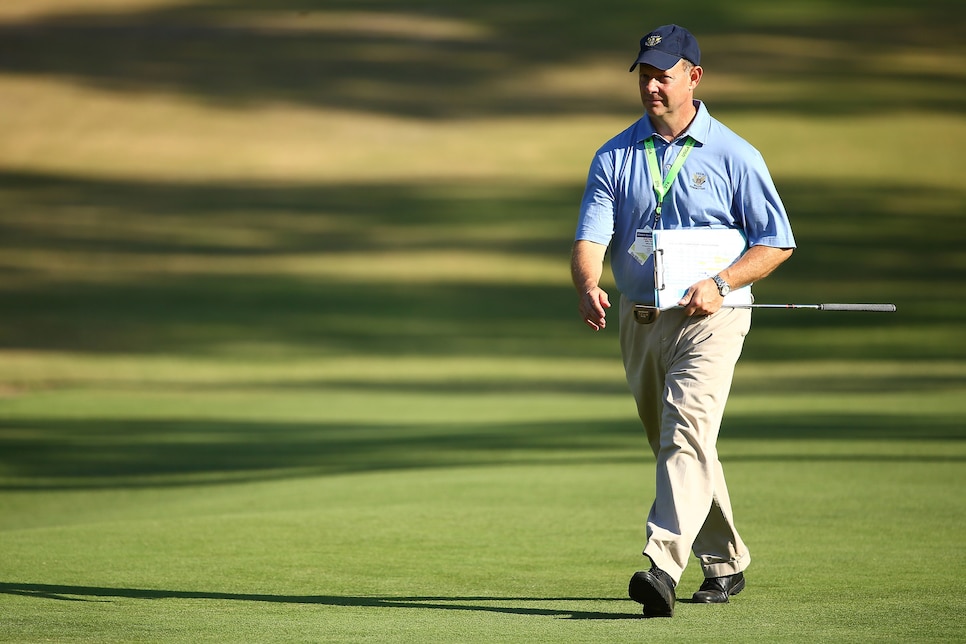 I asked Davis if we would be seeing Price walking Shinnecock Hills before sunset next June, checking hole locations and tee markers at the U.S. Open? "I hope so. Absolutely," was his immediate response.
I also asked Davis that with Price in the room, would this lead to a serious examination of where the professional game is going in terms of distance. Davis' answer was not as straightforward, but he wasn't discounting it, either. He pointed out that neither has Martin Slumbers, the chief executive of the R&A.
"As we look to the future, the thing I've always said is we're mindful of the past and you have to be respectful of the past. But things over the last 600 years have changed, and they've innovated themselves."
Davis pointed out that it was the same when Ben Hogan was playing, and players like Gene Sarazen and Jones were lamenting going from hickory to steel shafts.
"The concept of courses continually having to expand [due to] equipment is the wrong thing," Davis continued. "It needs to be the opposite. Equipment has to fit courses. There is no other sport that changes its playing arena to fit equipment." He used the Green Monster at Fenway Park as an example, and how the Red Sox would have to move the wall back 100 feet if aluminum bats were legalized.
"But that's exactly what's happened in golf," Davis said. "You learn from the past, but for us, it's looking forward."
Of course Davis is coming off a U.S. Open venue at Erin Hills that could have been stretched to 7,800 yards and was annihilated by Brooks Koepka, who shot 16 under to win by four strokes, and Justin Thomas, who shot nine-under 63 in the third round, the lowest score in relation to par in U.S. Open history. But he seems more concerned about sustainability and the cost of water going up four-fold between now and 2030. It's those issues at the recreational level that might just be more pressing.
Price is on the same page as Davis on all of this in terms of having concerns about the future. Not long after we spoke, Tiger Woods used his platform to say on a podcast what Jack Nicklaus has been saying for decades, "Something has to be done about the golf ball."
It's more than coincidental that in the 2002 U.S. Open won by Woods (averaging 296 yards off the tee) at Bethpage Black, that Price was one of the loudest voices complaining the 7,214-yard par 70—then the longest in U.S. Open history, was going to be unplayable to some of the average length players, in particular three par 4s that played 500-plus yards. "If they keep doing this, they'll take the fun out of the game because only a few guys can win," Price said at the time. "But maybe that's what the USGA wants."
Fifteen years later, maybe that's not what the USGA wants immediately. Asked point blank if part of his mission was going after the ball, Price said that was a "TBD."
"I have my thoughts, and I know what I think, but I don't know what they think," Price said. "I'm looking forward to working with the tech guys, and I have spent a little time with them. All I'm saying, this is an opportunity for us as professional golfers to do something with the USGA that's unique."
Does unique mean bifurcation of the rules between the pros and the everyday game or, simply as Woods said, rolling the ball back? Either way, having a well-respected Hall of Famer helping deliver the message will make it an easier sell.
But it's not all about the ball. That's just the hot-button topic right now. If there's a bad green at Shinnecock, or a rules violation like what happened to Dustin Johnson in 2016 at Oakmont, it can't hurt to have Price in the loop with the USGA.
"Is there anybody in the world of golf," wonder Davis, "who doesn't think the world of Nick Price?"
The question seems rhetorical. But if not, the answer honestly seems to be no.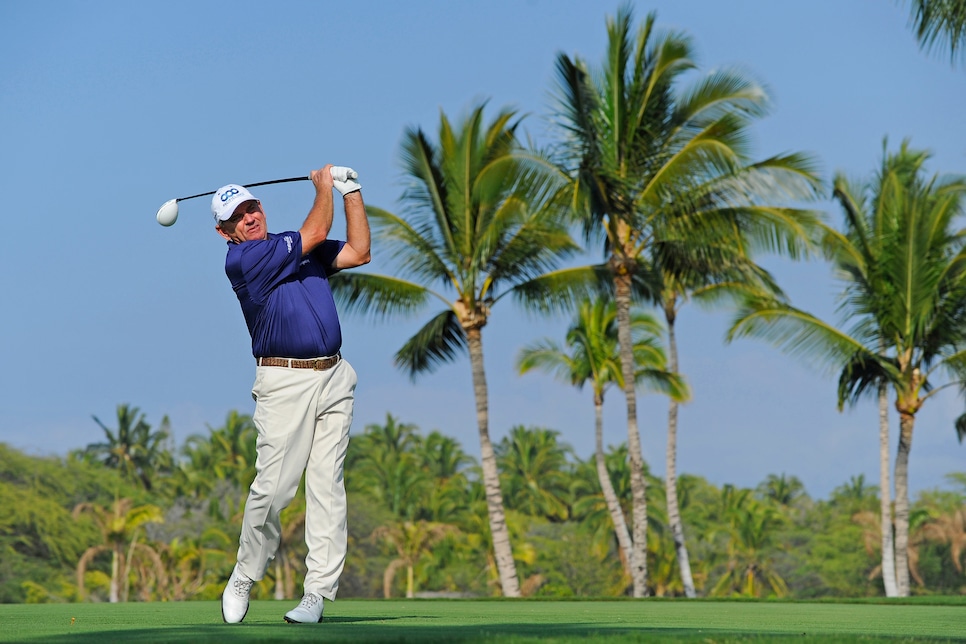 Chris Condon/Getty Images