News
How Nick Price is changing the way we think of the Presidents Cup
The International team captain has the toughest job in team golf, but he's optimistic this third time around could be a turning point in the match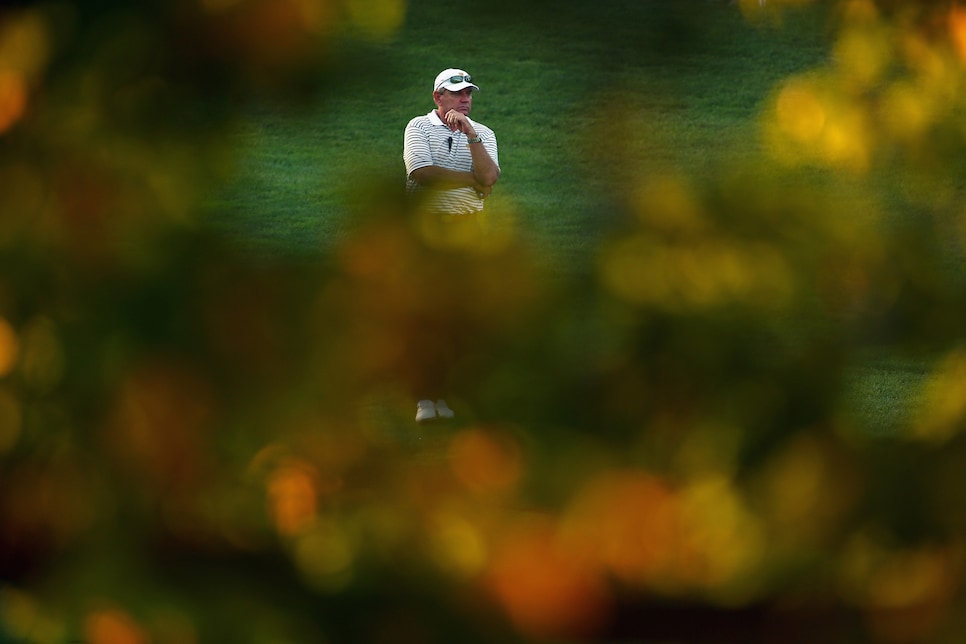 Photo By: Andy Lyons/Getty Images
The 17-hour journey home from South Korea following the 2015 Presidents Cup wasn't as long as one might imagine for Nick Price. The International team captain kept thinking back to the 1983 Ryder Cup, when the Europeans turned the tide of American domination with an incredibly hard-fought one-point loss at PGA National against a U.S. team captained by Jack Nicklaus that included major winners Tom Watson, Raymond Floyd, Ben Crenshaw, Lanny Wadkins, Curtis Strange, Lanny Wadkins and Tom Kite. At least that's how Seve Ballesteros framed it in the European locker room.
"All the guys were glum and down," Price said in a conversation we had recently. "But Seve went in and said, No, no, no. This was big for us. We can compete now.''
I asked Price how he felt on that flight home, and it took him 20 seconds before responding. At one point he said, "I'm trying to find the right words here." Finally he said, "I think with a lot of enthusiasm for the upcoming Presidents Cups."
Enthusiasm was never a word used to describe the team that has a 1-9-1 overall record against the Americans since the match's inception in 1994. But enthusiastic was Price's team room at Incheon. Four of the five sessions in South Korea ended with the United States only up by one point, as the International side fell by a slim 15½-14½ margin.
"We were so close to it, we could almost taste victory in South Korea,'' Price said. "This one is also a very important to the Presidents Cup, it really is."
Price has laid this foundation and created the chemistry Tony Jacklin did as captain when Seve addressed the European squad 34 years ago. "I can't attest to what has happened in the past, but I can attest to what I felt when I was in Incheon and what was the mood of the team room on Sunday, even though we fell just short," said Anirban Lahiri, one of Price's captain's picks. "It was a positive outlook for the week and looking forward. A whole bunch of us have waited for two years to get this opportunity again to go the distance."
"We also know this is the last time Nick lead us, so we're all extra motivated. We know what he's done for the team and we want to give back to him." —Anirban Lahiri
Whether Incheon was truly a turning point, or a simple moral victory, will be determined this week at Liberty National Golf Club in Jersey City, N.J. Going up against an American team that boasts Dustin Johnson, Jordan Spieth, Justin Thomas, Brooks Koepka, Rickie Fowler and Phil Mickelson, with Tiger Woods in the team room, the Statue of Liberty on the horizon and what promises to be a boisterous New York-New Jersey crowd, seems like a big ask for Price's underdogs to pull off. But being a cosmopolitan metropolis, with a diverse population of Asians, South Americans, South Africans and Australians, Price sees his International team getting some gallery support, too.
Can what he's done—adjusting the format in 2015 from 34 to 30 points and inspiring the team through his leadership—make it close again or even lead to an upset finish? Maybe not, but the three-time major winner and Hall of Famer can take credit for changing the culture for his team surrounding the event.
"Put it in a nutshell, when I took over, when I was first asked in 2012, I spoke to a few of the players and the feeling I got back then was a little bit of apathy toward it," Price told me. "That was very deflating for me as a captain. Some of the more experienced guys who had been on it had sort of become, Well, we love the event, but the competition … it's clearly not a competition. That was the feeling I got. Nobody actually said it was that, but that was the feeling I got talking to the players."
That was not the feeling I got talking to players on Price's team. Have things changed?
"Yeah, definitely," said Marc Leishman. "My first Presidents Cup [in 2013] compared to my second Presidents Cup [in 2015], I feel like we bonded earlier that week as a team. The feeling around the team room was just a lot better. Hopefully it will work better this time. We've got more guys that have played before. We know each other. Everyone on the team knows each other well. It's going to be very tough to beat the Americans, but I feel like this is a good opportunity for us. There are a few guys in good form that have bonded well, so I'm really excited for the week."
Lahiri was part of the thrilling finish at Jack Nicklaus G.C. that most of America's golf audience didn't see live because of the 13-hour time difference on the East Coast. His four-footer for birdie on the final hole of his match against Chris Kirk lipped out, otherwise the match and the matches would have ended in a tie.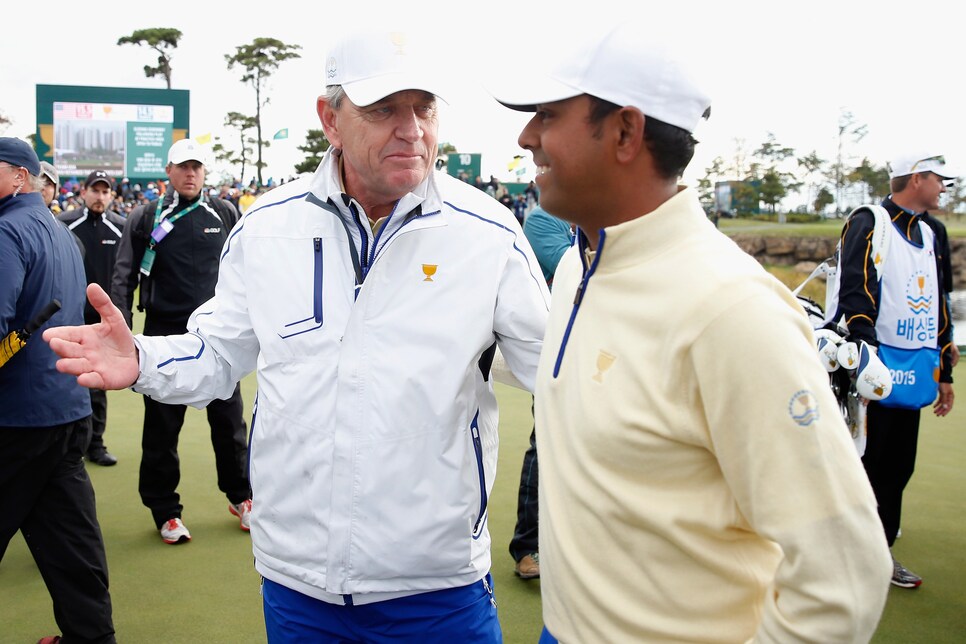 Scott Halleran/Getty Images
"We couldn't lose if he made that," Price said. "But I'm telling you what, Anirban hit a phenomenal putt. I felt for him. I think we all did. The emotion he felt after he missed that putt was something to behold. I told Anirban, you may never face a putt of that pressure again."
That pressure showed in the way South Korea's Sang-Moon Bae played the 18th in the deciding match against Bill Haas. So it came down to the last hole twice, and for the first time since the epic draw in South Africa in 2003, the competition was competitive. The next step is continuity. Brandon Grace, for example, went from 0-4 in 2013 and 5-0 in 2015. Lahiri went 0-3 in his debut, but Price had the faith to make him a captain's pick this year.
The other element baked in is that Price needs players to make birdies, which is what Grace certainly did setting the major-championship scoring record with a 62 at Royal Birkdale in the Open Championship. Jason Day, while he's lacked energy for most of the summer, is ranked T-6 in birdie percentage. Before winning the Valspar Championship in March, Adam Hadwin shot 59 at the Career Builders. What Price needs is for Hideki Matsuyama to bounce back from his heart-breaking loss in the PGA Championship. He went into the Tour Championship ranked fourth in birdie average.
Price has also learned by experience. In his first Presidents Cup as captain, a three-point loss at Muirfield Village in 2013, the Zimbabwean admits having a hard time blending the cultures. Seven world-class players return from that team, with Adam Scott, Matsuyama, Day, Leishman, Grace and Louis Oosthuizen, creating a nucleus for Price in his pairings.
Also to the point of continuity, Price was able to get PGA Tour commissioner Jay Monahan to approve an additional assistant captain. Without calling it a task force, this was his way of grooming Ernie Els, Geoff Ogilvy and Mike Weir for future captaincies, while allowing him to have representation in each of his practice groups. It's not unlike the Pods System introduced by Paul Azinger at the 2008 Ryder Cup.
The buy in seems to be real, as does the sense of players wanting to win this one for Price. "We also know this is the last time Nick lead us, so we're all extra motivated," Lahiri said. "We know what he's done for the team and we want to give back to him."
Price no longer has to ask if it means something to the guys on his team. Knowing they want to win for him, it may mean too much.