News
The Presidents Cup on the Hudson
Liberty National, once a superfund site and butt of jokes, is ready for action.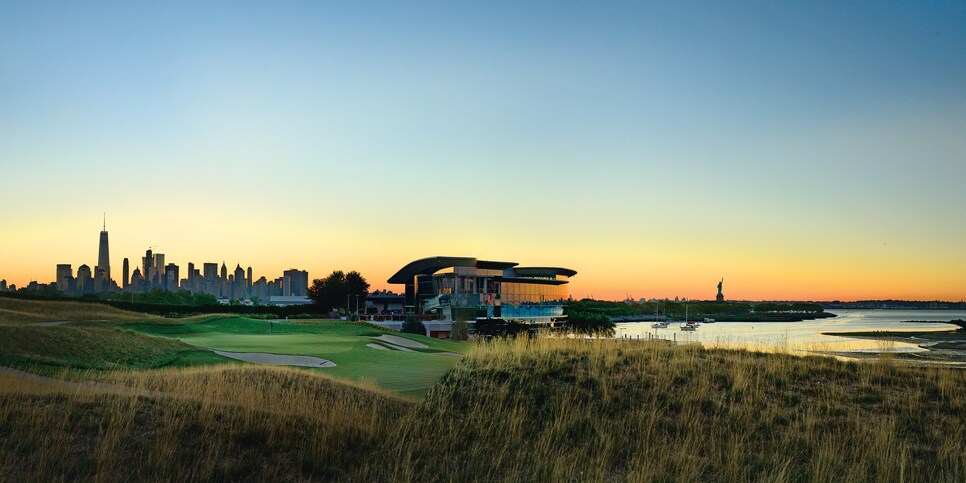 Photo By: Photo by Dom Furore
Liberty National Golf Club is inspirational, going from Federal Superfund cesspool to Presidents Cup showcase, but it has been sadly shackled to a poor national debut. As host of The Barclays in 2009, the Jersey City, N.J., layout got trashed by pros and the press. Its architecture, by Bob Cupp and Tom Kite, is subtle and stylish, intended to be thought-provoking, not easily absorbed. One hole rewards length, another accuracy. One puts a premium on the recovery game, another on approach putting. But in 2009, most simply saw a 7,400-yard course with small greens and gusty winds off New York Harbor, so thumbs went down after a single round.
Some participants launched into comedy routines. "Maybe Tom did this course before his eye surgery," said Tiger Woods.
"They ruined a perfectly good landfill," said one unidentified caddie, channeling Dave Hill's critique of Hazeltine National at the 1970 U.S. Open.
The nadir was reached a few years later, when our sister publication, Golf World, released the results of a survey of anonymous tour pros, ranking the courses they'd played that year. Liberty National was the consensus pick for Least Favorite, a position relabeled as Worst Course on Tour.
Ironically, Cupp, who died last year, and Kite considered Liberty National one of their greatest achievements. Kite had first been alerted to the site in 1992, shortly after he'd won the U.S. Open at Pebble Beach. He brought in Cupp, with whom he'd been involved in previous designs, to view the property with him. What they saw was dreadful. Kite described it as "flat as a table. Ugly, abused, mistreated."
It had been a harbor-side oil terminal for nearly a century, the ground infiltrated with petroleum, lead, beryllium toxic PCBs. In the 1950s, it had served as an ammunition depot. "We were pretty sure any travesty known to man was on this property," Cupp said.
The cost of cleanup was picked up by taxpayers, and the developer would be allowed to build a course atop the site at its own expense, under strict regulations. In recent years, Liberty National's price tag has been reported as $250 million. About 90 percent of that figure were Superfund cleanup costs.
After a dozen years of regulatory issues, the course was finally constructed, built like a giant layer cake, capping the site first with impervious fabric and clay, then soil, then sand, contouring the holes to make certain no pipe or tree root would ever pierce the contamination cap. Six million cubic yards of earth and sand were delivered, 200 dump trucks per day for two years.
The layout opened in 2006. "Everything is 100 percent created," Kite said at the time. "The big thing in golf-course design right now is minimalist design. This is light-years on the other side of the spectrum."
Kite and Cupp were proud of their concept. Holes close to the harbor are links-like, with tall, wavy fescue grasses edging twisting bentgrass fairways. Away from the shoreline, the motif changes to that of Central Park, with lush, manicured rough and 5,000 fully grown transplanted oaks, maples and evergreens. One par-3 green they'd fashioned in the manner of the tricky third green at Augusta National; another after a Donald Ross green at Pinehurst. They directed the longest holes into the wind, to keep them playing long. Two holes were deliberately aligned with the Statue of Liberty, just offshore. It can also be seen from several other holes.
They were not pleased when Golf World anointed it Worst Course on Tour. Nor was the owner, Paul Fireman (of Reebok fame and fortune), or the PGA Tour, which had contracted for another Barclays in 2013. So in 2010, the course was remodeled by a PGA Tour Design Services team headed by architect Steve Wenzloff.
The media took that as affirmation of their previous condemnations and gleefully reported that 74 changes had been made to Liberty National's design. This was technically true, but most of the changes were insignificant: a greenside knob lessened, a cartpath moved, a fairway mowing line re-contoured. Three greens were totally rebuilt to lessen severity of slopes, and nine others had some contours softened. Two new fairway bunkers were added and six eliminated; hardly the stuff of wholesale redesign.
Kite and Cupp were consulted before the renovation, offered their input, and fully participated. Wenzloff reports that Cupp even handled all the construction drawings.
Although not widely reported, most players gave favorable reviews of the "new and improved" Liberty National at the 2013 Barclays, calling it far more receptive, mainly because, though the tall fescue roughs remained, the primary rough of thick bluegrass was mowed short, allowing players to get a club on the ball instead of hacking it out. "The teeth will still be in it," Wenzloff said, "but the teeth won't sink as deep into your skin."
'The teeth will still be in it, but the teeth won't sink as deep into your skin.'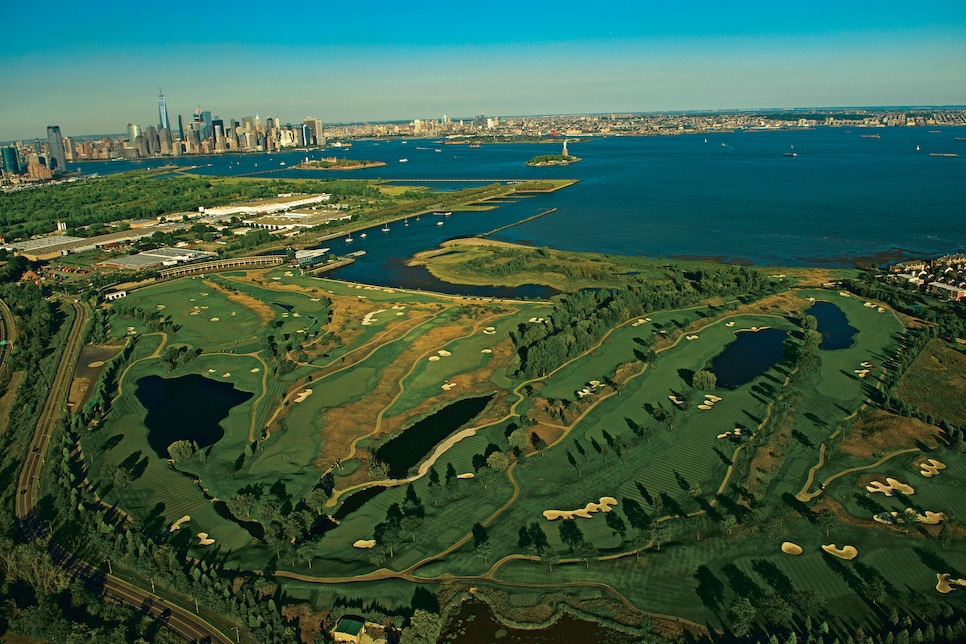 ROUTING ALTERED
With the PGA Tour again running the show for the Presidents Cup Sept. 28-Oct. 1, expect Liberty National's setup to mirror that used at The Barclays four years ago, with one major exception. The routing will be altered, a process that seems de rigueur for modern-day professional match-play events, from previous Presidents Cup sites at Robert Trent Jones Golf Club and TPC Harding Park to last year's Ryder Cup venue, Hazeltine National.
At Liberty National, players will use the southern end of the 400-yard-long practice range, on a less-expansive "teaching tee" that can accommodate the limited field of players. From there, players will be looking directly at the skyline of Manhattan, perhaps a psychological boost for the American team.
From that practice tee, it's a few steps to the back tee of the fifth hole, which will serve as the opening hole for the Presidents Cup. The sixth becomes the second hole, and so on. Officials want us to believe the renumbering of holes was done to assure that the normal concluding holes (all very scenic and dramatic) will be played by most matches, but in truth it assures that lucrative corporate tents around those holes will see the action.
The normal closing hole will thus be the 14th hole, and the final four will be the normal first through fourth, an interesting stretch of two par 4s of less than 400 yards and two par 3s, neither of them touched in the 2010 renovation. They are the stuff of calendar art. The par-3 16th points directly at Miss Liberty, although the view will likely be blocked by bleachers or tents. The par-3 18th (with the green that is a mirror image of Augusta's third) faces the same Manhattan skyline visible from the practice tee, with spectators on the hillside above the back tee afforded a far better vista than players below.
Although the burn and pond edging the par-4 15th could derail some, the closing stretch will be arguably four potential birdie holes, far from the original finish of back-to-back tough par 4s designed by Cupp and Kite. Of course, they had been contemplating stroke-play events. The Presidents Cup is man-to-man. Let's hope a majority of the matches make this final glorious loop, where the arenas are far more intimate and the cheers might be heard on Wall Street.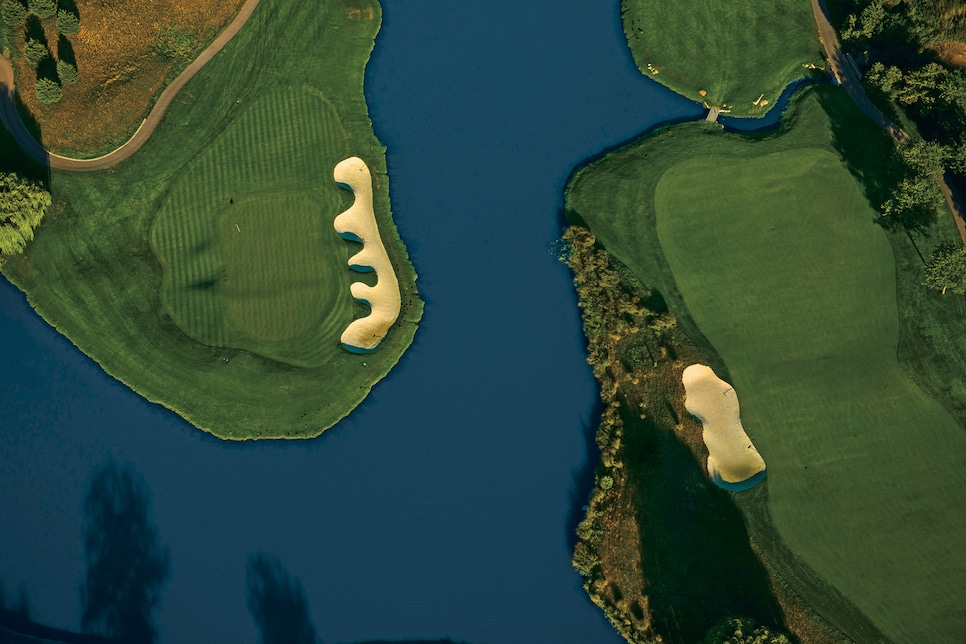 U.S. DOMINATION
The U.S. Team is 9-1-1 In the Presidents Cup, winning the past six competitions after a tie in 2003:
1994: U.S. 20, International 12
Robert Trent Jones G.C.
1996: U.S. 16½, International 15½
Robert Trent Jones G.C.
1998: International 20½, U.S. 11½
Royal Melbourne G.C.
2000: U.S. 21½, International 10½
Robert Trent Jones G.C.
2003: U.S. 17, International 17
The Links At Fancourt (S. Africa)
2005: U.S. 18½, International 15½
Robert Trent Jones G.C.
2007: U.S. 19½, International 14½
Royal Montreal G.C.
2009: U.S. 19½, International 14½
Harding Park
2011: U.S. 19, International 15
Royal Melbourne G.C.
2013: U.S. 18½, International 15½
Muirfield Village G.C.
2015: U.S. 15½, International 14½
Jack Nicklaus G.C. (South Korea)
Thursday, Sept. 28
Five matches (foursomes), 11:30 a.m. to 6 p.m., Golf Channel
Friday, Sept. 29
Five matches (four-ball), 1-6 p.m., Golf Channel
Saturday, Sept. 30
Four morning foursome matches and four afternoon four-ball matches, 8 a.m.-6 p.m., NBC
Sunday, Oct. 1
A dozen singles matches, noon to 6 p.m., NBC