The Loop
You're never too young to act like Mr. Palmer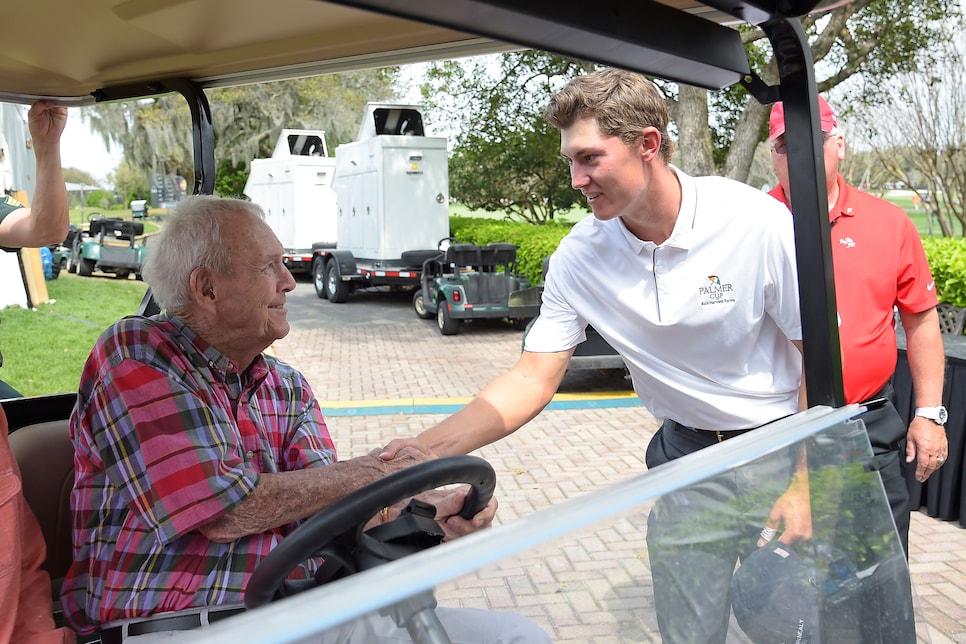 The procession outside Arnold Palmer's office last week at the Bay Hill Club & Lodge never seemed to end. Young and old, they came to see the 86-year-old host and thank him for what he had done for their lives, and for the game of golf.
Two of the admirers paying homage to Palmer were high-profile amateurs competing in the Arnold Palmer Invitational on sponsor's exemptions. Maverick McNealy, 20, and Bryson DeChambeau, 22, met Palmer last year in Latrobe, Pa., as part of a visit organized by U.S. Walker Cup captain Spider Miller.
The reunion in Orlando for McNealy and DeChambeau was an emotional one. They are impressive golfers; both made the cut, DeChambeau shooting a Sunday 66 while playing with Rory McIlroy to take low-amateur honors while finishing T-27. But more than that they reflect the ethos that Palmer made famous. In fact, that's how McNealy received the invitation—winning a vote of his teammates on the 2015 U.S. Palmer Cup squad as the collegiate player who most embodied Palmer's legacy.
"Take your hat off. Give time to the media and the fans, because they're really what makes golf so much fun and such a big deal for us," McNealy noted when we talked on the Bay Hill range about some of the principles Palmer passed down. The Stanford junior who was the 2015 college player of the year added looking a person in the eye, offering a firm-but-not-too-firm handshake, writing a legible autograph and composing hand-written notes as other Palmer staples he emulates.
Not surprisingly, McNealy told me he has a stack of personal stationary in the desk drawer of his dorm room. "Just those little things that show the true character of [Palmer] are really, really cool," he said.
So was having Palmer in a golf cart following him on the back nine Thursday (shown above), when McNealy shot 69 while paired with Arnold's grandson, Sam Saunders. It was a tale McNealy plans to share with his children and grandchildren someday. "That was the coolest moment of my life for sure," he said.
DeChambeau, the U.S. Amateur and NCAA champion who will be turning pro after the Masters, said he "teared up" after leaving Palmer's office on Wednesday afternoon. "It was tough on me because I have so much respect for him as an ambassador of the game," said the former SMU physics major. "He's got such a solid heart, even at this age."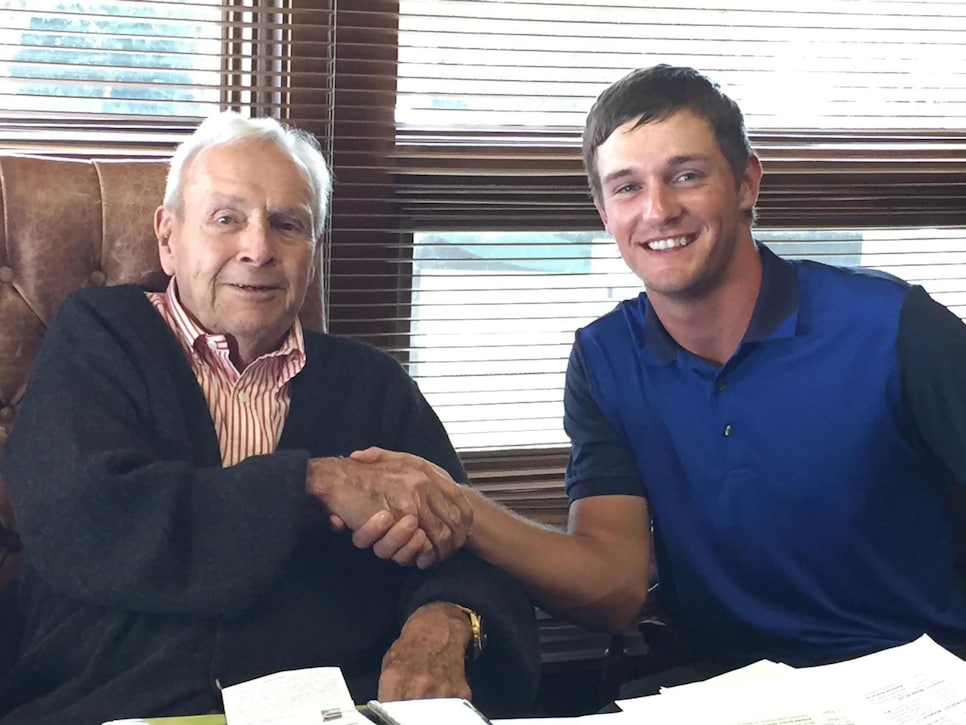 Palmer's age was something Saunders addressed with me in the Bay Hill locker room, and over lunch with McNealy before their opening round. Saunders made the point that while Palmer won't be an honorary starter at the Masters next month for the first time since 2007, his presence will be felt.
"It's hard to understand sometimes how much he means to golf," Saunders told me. "We should always honor him and be like him."
Participants in the Palmer Cup—the college version of the Ryder Cup—get the "Be Like Arnie" message and feel the responsibility of passing it on down. "Apart from playing good golf, I think it's my duty to make the most of it in terms of comportment and thank everyone for making this possible," McNealy said. "I'm just out here having fun, and there are so many people who have done so much for me to get here, that it's the least I can do."
DeChambeau looks forward to soaking up a little more quality time with Palmer in two weeks at Augusta. "I don't know how much longer I'm going to see him or be able to see him, and it's tough to even say that," he said. "I want him to keep going for however long he can."