The Loop
Is Zac Blair finally the best golfer in his family after his third-place showing at Waialae?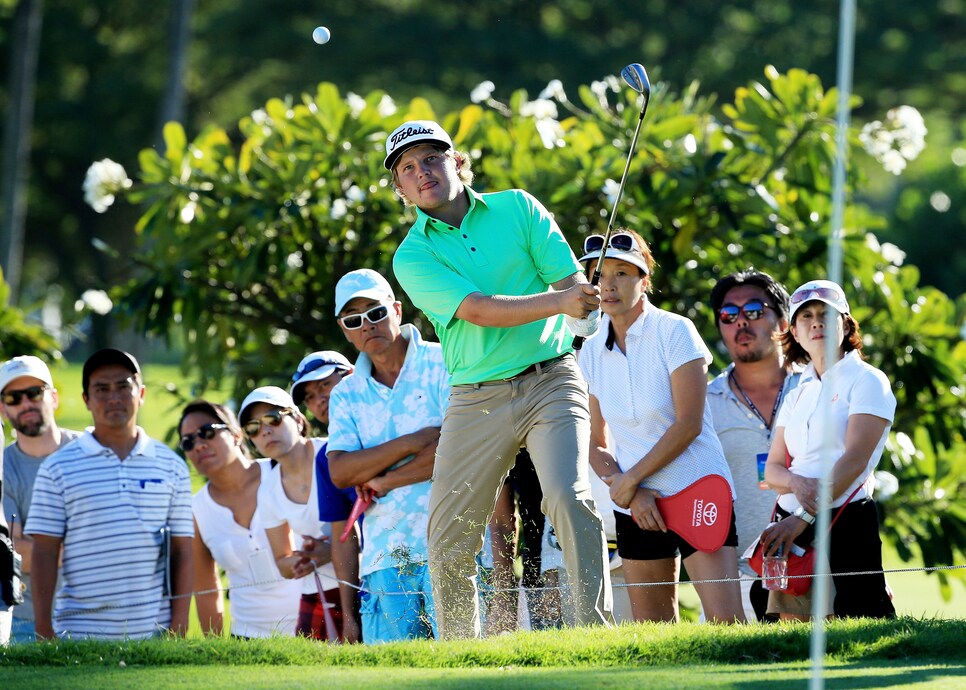 Before his son, Zac, came along, Jimmy Blair was described by a Salt Lake City sports columnist as "arguably the most successful native golfer the State of Utah has produced this side of George Von Elm and Jay Don Blake."
Johnny Miller called Jimmy, his fellow Brigham Young University alum, "sort of a little guy that was tough to play against." Six PGA section championships and State Open titles in six starts proved Miller's observation to be true.
Out on the PGA Tour, though, Jimmy Blair never made it big, competing in 31 tournaments over a two-year period before he was back in Utah as a golf-course owner and operator. Calling himself "The Pete Dye of miniature golf," Jimmy opened two family golf centers called Mulligan's Golf & Games, in part so Zac had a place to hit balls in heated bays during the frigid Utah winters.
A third-round co-leader at the Sony Open in Hawaii who ultimately finished third on Sunday, Zac played more tournaments as a rookie on the PGA Tour in 2015 than dad did his entire career. Entering 34 events, Zac went in stretches like 11 out of 12 weeks from the Sony Open through the Shell Houston Open and 12 out of 13 weeks ending at the BMW Championship in September.
The reason? "If I was at home I'd be playing anyway, sun up until sun down," Zac said. "It's pointless for me not to be out here."
I talked to father and son as they rode the express train from New York to Providence after Zac's T-4 at the Barclays last year, a season-best showing that bumped him at the time from 106th to 44th in the FedEx Cup standings. During the week at Plainfield Country Club, they attended three straight games at Yankee Stadium and were headed to a Yankees-Red Sox at Fenway Park before playing at the Deutsche Bank Championship.
"It was a bucket list thing to do," Zac told me of going to Fenway with his dad. "He did everything in his power to give me a great life growing up, including all the means I needed to get out here. He's the one that backed me. He sacrificed a lot."
Listed at 5-foot-6, 155 pounds, Zac doesn't exactly have the power game that young stars Justin Thomas, Patrick Rodgers, Emiliano Grillo and Smylie Kaufman rely on. Ranked 180th in driving distance with a 273.1-yard average, Zac usually needs old-fashion layouts like Plainfield or last week's Waialae Country Club—where he finished T-6 in last year's Sony Open—to bring out the best in his game.
"He's a fun guy to watch," said Miller, whose son Todd coached Zac at BYU. "He's got the spunkiness of a 14-year-old."
Zac needed some of that spunkiness to overcome missing a two-footer for birdie on the 18th hole Saturday at Waialae that would have given him a 63 and the solo lead with 18 holes to play. But waking up tied for first was a victory in itself compared to where he was at the start of the 2014 season. With no status, Blair played his way on the PGA Tour's Latinoamérica and Canadian circuits, ultimately needing a second-place finish at the Web.com Tour Championship to lock down a tour card.
"It was a long 15 months, kind of always on the bubble, in that zone where you never know," Jimmy said. "He just had to keep grinding through it."
Having Andy Martinez, Miller's former caddie, on the bag, helped Blair deal with the grind of being in the last group on Sunday with proven-winner Brandt Snedeker and FedEx Cup points leader Kevin Kisner in contention. While coming up a stroke shy of the playoff between winner Fabian Gomez and Brandt Snedeker, Blair's best career finish on tour brought with it confidence.
"This won't be the last time he's in contention," Martinez said. "I expect to be knocking on the door a lot of times with this guy."
Move over George Von Elm, Jay Don Blake and Jimmy Blair.
Editor's Note: This story first appeared in the Jan. 18 issue of Golf World.