News
Hunter Mahan's lonely quest to find his game
Once No. 4 in the world, the 35-year-old is playing at the Web.com Tour Finals to regain his tour card and kick start a stalled career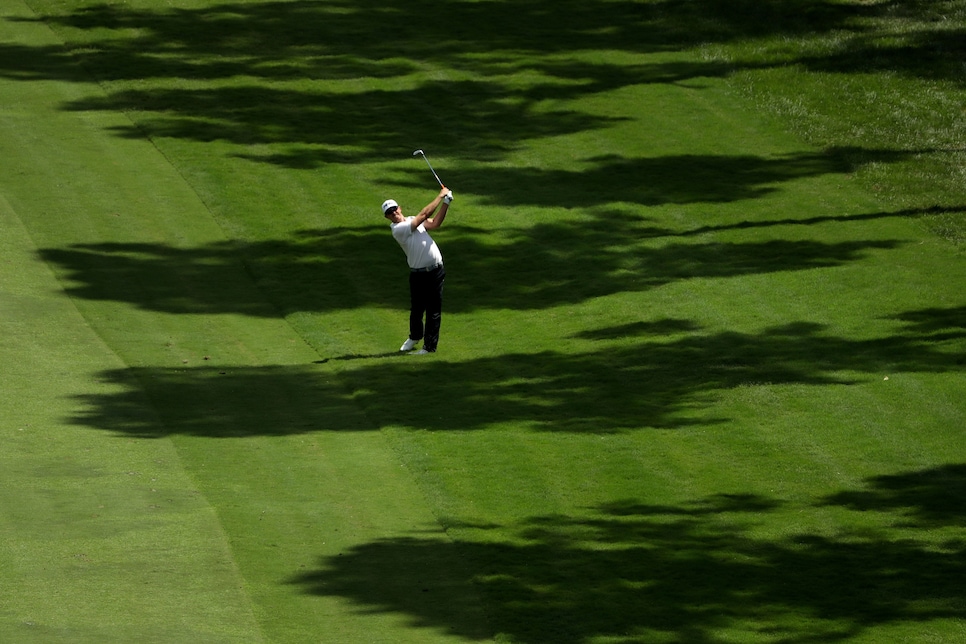 Photo By: Streeter Lecka/Getty Images
Three years ago, Hunter Mahan headed to TPC Boston and the then Deutsche Bank Championship at a high point in his career. Days before, against a field that included Jason Day, Rickie Fowler, Rory McIlroy and a rookie by the name of Jordan Spieth, Mahan—the only player at Ridgewood Country Club to have played in all 29 previous FedEx Cup Playoff events—shot a final-round 65 to collect his first post-season victory and his sixth career PGA Tour title. The triumph would eventually lead the 32-year-old to become a captain's pick for Tom Watson's ill-fated 2014 Ryder Cup at Gleneagles, the seventh time Mahan represented his country in a Ryder or Presidents Cup.
This week, Mahan once again has playoffs on his mind, just those from a different tour. Instead of TPC Boston, Mahan is playing at the Scarlet Course at Ohio State in Columbus, Ohio, competing in the first of four Web.com Tour Finals Series events, the Nationwide Children's Hospital Championship. This after a PGA Tour season in which he had just two top-25s in 26 starts and finished 182nd on the FedEx Cup points list.
Though humbling, the next four tournaments represent an opportunity for Mahan to play his way back to exempt status and, perhaps, jumpstart a career that not long ago showed so much promise. Last fall, Mahan changed swing instructors, leaving long-time friend and counselor Sean Foley for Chris O'Connell, a one-plane swing advocate that turned around Matt Kuchar's career. The philosophies between the two instructors—or at least the way they are explained—represent a change in methodology for the now 35-year-old Mahan, who spent eight years working with Foley.   "Chris and I have done a lot of really great work,'' Mahan acknowledged Tuesday night. "It's been a difficult change for us at times. It's been a frustrating change because there have been days with really good results and successes, but taking it to the course and under pressure has been a completely different animal."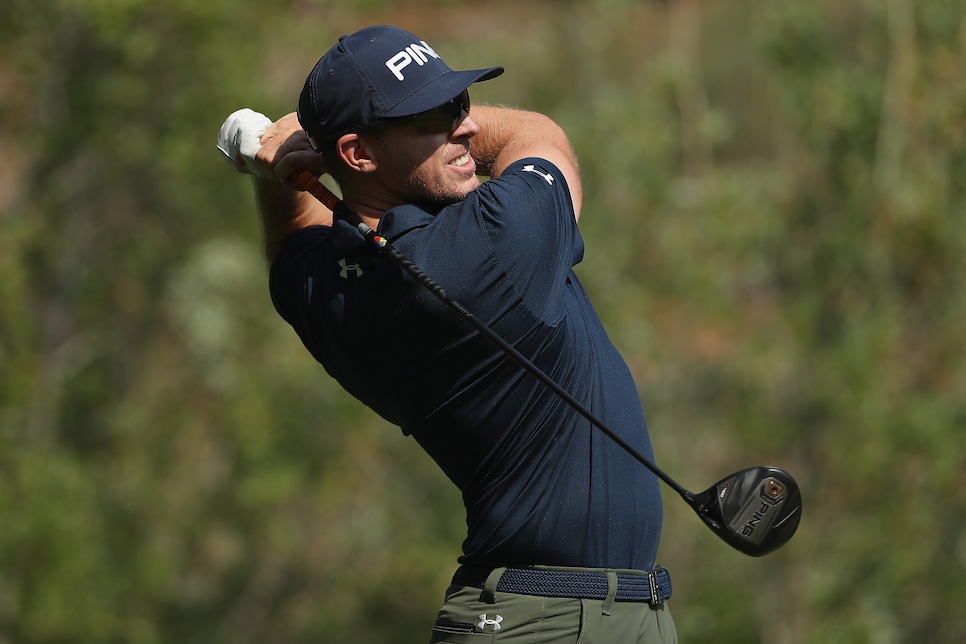 Christian Petersen/Getty Images
Indeed, it's hardly resembled the game Mahan showed when he peaked as the fourth-best player in the world following his win over McIlroy in the 2012 WGC-Match Play Championship and his victory five weeks later in the Shell Houston Open. It's almost hard to remember that he made it to the Tour Championship eight straight years, and nearly claimed the $10 million bonus for winning the FedEx title, only to see it snatched away when Bill Haas somehow played that crazy shot from the lake waters at East Lake in 2011.
Mahan and O'Connell were connected through Tom Dundon, a mutual friend and developer whose golf interests include Trinity Forest in Dallas and Topgolf. O'Connell had been following Mahan's career since he finished second in the 2002 U.S. Amateur and won the Haskins and Hogan Awards before wrapping up his college career at Oklahoma State in 2003. Seeing Mahan struggle, Dundon was persistent that O'Connell was the correct fit.
"I don't expect Hunter and Kuch to look alike, but they both do specific things critical in the area of delivering the club into the ball," O'Connell said. "I told [Mahan] at first, 'I don't want to teach you anything you didn't know or do. I simply want to put back what you were doing when you were highly regarded as one of best hitters out there.' I would not want to do anything else but just restore him."
The restoration process involves rebuilding confidence. Mahan missed seven straight cuts in the early stages of the transition, but he's coming off a T-16 at the Wyndham Championship that included back-to-back 65s. He jumped from 791st to 731st in the world at the Wyndham, and goes into the Nationwide Children's Hospital Championship ranked 748th. And he started the week right in Columbus, shooting an opening-round 68 on Thursday to sit just three strokes off the lead.
"I hit it pretty well at Greensboro, so it's progressing in the right direction," Mahan said. "I'm excited to play again. I feel like it feels somewhat manageable, where I felt like there were times when it wasn't manageable. I felt like I was blind throwing darts at a dartboard and hoping for good results instead of swinging with confidence."
The relationship with Foley, which started in late 2008, remains intact. It was hard to leave a figure who in many ways seemed like a big brother. "It does feel like when you get rid of a caddie or coach on tour, you're somewhat severing a relationship, even though you don't want to. Sean and I text about all kinds of different things. I still love the guy, love our time together, love who he is and what he's about, so part of it was hard because of the unknown, I felt like. But it was easy because I knew what our friendship was based around, and it wasn't based on my success in golf. It was based on the types of people we were."
Foley is on the same page.
"We got it right for a long time together, and then for whatever reason we couldn't," said the instructor. "At that point, the last thing I want to do is watch a friend who's struggling and [keep him from] going somewhere else and getting better. That's great. You can't be at this level in any sport and take it personally, because it's not personal."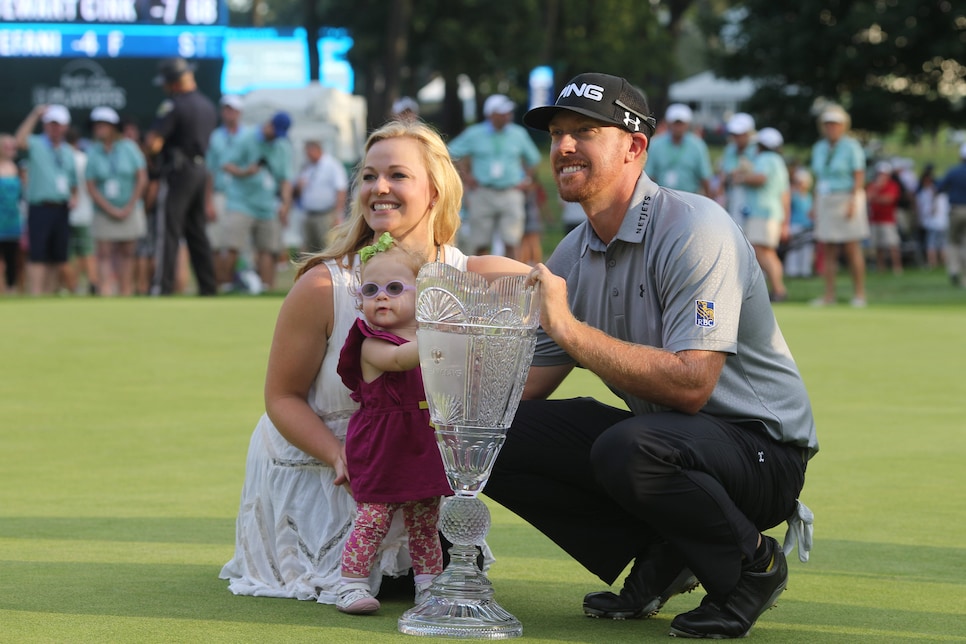 There was a theory on tour that Mahan's change in direction had to do with with him starting a family. He has three children at home in Dallas—Zoe, Miller and Hazel—all 4 or younger. "Being at home, the thing I realize is that I'm just completely out of it now,'' Mahan admitted to me last September. "I feel no attachment to it. I'm just at home, being a dad and focused on next year and what I can do to get better at that. What's happening in golf right now I'm very far from."
But that was before retrenching with O'Connell and refocusing on his career. "I think that gets overblown," Mahan said when we spoke this week. "I don't know if I conveyed that message. I think I love being a dad more than anything and I've always enjoyed my time at home with my kids and my wife and everything, which a lot of people do. I don't feel like I'm unique in that respect."
He's also not unique in wanting to see those children run across a green someday, and into his arms, as he's celebrating his seventh PGA Tour win.