The Loop
How Rich Beem took one for the European Tour (and Ian Poulter) by not playing in Hong Kong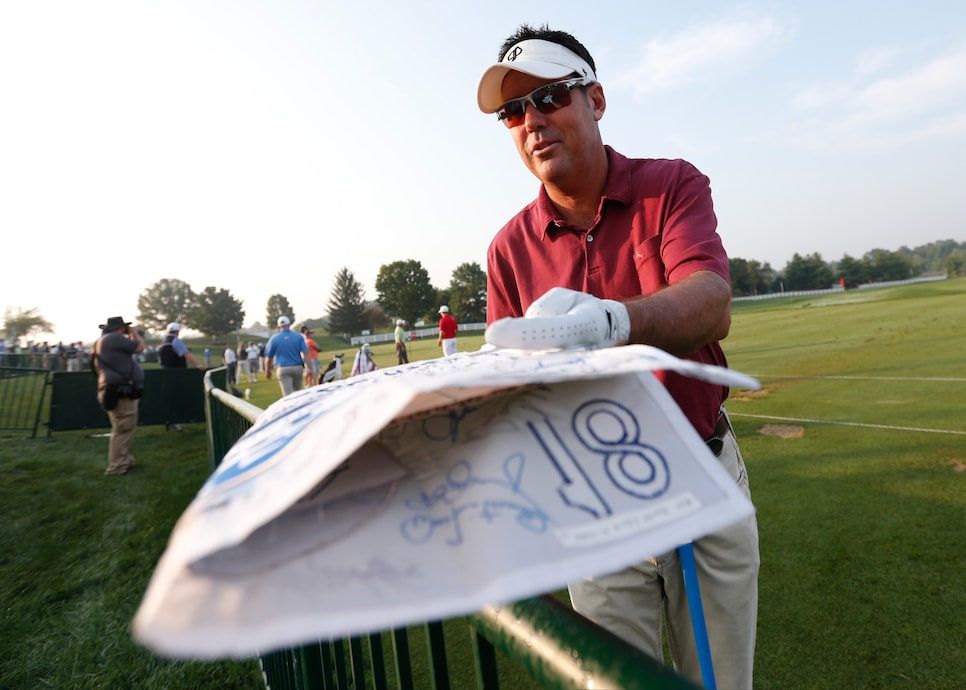 When I reached Rich Beem, he was making the utmost best of a potentially bad situation. Stationed in a box above the finish line at Happy Valley Racecourse in downtown Hong Kong, the 2002 PGA champion was awaiting his steak dinner, had just bet the 3, 6, 9 and 12 horses, and was being compensated by UBS, the tournament sponsor, just to be Rich Beem.
By that point the opening round of the UBS Hong Kong Open was in the books. Ian Poulter shot a 67 after traveling from Orlando at the last minute to make it there. And Beem, the man asked to step down so that Poulter could ultimately make his mandatory number of European Tour events to be eligible for the 2016 Ryder Cup team, was being treated like a king.
"You've known me for a long time," Beem told me last Thursday evening. "Sitting around and sulking about something that doesn't need to be sulked about is not my style."
The paybacks for Beem were a weekend of TV work for the European Tour's world feed and an invitation to next year's Hong Kong Open. His corporate relationship with UBS was signed before the week. After using his airline mileage points to fly over last week, Beam was ultimately hoping for two round-trip tickets next year, so he can bring his wife, Sara.
"I've had a lot of people telling me, 'Ask for this, ask for that,' '' Beem said. "I don't need to ask for anything. Whatever happens, happens. It's all good. I'm totally content."
Beem got the calls from tournament and European Tour officials starting at 9:15 on Monday night, the same day he arrived from Austin, and two hours after taking a sleeping pill. Jet-lagged and feeling groggy, he asked to sleep on it—but couldn't. The more the son of a PGA member—Larry Beem, who passed away in September at age 78—thought about it, there was really only one decision to make. "My dad taught me well," Beem said. "Nobody is bigger than the game."
Beem sat down and talked with Poulter. He realized the circumstances of the Englishman dropping out of the top 50, and how that affected his standing with the European Tour and the Ryder Cup selection process. Beem called it a nice sit-down conversation.
"He gave me a very sincere apology, and I fully accepted," Beem said. "Neither one of us wanted to be in this position. We were kind of put into it."
At 45, Beem makes his living as a broadcaster for Sky Sports. Ranked 1,710th in the world, the PGA Championship was his only event in 2015, but he played Hong Kong in 2014 and enjoyed it. In June he wrote a letter asking for a sponsor's exemption that was granted, another reason he decided sitting out was the right thing to do.
"I'm out here giggling, it's so hysterically funny," Beem said after the 9 and 12 horses finished 1-2. "Instead of watching the ponies, I'd be back in my hotel room, eating room service."
Before hanging up, Beem wanted me to know his steak had arrived after his horses cashed in. The good karma kept flowing. "Have to keep going," he said. "Hong Kong is an expensive place."