The Loop
Harmon says Mickelson did the right thing by dropping him as an instructor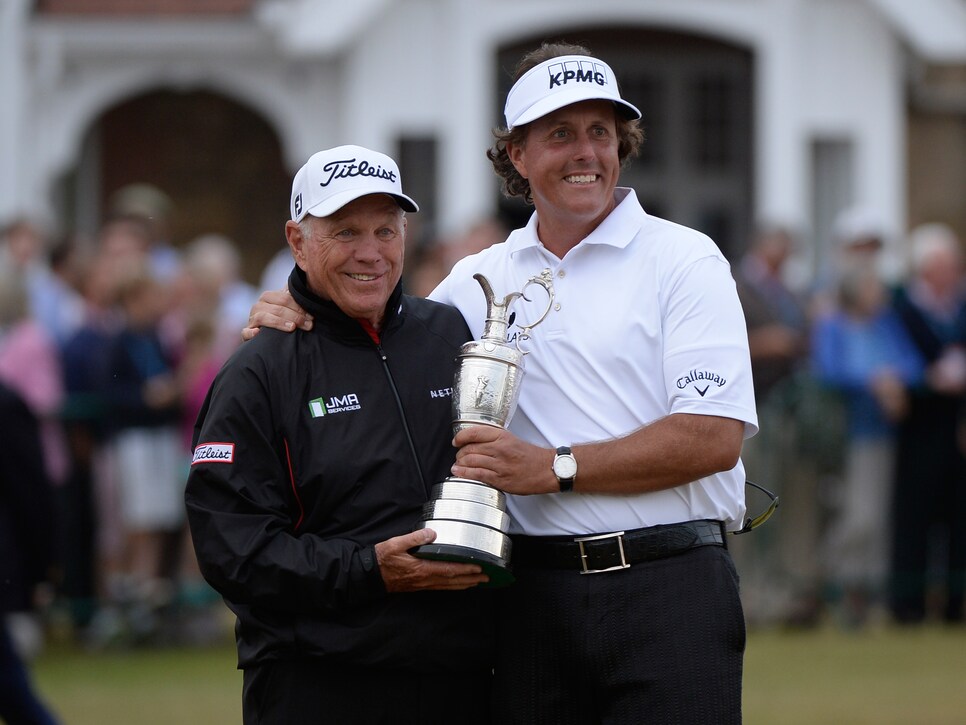 In the middle of news breaking on Phil Mickelson leaving Butch Harmon, I received a text from a leading instructor that read: "What do Greg Norman, Tiger Woods, Phil Mickelson, Ernie Els, Fred Couples, Davis Love III, Adam Scott, Justin Leonard and Stewart Cink all have in common?"
The answer is obvious. At one time or another, those major-championship winners all worked with—but also left—Harmon, the No. 1 instructor in every Golf Digest 50 Best Teachers in America survey since 2001.
So the message is this: Players leave instructors regularly, even if they're close friends, even if it's the legendary Harmon. Couples was telling me at the Schwab Cup how tough it was to leave his former college teammate Paul Marchand to work with Harmon for a four-year cycle that produced Freddie's last tour win, at the 2003 Shell Houston Open. Now Couples is back with Marchand.
Couples' bottom line on Mickelson leaving Harmon? "Eight years is a long time, and I know one thing: Phil's a better player because he worked with Butch. So am I."
With Mickelson, Harmon could see it coming and wasn't surprised when the player he had worked with since 2007 called to say he wanted to fly to Las Vegas for a breakfast meeting. After Mickelson's greatest career high—winning the Open Championship at Muirfield in 2013—he had two substandard years and wanted to take a new approach to the art and science of swinging a golf club.
"I thought it was a good idea that he would do this," Harmon told me. "[Phil] needs to hear things differently, and maybe that'll get him rejuvenated and get back to what we all know he can be."
Mickelson had come to Harmon looking to change the causes of the loose swings he had made while nearly winning the 2006 U.S. Open at Winged Foot, especially during a killing double bogey on the 72nd hole. Harmon initially tried to tighten up the left-hander's past-parallel backswing by getting Phil to retain more flex in his left knee at the top.
Though Phil tried, he couldn't (or wouldn't) totally buy in. The swing under Harmon didn't look much different than when Lefty was working with Rick Smith, with whom Mickelson won the 2004 and 2006 Masters and the 2005 PGA Championship. With Harmon, Mickelson almost immediately won the 2007 Players and captured two more majors, the 2010 Masters and the 2013 Open.
In the process, Butch became a close friend and a coach who instilled belief. Harmon also provided insights into Tiger Woods that helped Mickelson begin to outperform Woods in their head-to-head matchups.
Can Andrew Getson, a relatively unknown Australian instructor based at Grayhawk Golf Club in Scottsdale, get Mickelson, at 45, "back to what we all know he can be"?
Getson, 41, is off to a good start, having given Mickelson a tip on posture that led to his 3-0-1 record in the Presidents Cup. The two are scheduled for a session on Nov. 19. Mickelson told me an announcement from his camp about their working together will be made in January.
"I gave him a hug and told him I hope it works out for him," Harmon said. "I want the best for Phil."