The Loop
Bernhard Langer's new putting stroke has people talking (but not for all the right reasons)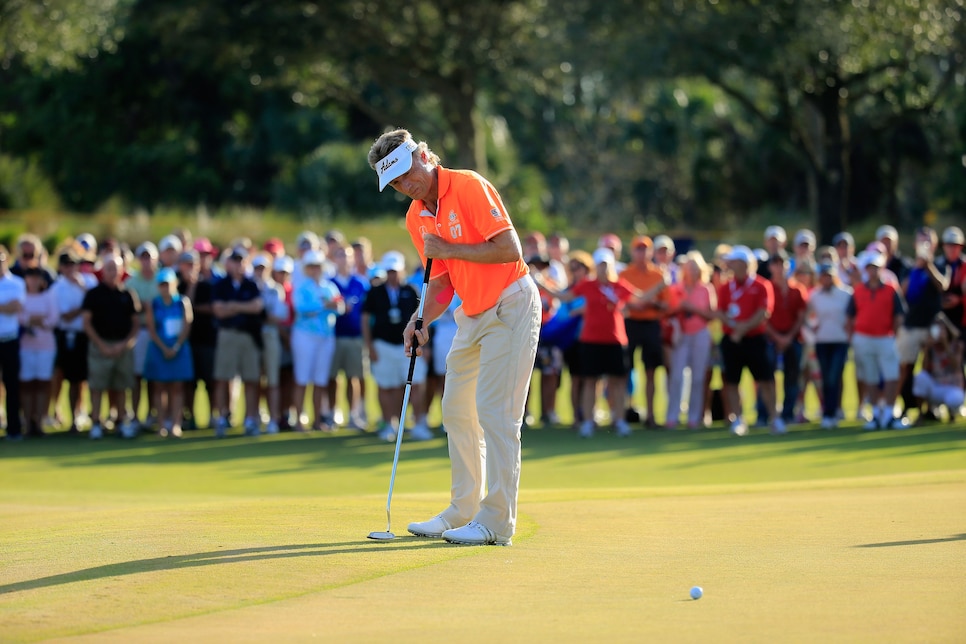 Bernhard Langer is known as a man of great integrity.
But when it comes to the Jan. 1 anchoring ban and the adoption of Rule 14-1b, the 58-year-old Hall of Famer's new method is being scrutinized. The debate relates to the technique Langer has adopted for his practice stroke (anchored) versus his actual stroke (non-anchored but close enough—to some—to be questionable).
The discussion heated up after Langer's victory two weeks ago at the Chubb Classic, his self-described "first win unanchored" and his 26th on the PGA Tour Champions circuit. But it has been a situation Brian Claar, vice president of competition for the 50-and-older tour, has monitored since the season-opening Mitsubishi Electric Championship at Hualalai.
"I don't want Bernie to think we're spying on him, but at Hualalai I had a couple phone calls, so I did go in the Golf Channel [production] truck, and [had cameras] zoomed in from three angles," Claar told me. "It was very windy that day, so I could see his shirt slapping between his forearm and his chest. I could definitely see him separate. It's just a little bit, but that's all it has to be."
The next day, Claar received a call from Thomas Pagel, USGA senior director of Rules of Golf and Amateur Status. Pagel asked Claar to write a report on Langer's explanation. Two weeks later, at the Allianz Championship in Florida, Claar rode up to Langer during a practice round at Broken Sound Golf Club and began the conversation by saying, "Boy, you're keeping the USGA busy," before asking Langer to explain, once again, exactly what he was doing.
The explanation was simple. As Langer said to me in a text message, "I am aware of my left arm and hand, and my hand is definitely not touching my body. I anchor when I address and then move my hand away from the chest, till it is not touching anymore."
The interpretation of 14-1b, as Pagel pointed out to Matt Adams on SirusXM, is that without incontrovertible visual evidence, the rule is "intent-based," meaning conversation with the player becomes the crucial determiner.
In Langer's case, Claar admits to having a handful of PGA Tour Champions players say things like, "It really looks suspicious." Claar assures those players that he is convinced that Langer is playing by the letter and the spirit of the rule.
Olin Browne, a respected voice among senior players, doesn't question Langer's integrity. Still, he worries the tour's No. 1 player will face an inquisition in every tournament he plays.
"Everybody should give him some slack, but the problem is, he's the poster boy for us," Browne said. "There's never been any kind of impropriety as it relates to him and his game. Unfortunately, we're in a situation where there's enough gray area in the interpretation that it lacks clarity. The intent thing clouds the picture to me."
Billy Andrade doesn't like the idea of Langer's playing partners playing cop. Because of his belief that the R&A and the USGA "never imagined players would be doing this [the adaption that Langer made]" when 14-1b was written, Andrade thinks the rule should be abolished. "Honestly, you're never going to go to Bernhard Langer and say, 'Hey, I think you were touching back there,' " Andrade said. "That's just not right."
It's Langer's integrity—and the insistence of two prominent golf officials that he isn't doing anything wrong—that should uncloud the picture.
Editor's Note: This story first appeared in the Feb. 22 issue of Golf World.