The Loop
An improbable Augusta homecoming for Vaughn Taylor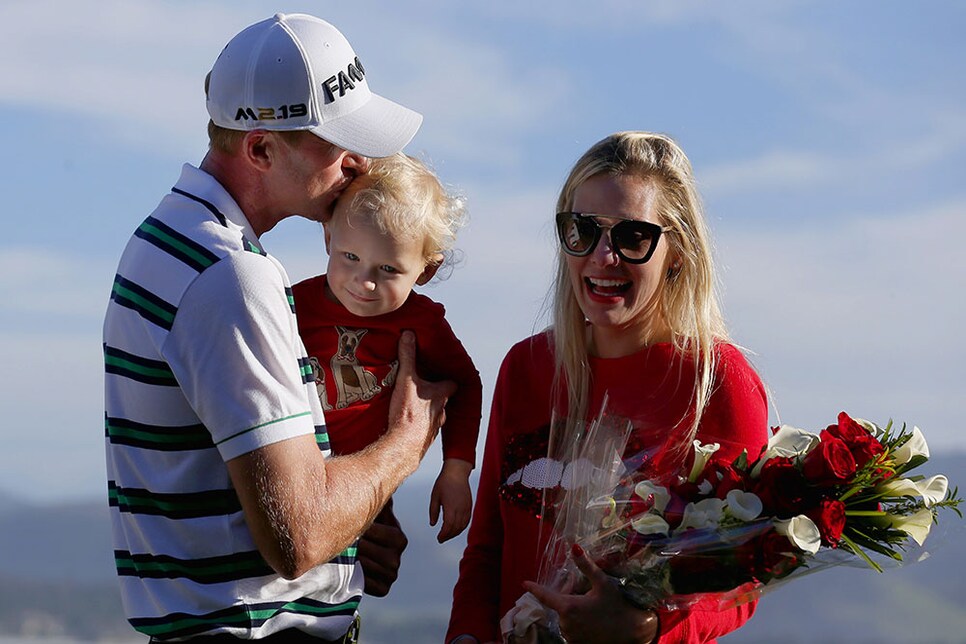 Earlier this year, Vaughn Taylor was hitting balls at Abacoa Golf Club near his winter home in Palm Beach Gardens, Fla. Instead of practicing at the Bears Club, the Medalist or Dye Preserve, as is customary with other tour pros living in the area, Taylor inserted his credit card into the slot for a bucket of balls and went about his business.
Taylor grew up on a public course in Augusta, Ga., called Goshen Plantation. His dad was a construction worker, his mom a secretary at the golf-cart company E-Z-GO. Going to Hephzibah High, he was never good enough as a junior golfer to play AJGA events and got used to paying for his practice balls.
"It was no big deal," Taylor told me then. "Through the years I've hit balls at all kinds of ranges under different scenarios. I was just trying to get some work in."
Ranked 447th in the world at the time, in his third straight year of non-exempt status on the PGA Tour, it was next to unthinkable that Taylor would ever get the official letter on Augusta National stationary inviting him to the 80th Masters.
Taylor hadn't worn a contestants badge since 2008. He attended the 2015 Masters as a patron, in part to show 2-year-old son, Locklyn, what his dad did in a previous life. Vaughn was unsure how he was going to feel back inside the gates, but not inside the ropes. Augusta National was the hallowed ground he visited growing up, where he played for the first time as an Augusta State freshman in the mid-1990s, and where the scenery and the distinct smell of the grass and pine straw would always induce euphoria.
Taylor's long road back home to Augusta and the Masters culminated not long after his range session at Abacoa. First he ventured off to Central and South America for his third straight year on the Web.com Tour, where he missed the cut at the stop in Panama then withdrew from the event in Colombia. Still suffering from the effects of a stomach virus, Taylor decided to fly from Bogotá to Pebble Beach because it was cheaper than flying back to Augusta. He got into the AT&T Pebble Beach Pro-Am as the first alternate and was clearly an afterthought in a field that included six of the world's top nine golfers.
Then something happened that only happens in golf. Vaughn Taylor, a mentally scarred journeyman, came from six shots back and beat every player he was competing against on an iconic venue, including three-time Masters champion and four-time Pebble Beach winner Phil Mickelson.
"I kept the dream alive but really wasn't sure if it was going to happen," Taylor said when we caught up last week at the Shell Houston Open. "It's been a long time."
In three previous Masters starts, Taylor has made the cut only once. In 2007, he was paired in the third-to-last twosome on Sunday with Zach Johnson. As he watched his close friend from the Hooters Tour and teammate on the 2006 Ryder Cup go on to win the green jacket, Taylor shot a nervous 75 to finish T-10. He remembers his hands shaking over a four-foot eagle putt on the second hole that never touched the hole.
Taylor's hands never shook on the back nine at Pebble Beach. While he hasn't made a cut since the AT&T, he feels like his Masters experience will be different this time. When he stands on that practice ground at Augusta—a 40-year-old with a pile of free balls before him—there will be a different sense of appreciation.