The Loop
The robot that aced TPC Scottsdale's 16th hole is now available to the public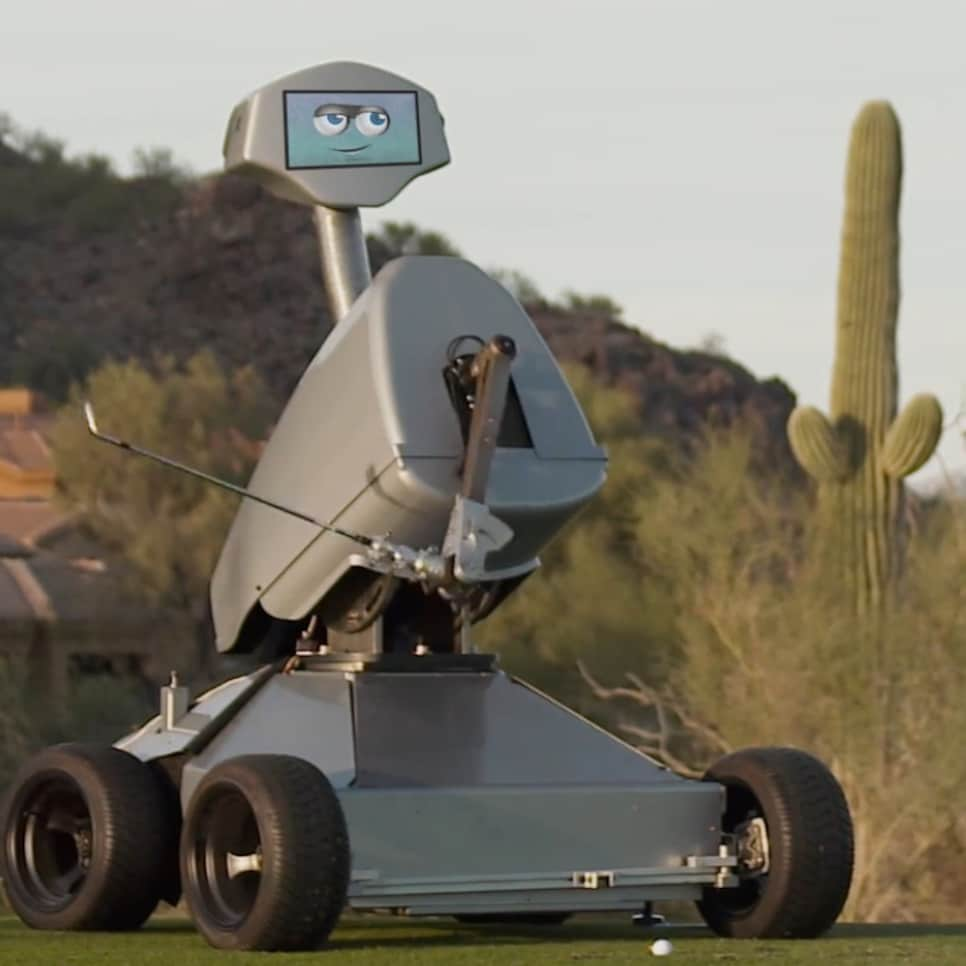 We've heard tour players being described as robotic, but now a robot has been fashioned to play like a PGA Tour player. It's even got a nickname that echoes the given name of the long-time No. 1 player in the world.
LDRIC the robot, the machine that drew headlines and nearly 27 million YouTube views a couple weeks back when it made a hole-in-one at the 16th hole during the pro-am for the Waste Management Phoenix Open, is now available for hire. The letters stand for Launch Directional Robot Intelligent Circuitry, which is a convoluted but catchy way of describing a mobile robot that can communicate and execute shots in three different sports.
LDRIC grew from the minds behind Golf Laboratories and its partner Dynes Unlimited. Golf Laboratories is the robot-testing service that has been the industry standard for a quarter century, and Dynes Unlimited is its robot design partner. Forty Golf Laboratories robots have been purchased and used by nearly every leading manufacturer, as well as both the USGA and the R&A.
A version of LDRIC was used in a made-for-TV event on Japanese television last spring. The robot competed in a skills competition against two professional golfers, Shingo Katayama from the Japan PGA Tour and Megumi Shimokawa from the JLPGA Tour. The robot won the event, capturing both the long drive competition and the closest to the pin contest.
In addition to LDRIC being able to communicate directly with players and an audience, the device also can mimic any player's swing, regardless of ability. Gene Parente, founder of Golf Laboratories, believes the portable device will be as much an educational tool as an entertainment vehicle.
"Golf is an incredibly difficult game," said Parente. "To see it done well and consistently is attractive to the average player, the better player and the beginning player. And, to see it done by a robot is just cool! Not only does LDRIC play golf, it can duplicate any swing under highly repeatable conditions. We can simulate launch conditions, swing trajectory, landing angles. All of the technical data you can think of, we can duplicate."
The opportunities for LDRIC, which is being promoted by Gary McCord, seem limitless. One could imagine the device could play any major championship course to test it for difficulty, hit golf shots in bizarre locales and who knows maybe get a spot in a PGA Tour event. LDRIC can be ramped up to a clubhead speed of 130 miles per hour, slightly faster than any speed recorded on the PGA Tour this season and more than 17 miles an hour above the current PGA Tour average. LDRIC also can kick soccer balls and footballs.
Said McCord: "I believe LDRIC is the only robot in the world that plays golf, and not only that, it's fun to interact with him. We're doing something exciting and golfers of all ages have loved watching him."