The Loop
The *real* reason why everybody is so excited about Tiger Woods' return to golf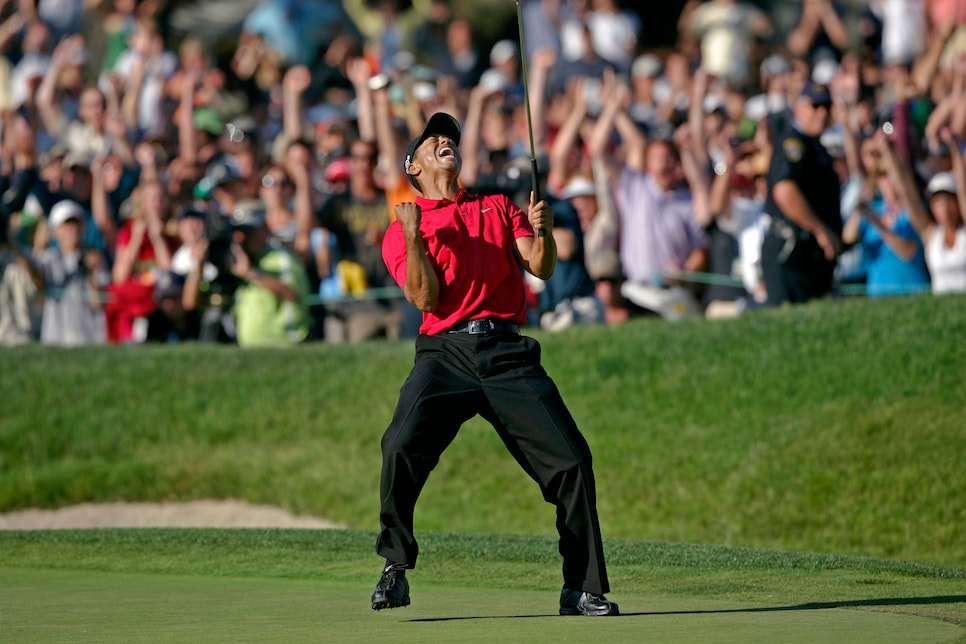 Los Angeles Times via Getty Images
All of golf is excited that Tiger Woods is coming back. Fans, tournament directors, course owners, equipment manufacturers and, of course, the media.
"A big yes. Like a screaming yes," exuded Johnny Miller, host of the Safeway Open in Napa, Calif., upon hearing that's where Woods hopes to make his first competitive appearance since August 2015, basically speaking for everyone.
Tiger fatigue? I don't think so.
Most telling and interesting is the reaction of players. Phil Mickelson, formerly an archrival but now a major encourager of a Woods comeback, wants to be paired with him at Silverado.
It was the PGA Tour's 20-somethings who seemed most enthused. Woods is personal to them, the player they were inspired by and modeled themselves after. Said Justin Thomas, 23: "I'm so pumped!"
What do they want to see? The pre-2010 greatness they watched on television and have heard Woods' contemporaries talk about. The young bucks say they hope they will witness and feel Tiger's best, even if that means all of them will have to move down one notch. At the moment, they feel a little cheated at missing the chance to not only measure themselves against prime-time Tiger, but to steal from him.
That's because Tiger Woods has a true mystique. So did Ben Hogan. No other golfer has.
A mystique is distinct from greatness. Bobby Jones, Byron Nelson, Sam Snead, Arnold Palmer and Jack Nicklaus are all in golf's pantheon, but none had a mystique. They were each too generous in their accessibility and explanations, all ultimately more public than private.
Hogan's solitary quest for perfection produced a quality and repetition of ball-striking that by acclimation remains the standard. "It was something very different that is very hard to explain," said Ben Crenshaw, one of golf history's best explainers. "It was just perfect ball flight." Through the ages, Hogan and Hogan alone has been ascribed as having The Secret.
The effect was enhanced by Hogan's Garbo-like persona, both inward and imperious. "No one seemed to know him very well," Nicklaus has said, "which made him that much more feared as a competitor." According to Snead, "Hogan gave away less about himself than any man I ever met."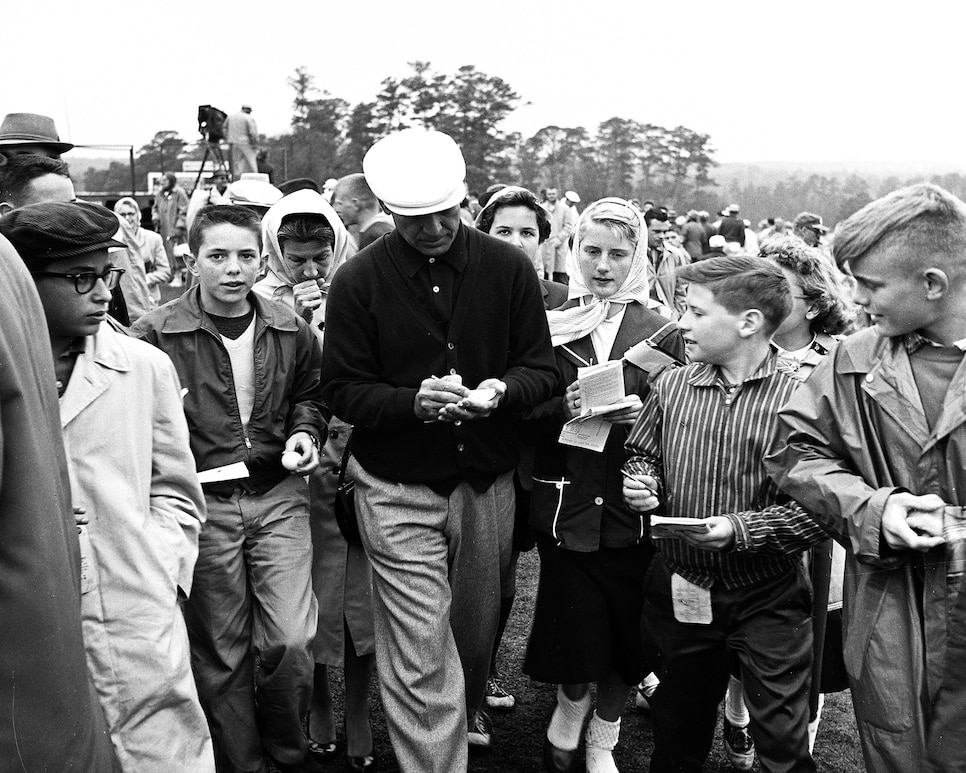 But in his later years, Hogan was given to playing with select up-and-comers in their 20s. Raymond Floyd, Tom Weiskopf, Lanny Wadkins and John Mahaffey were among his favorites. In the presence of the ultimate icon, they described themselves as nervous, largely silent, and captivated.
"Every time I'd play with him," Weiskopf said, "I felt like I shouldn't even be out there. He played that much better than anybody else." Wadkins told Golf Digest's Guy Yocom that "Hogan was slow, but in a good way. Watching him was worth the wait." Fellow Texan and 1967 PGA Championship winner Don January said his early rounds with Hogan in the mid-1950s were "like playing with God."
Woods, too, has a mystique.
Butch Harmon, who as an adolescent spent many hours around Hogan when he would stay at the Harmon home to practice at Winged Foot and talk golf with Claude Harmon Sr., recognized the similarities in the two golfers early in his 10-year coaching stint with Woods, saying, "There is a lot of Ben Hogan in Tiger Woods."
But though Woods was also a supreme ball-striker who immersed himself in technique and practice and getting better, he fell short of owning his swing in the way he believed Hogan had. The reason might turn out to be that Woods never "dug it out of the ground" without a teacher to guide him, as Hogan did. (By the way, wouldn't it be something if Woods in his 40s has a practice-range Eureka! swing discovery like Tom Watson at 43 and becomes a better ball-striker than ever.)
Woods' mystique lies in something even more desirable, fascinating and ineffable than Hogan's. It emanated from an uncanny gift—seemingly from the 1996 U.S. Amateur to the 2008 U.S. Open—for consistently pulling off the crucial shot on the biggest stages. There's no doubt today's young stars ask themselves "What is that?" and hunger to know more.
Recently, Woods has begun imparting knowledge to Jason Day, who grew up idolizing Woods but had little contact with him in his early years after joining the PGA Tour in 2008. Rory McIlroy is a true Tiger-phile steeped in every aspect of Woods' playing career and development. But though McIlroy has felt free to seek and receive Nicklaus' counsel, he hasn't had the same kind of relationship with Woods. Jordan Spieth, who in 2015 came the closest of any player who has followed Woods to demonstrating the knack for the right shot at the right time, no doubt is looking forward to some quality Tiger time at the Ryder Cup, where Woods will be a vice captain.
It's worth noting that even Hogan became more generous in the waning stages of his playing career and beyond. After the then-20-year-old Nicklaus was paired with the 47-year-old Hogan for the final 36 holes as they both fell just short of winning the 1960 U.S. Open at Cherry Hills, Hogan over the next few years invited Nicklaus to play practice rounds at majors.
"He treated me wonderfully," Nicklaus remembers. "His influence on me was probably a lot more than I knew at the time. To play with the best ever at striking the ball, to hear the sound of his shots and watch their flight and know how he planned them, I'm sure it left its mark on me."
That, too, was part of Hogan's mystique. And today's stars hope to have similar moments with Woods, whether he rises once more to beat them or not.
For golfers, like Hogan, Woods is a concept as much as a man, representing the fierce pursuit of excellence. One of Dan Jenkins' greatest sentences in nearly 70 years of golf writing is this: "Hogan was, Hogan is, Hogan always will be."
The same will be said of Woods.