The Loop
The R&A does what it can to avoid another potential Dustin Johnson-Oakmont situation
TROON, Scotland -- With a windy Saturday forecast, the R&A decided not to roll or cut the greens before the third round of the 145th Open Championship. "Certain pins and tees are being adjusted," as well read a note passed out to the media.
Last year's second and third rounds at St. Andrews were halted in part due to high winds which made certain greens unplayable. And the fact that tournament had to finish on Monday no doubt was in the minds of R&A officials this year.
However, the timing is also interesting in the wake of what happened to Dustin Johnson at last month's U.S. Open. Johnson's ball moved on the fifth hole during the final round as he moved in for a par attempt and was later penalized a stroke for being deemed to have caused the ball to move -- despite the fact most people placed all of the blame on Oakmont's super slick greens.
Wind had nothing to do with Johnson's penalty and the speed of the putting surfaces at Royal Troon could never be confused with those at any U.S. Open, but slowing them down even more can only help to avoid a similar situation.
Here's the full note from the R&A: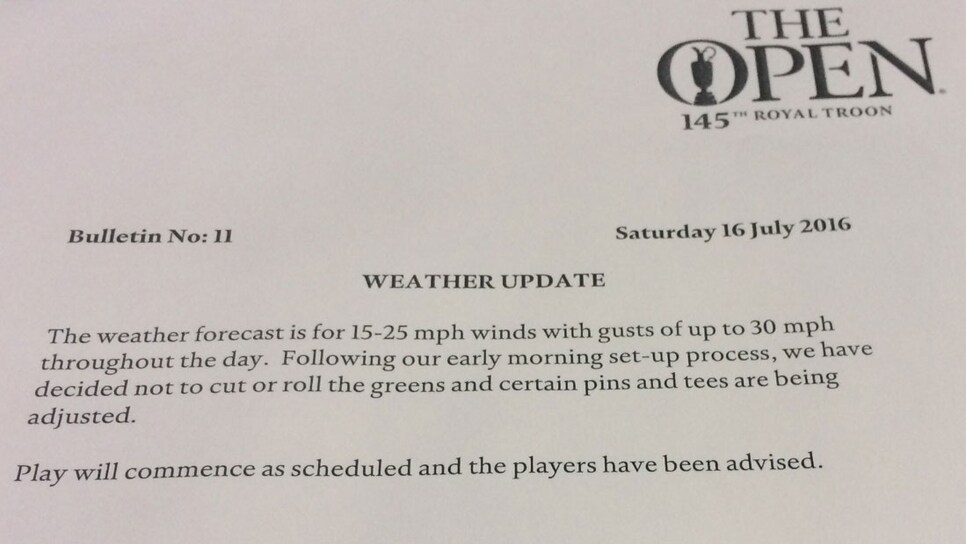 "I can understand where their heads are at, because I was laying in the hotel room last night and the wind was whipping across," Jason Day said after shooting a third-round 71. "I think it's a good move. I mean, it wasn't too crazy. I think it was 9.11 yesterday and it's 9.5 today. So it's not overly slow. I think it's still very playable, obviously. I think it's pretty nice."