The Loop
The putting tip that has Rory McIlroy rolling again at the PGA Championship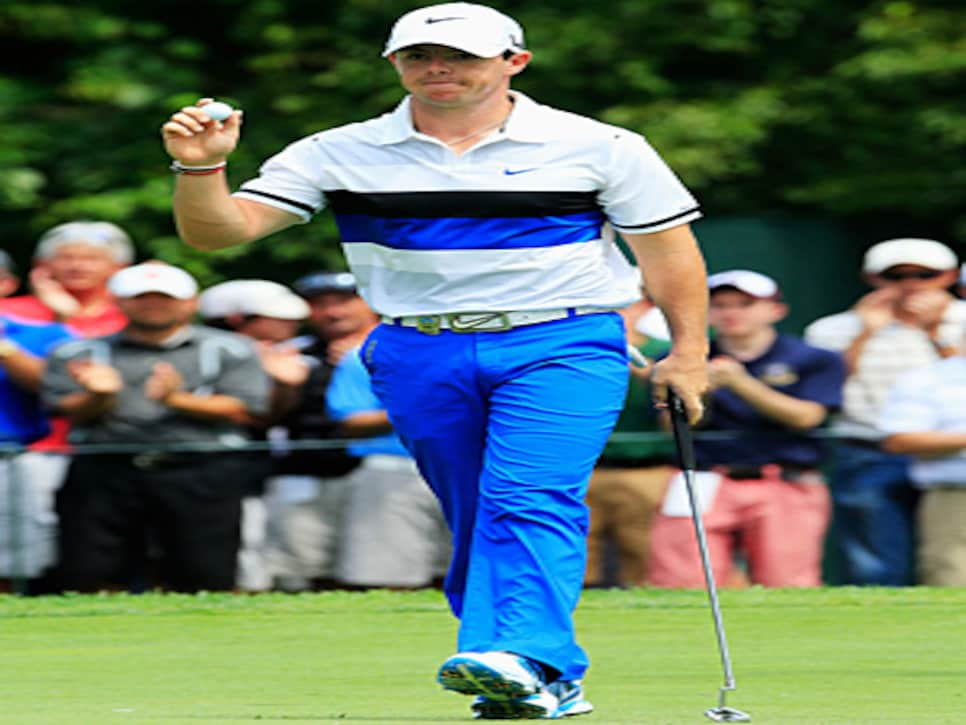 ROCHESTER, N.Y. -- It's been a bumpy ride for Rory McIlroy since his dominant eight-shot win at Kiawah Island in last year's PGA. A string of poor showings at the Memorial (T-57), U.S. Open (T-41) and British Open (missed cut) culminated with the Northern Irishman at Muirfield openly questioning his ability to focus, and dropped him from first to third in the world rankings.
But a first-round 69 at Oak Hill -- good for a tie for 11th, four behind Adam Scott and Jim Furyk -- left McIlroy feeling much better about the state of his game. "Today was positive. It wasn't what it could have been, but it was good," said McIlroy, who birdied three of his first four holes before giving shots back on the back nine. "I felt like I played really, really well. The next step is to capitalize on great play by getting the most out of the round -- keeping the foot on the pedal. I don't feel like that step is very far away."
A big part of the confidence rehab came on the putting green. McIlroy's putting instructor, Dave Stockton, spied a flaw in McIlroy's stroke at Firestone that was causing him to pull up and cut across the ball through impact. "His hands would get to the crease on his left pant leg and just stop, " said Stockton, who worked with McIlroy Monday and Tuesday at Oak Hill. "I told him that his lesson was going to be just like the one we had at Wentworth last year -- about two minutes long. He hit a couple of putts with just the left hand and got it moving five or six inches past his left leg. It's like a switch went on. I think he's more ready to play well than people think."
McIlroy paired the putting instruction with some inspirational viewing material and came into Oak Hill "in a very good place." He spent part of Tuesday and Wednesday watching a loop of highlights from the Kiawah demolition, and enjoyed reliving his final-round 66. "But I don't have to win everything by eight shots," he said. "I'll take winning by one at the end of the week."