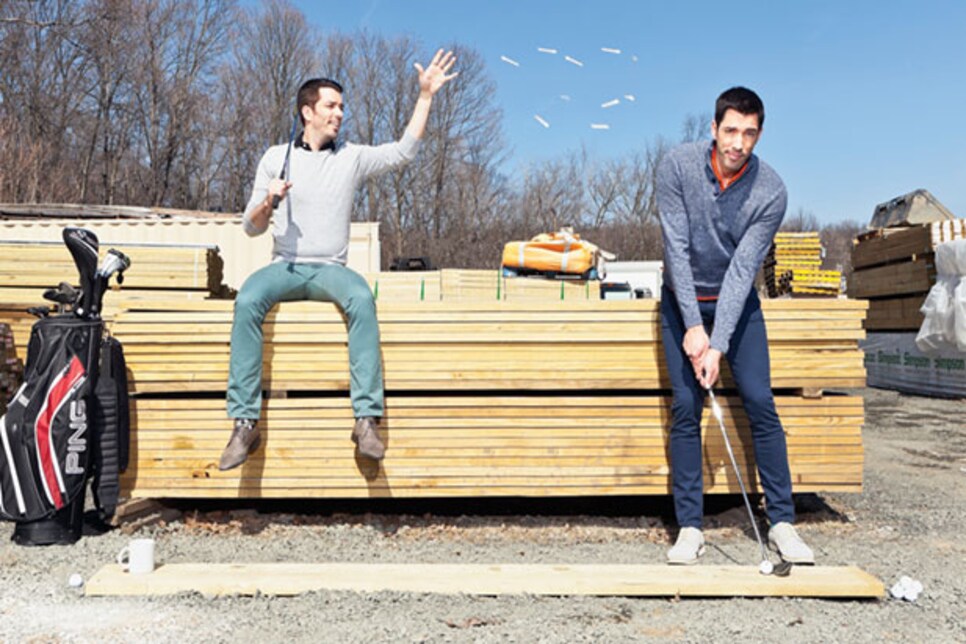 AGE: 37 (Jonathan is older than his identical twin Drew)
BORN: Vancouver, Canada reside Las Vegas (they own a house together)
WHO ARE THEY? The two host a number of reality shows on HGTV, a cable network focused on home buying and renovations. Their most famous show is "Property Brothers." Drew is a real-estate agent, and Jonathan is a homebuilder.
HOW YOU CAN TELL THEM APART: Drew is left-handed. Jonathan is right-handed (and his publicist says his hair is always longer).
BEST GOLF MOMENT: Each made a hole-in-one at Hacker's Haven, the par-3 course near their childhood home.
For starters, that's Jonathan on the left and Drew on the right. The Scott twins are difficult to tell apart for obvious reasons, but they also sound alike, act alike and share many of the same passions--golf among them. They grew up within walking distance of a nine-hole par-3 course in Maple Ridge, British Columbia, and played it often when they were teenagers. "You had to hit it over a gully on one hole," Drew says, "so me and Jonathan would climb to the bottom of it when we got to the course, scoop up as many golf balls as we could, and use them to play that day."
The most famous twins on television since Mary-Kate and Ashley Olsen don't have nearly as much time to play anymore because they star in four home-remodeling shows on HGTV, including "Property Brothers." But they still get out when they can, even if it's just to hit balls at the range.
"Drew has a little more downtime than I do, so he's out there playing as much as he can. I'm busier," Jonathan jokes. (The brothers enjoy trading jabs every chance they get.)
Busy or not, when instructor Butch Harmon offers a private lesson, you "jump on that in a heartbeat," Jonathan says. "Great day with him. Nice thing about Butch is that he doesn't beat around the bush. In 10 minutes, he had me getting rid of bad habits."
Back at their shared home in Las Vegas, the Scotts have a synthetic putting green in the back yard. Jonathan designed the original, but Drew hated it. "It was pathetic," he says. "It was like five feet wide and had only two holes about nine feet apart. What can you do with that? I redesigned it so it was bigger, had more holes and some undulation."
If you've watched any of their shows, then you know the Scotts are experts on giving fresh looks to dated concepts. When asked about golf, the makeover genes kick in.
"We love the game. The difficulty of it. The fact that you can play it in your later years," Jonathan says. "But let's face it: A lot of clubhouses look old, dated, tired. They need modern amenities and fresh designs."
Says Drew: "The game needs to embrace the digital age, the social-media age and use those platforms to attract a new generation of tech-savvy golfers. Otherwise, you're going to have a dying sport."