The Loop
The Pro Bowl is the useless, forgotten event of the week...I mean year...I mean millennium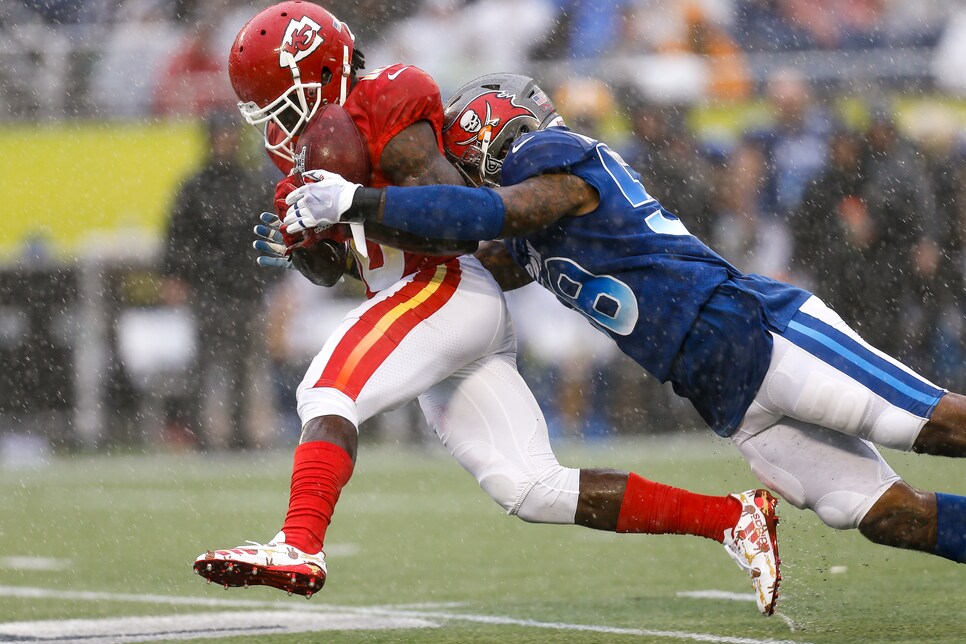 I noticed something a little odd this week—sports media personalities don't even complain about the Pro Bowl anymore. There was a time, maybe ten years ago, when I seem to remember loads of columns and TV segments attacking the fundamental premise of the Pro Bowl and making a lot of salient points on the futility of its existence. There was a brief but heavy anti-Pro Bowl push, and it seemed like the whole franchise might just go away. Then, over time, the complaints just kind of...stopped.
You don't hear anything about the Pro Bowl anymore. I know it still exists because I saw a commercial advertising it on ESPN—even the commercial wasn't trying very hard—but it's remarkable to me that the institution has become so culturally irrelevant that it's almost entirely disappeared from American sports discourse. I'm not going to pretend to be the world's biggest NFL fan, but I follow sports closely, and it occurred to me this past week that I really don't even know how the Pro Bowl works anymore. Is it still AFC vs. NFC? Do they still wear their team uniforms, or is there a specific jersey for each conference?
There's no possible way I would have turned this game on except as research for this column, but I needed answers, so I bit the bullet. It turns out that yes, it's NFC vs. AFC, though for three years from 2014-2016 they abandoned that and had two captains pick the teams. The two sides wear specific conference jerseys, though the jerseys have a small team logo for each player, and they all wear their own team helmets. Oh, and this is new: It's not even in Hawaii anymore! It's in Orlando. Nobody should be forced to go to Orlando.
Whatever—who could possibly care about this? The problem with the NFL's version of the all-star game is that you can't have it in the middle of the season, and nobody from either Super Bowl team can play. The other major sports have tried various gimmicks—captain's picks, World Series homefield advantage, skills competitions, etc.—but whether these stunts succeed or fail, these sports have distinct advantage in playing their all-star game in the middle of the season. Aside from that limitation, there's also the injury element in football. Who wants to go full throttle in a meaningless game and risk a concussion or worse? Nobody. After watching three minutes of the actual game, it's clear that the players themselves aren't even trying. One NFC linebacker put a hard hit on an AFC back, and everyone looked at him like he had just spat on the altar at the Vatican.
Which brings us back to the idea of the forgotten event. Seriously, nobody is even complaining anymore! Maybe this is more fascinating to me than anyone else, but I'm not sure I've ever seen an equivalent to this kind of apathy in a major sport. If the NFL canceled the Pro Bowl, I'm beyond wondering if anyone would care—I know they wouldn't. My question is, would they even know?
The Best Championship of 2018: Warriors vs. Celtics
Okay, fine, it hasn't happened yet, and there's a long way to go before it does. But based on the two times they've met this season, it's going to be insane. Boston won at the GArden in November, holding the Warriors to 88 points (currently their second-lowest total of the season), but the Warriors struck back Saturday in Oakland, winning a squeaker of their own. Most surprising of all, none of this is a fluke on Boston's part. It turns out that Brad Stevens has turned the Celtics into a championship-caliber team way faster than anyone expected, and their defense is extraordinary. For the first time since at least 2010, I believe that an eastern conference team without LeBron James on its roster stands a legit shot to win a title.
If the basketball gods are kind and grant us this final, the Steph Curry—Kyrie Irving duel alone is going to be historic. I mean, look what they did Saturday night:
I'm going to be so mad if a team like the Raptors spoils this for me.
Most Brutal Possible Tennis Final: Australian Open, Women's Draw
Spoiler alert: Sports can be really, really cruel.
In every individual sport, there are a handful of players who have forged terrific careers, but haven't really won the big event. Not many, mind you, but a few—guys like Sergio Garcia before 2017, or all those English golfers—Mongtomery, Westwood, Poulter, Donald, Casey—who have never quite managed to get it done at a major. Or, in tennis, your David Ferrer/Tsonga/Monfils/Berdych types. These are the people who hang around the top of the game for years, get extremely close to a huge win, but fall just short. If I wasn't way too lazy to do the research, I bet I could find the same thing in sports from NASCAR to boxing to bowling to archery to surfing to chess, for all I know. (There are prominent examples in team sports, too—Barkley, Malone, Ewing, Baylor, in basketball alone—but it never seems quite as personal in those cases, for the simple fact that they have lots of teammates and coaches to share the blame, and weren't in complete control of their circumstances.)
Anyway, the women's Australian Open final on Saturday was especially insane because it featured two of these players. In fact, it featured the two best "great careers, have never won a slam" profiles in the women's game today. When Caroline Wozniacki and Simona Halep faced off in Melbourne, it was going to be a glorious capstone to one career and a painful blow to another. They've both been at no. 1 in the world, and they've both come achingly close to winning a slam—Halep was up a set and 3-0 in the French Open last year before blowing it, and Wozniacki has been in two finals and wasted a match a point in another semifinal. Both fought like crazy just to reach the Aussie final, surviving match points along the way, and when they finally took the court, they played a thrilling match that lasted almost three hours.
But only one could win, and that was Wozniacki in a three-set thriller. For Halep, the loss is bad enough, but it's compounded by the fact that she had to watch a contemporary in the same exact position finally throw the monkey off her back, while she carried the burden forward. You could tell how agonizing it was, and the crazy thing with tennis is that you never really know when it's going to be your last shot. Halep is only 26, but that's well into middle age by tennis standards, and her retrieving style makes her more injury-prone than her average contemporary. Not only that, but now she has to deal with the psychological effects of having lost three finals—two of them in devastating fashion.
The Woz-Halep final was one of those moments in sports that wasn't just gut-wrenching because of the result—the gut-wrenching part was built in from the beginning. There was no way that match was going to end without a staggering dose of pain, and if there's any justice in the sports world, Halep will get her grand slam at the French in May.
(Note: There is no justice in the sports world.)
Most Cruel and Unusual Dunk of the Week: Madison Williams, Illinois State
Speaking of sports cruelty, let's end on this note: Please observe a moment of silence for the man in yellow:
The founding fathers never intended for something like that to be legal. That defender is going to have to flee to where no sports fan will ever see him again. My suggestion? The Pro Bowl.