CHASKA, Minn. — In so many ways the Ryder Cup is a unique event. And the vast majority of those ways lead to a positive conclusion. Certainly, no other week on the golf calendar promotes as much raw excitement and passion as does the biennial contest between the Old and New Worlds. It is something for our game to be proud of.
Sadly, the crowds here at Hazeltine National, while dominated by real and true fans with no agenda other than cheering for their team, contain a sizeable rogue element, one seemingly ignorant of golf's peerless and traditional etiquette. Time and again this week the matches have been scarred by incidents that have more in common with football or soccer matches, so vitriolic and abusive have been the exchanges between spectators and players.
Much of the problems are, inevitably, alcohol-induced. The number of empty beer cans littering the premises is testimony to that unsavory truth. Besides, how else can we explain what happened on Saturday afternoon by the seventh green? It was there that a member of the gallery (let's pray he isn't a golfer) screamed, "Suck a d--- Rory!"
In the 45 seconds or so before the security men hauled away the miscreant, McIlroy was up to the challenge. "If you want to back that up, I'm right here," said the young Irishman.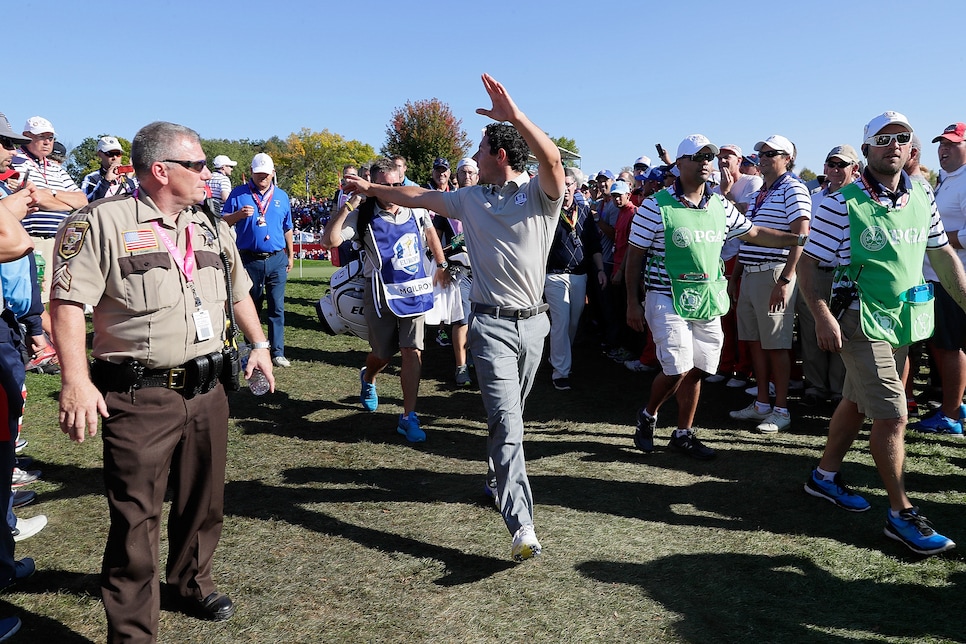 Thankfully, physical confrontation has yet to darken the Ryder Cup's door. But it would be best not to get complacent, even if so much of the yelling and screaming has more to do with adolescent attention-seeking than anything else. Which is not to say that the nonsense is confined to the young. The gentleman screaming "go, go, go" as a European ball trickled slowly down a slope away from the hole on the eighth green was easily into his 60s. Such vein-popping exhortations towards an inanimate object are not the actions of a rational person. Or, one must suppose, someone who has played golf for any length of time.
More amusing is the old line that says, "If it wasn't for us [America], you [Europeans] would all be speaking German." Which is fair enough, except when it is directed at former U.S. Open and PGA champion Martin Kaymer, a native of Dusseldorf.
Part of the problem, of course, is that the Ryder Cup is one of golf's premier shop windows. So it can be argued that a bit of crowd trouble is no more than the price we must pay for "growing the game." So is, at least in the short term, a dumbing-down of the spectacle. As leading sport psychologist Bob Rotella pointed out as he walked with the opening Saturday afternoon four-ball: "This is all about appealing to the non-golfer. That's why every hole is set up for birdies."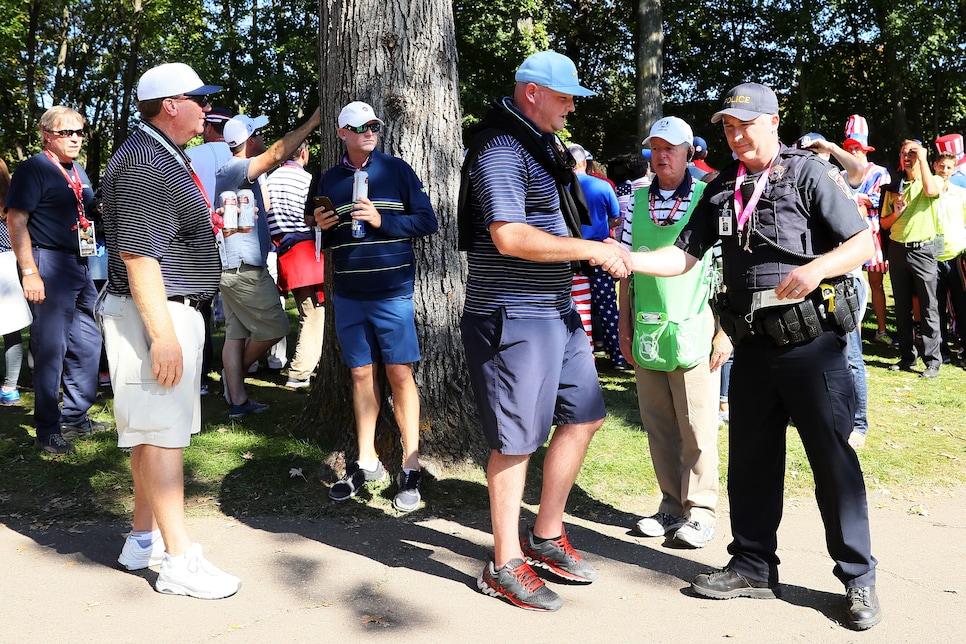 There is also a cultural aspect to this clear divide between two peoples who, in almost every other way, are allies. We're talking about two very different outlooks on what support for a team actually entails. An example: Standing maybe 150 yards from the 10th tee this afternoon, a young American bellowed, "Let's go Jordan!" There was little prospect of Spieth either hearing or acknowledging this spontaneous and rather pointless encouragement. No matter, it was given anyway. Then, a few seconds later, a terribly pukka English accent much nearer the tee was heard to say, "Give us a wave Justin."
Still, things are not all bad. A pair of kilted Scots from Paisley near Glasgow have had no problems with any American fans. Quite the contrary. "They've been great," said one 'Buddie' (nickname for a native of Paisley). "We've had a great time. But I have to say they don't take the banter nearly as well as they give it out."
Then there was the young English couple standing by the seventh fairway. On Friday they had witnessed one of the frequent attacks on Sergio Garcia, the European who, until McIlroy emerged as his vociferous equal this week, displays most openly his pleasure at beating Uncle Sam's nephews. "You're f---ing useless Sergio," said one "fan." "You'll never win a major."
And so it goes on, with no obvious solution. Or maybe there is, at least on those occasions when a player is disturbed by heckling while standing over a ball ready to putt. When and if that happens, the putt should immediately be conceded by the opponent. Knowing that any attempt to distract will be counter-productive is perhaps the only way to counteract this cancer that pervades the Ryder Cup.