News
The preseason men's college golf poll will upset defending NCAA champ Oklahoma fans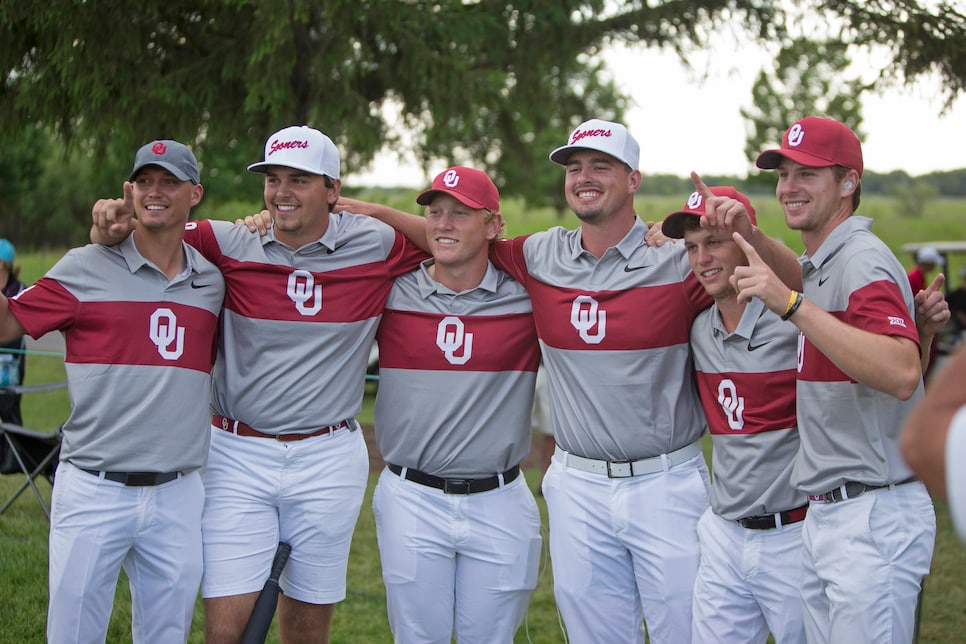 In the summer, NCAA golf champions can bask in the glory of their recent success. And the University of Oklahoma men's golf team was able to do just that, enjoying the new best friend they made last May at Rich Harvest Farms when the Sooners defeated 2016 champs Oregon in the final match.
But with September close at hand and a new season ahead, it's time to put that in the past and work toward a new goal. And for the Sooners, who return four of the five starters (All-Americans Blaine Hale, Brad Dalke and Grant Hirschman and senior Rylee Reinertson) from last year's championship squad, there might be no better motivation that the Bushnell Golfweek Preseason Coaches Poll released on Friday.
Yes, Oklahoma received 10 of the 21 available first place votes, most of any school. However, they start the 2017-'18 season ranked No. 3. OK, so it's not a complete sign of disrespect; it's actually the highest the team has ranked in the preseason since head coach Ryan Hybl took over nine yeas ago. But it certainly won't sit well with Sooners fans when you consider the team that grabbed the No. 1 spot in the poll:
Archrival Oklahoma State who return three All-Americans but fell in the quarterfinals at last year's NCAAs.
The two Big 12 foes won't have to wait long to square off against one another. They both open their seasons next week in The Carmel Cup at Pebble Beach.
Here's the rest of the poll:
Rank, School (First-Place Votes), Points, NCAA Finals Finish
1. Oklahoma State (7), 507, Quarterfinals
2. Vanderbilt (4), 467, Semifinals
3. Oklahoma (10), 460, Champion
4. Baylor, 398, Quarterfinals
5. Illinois (1), 397, Semifinals
6. Texas, 376, 12
7. LSU, 368, 9
8. Southern California, 365, Quarterfinals
9. Oregon, 332, Runner-Up
10. Florida, 309, DNQ
11. Wake Forest, 301, DNQ
12. UNLV, 273, Quarterfinals
13. Auburn, 251, 11
14. Stanford, 241, Missed Cut
15. Virginia, 222, 10
16. Texas A&M, 212, DNQ
17. Clemson, 210, Missed Cut
18. Georgia Tech, 177, DNQ
19. Alabama, 174, Missed Cut
20. Florida State, 169, T-14
21. Arizona State, 156, Missed Cut
22. Texas Tech, 129, DNQ
T-23. Kent State, 105, Missed Cut
T-23. Pepperdine, 105, 13
25. Georgia, 97, DNQ
Others Receiving Votes: Duke, 67; Ole Miss, 65; California, 48; UCF, 27; North Carolina, 22; USF, 20; South Carolina, 19; Iowa State, 16; Arkansas, 15; Washington, 11; Northwestern, 7; San Diego State, 6; Michigan, 5; Penn State, 4; Kentucky, 3; Purdue, 3; Colorado, 2; Lipscomb, 2; UCLA, 2; BYU, 1; Missouri, 1; NC State, 1; New Mexico, 1; North Florida, 1