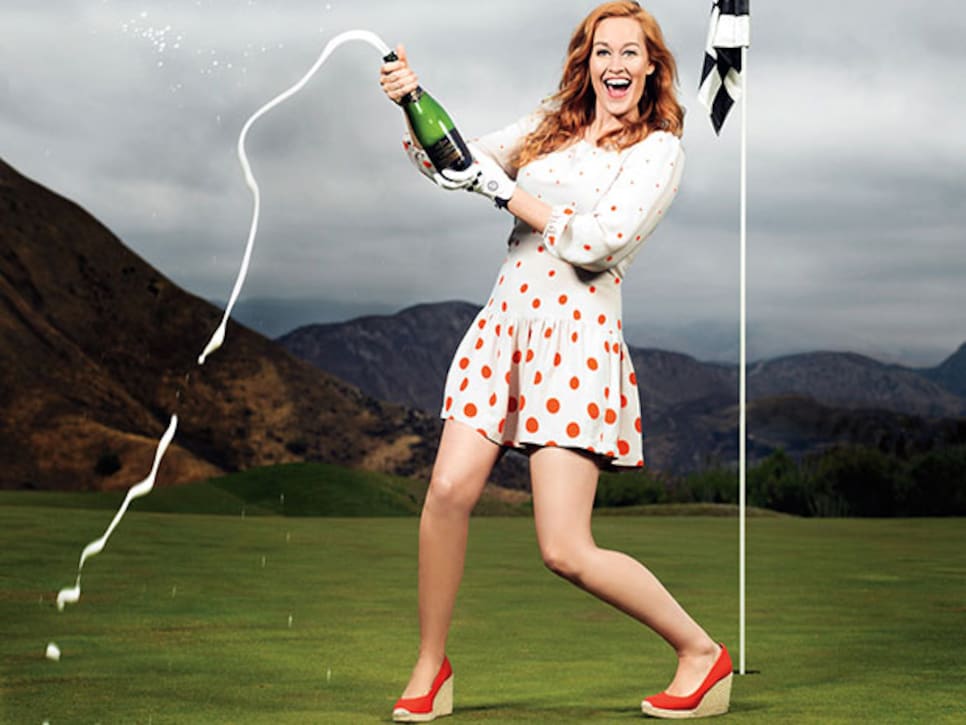 Photographed by Cody Pickens at Lost Canyons Golf Club, Simi Valley, Calif.
I'll bet I'm the only nongolfer featured in Golf Digest this month, and boy are my golf-loving ex-boyfriends going to be pissed to see me here. What does Mamrie Hart [pronounced Maim-Ree] know about golf? I know golfers like to drink. I know a green jacket would really bring out my eyes. And after hitting my first golf shot 100 yards off a beer can as a tee, I know I'm ready to learn the game. Until now, the closest I've come to playing golf was in eighth grade, when I wrecked my friend's day-old golf cart. We weren't even on a course! Although, we did have a course in my hometown of Boonville, N.C. One stoplight and one 18-hole course. However, I consider myself more of a putt-putt gal. I also like to drink. I'm an actress, a comedian and a writer. Some people call me a drinking star with a YouTube problem. That's because I created a YouTube series called "You Deserve a Drink." I also co-wrote and starred in the film "Camp Takota," and I've written a book called You Deserve a Drink: Boozy Misadventures and Tales of Debauchery.
Now I'm creating a video series for Golf Digest detailing the do's and don'ts of drinking on the golf course. You might laugh, and you might learn. Hopefully you'll watch.
An Arnold Palmer is equal parts iced tea and lemonade, but what would she serve if someone ordered a Tiger Woods?
• Couple bags of spicy tea (something with cloves, cinnamon, possibly a tiger on the box)