The Loop
Players want Fred Couples to be the next Ryder Cup captain. How about the PGA of America?
From Tiger Woods and Phil Mickelson on down, the players' choice to be the next U.S. Ryder Cup captain is Fred Couples. Asked how many of the guys reached out to him via text or phone calls after the blowout loss at Gleneagles, Couples suggested it was the whole team: "When they all got home, they said, 'We need you to do this.' "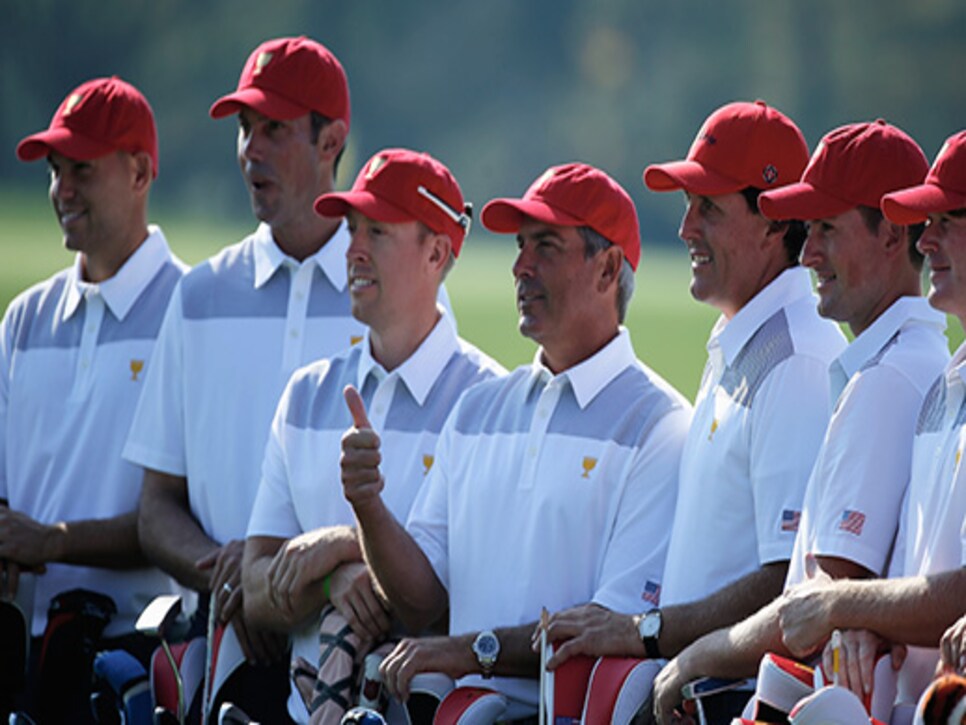 The question is whether the PGA of America wants Couples to do this as much as the players. Asked before the opening round of last week's Charles Schwab Cup Championship if he had been approached to be a member of the Ryder Cup Task Force, Couples shrugged and said, "You know, I'm not a PGA of America guy."
Couples, 55, isn't a "task force" guy, either, to the point that he puts air quotes around the term for the 11-member group created to determine what has been wrong with losing teams and fix it. He seems to agree with Jack Nicklaus' assessment that the formation of the group is overkill.
"I don't think we need the PGA of America straining on this," Couples said.
Strain isn't a word associated with Couples as he has gone 3-0 as Presidents Cup captain. To hear a few of the comments about Tom Watson's leadership style, strain is a word that described the mood inside the team room. "He didn't cradle his boys enough, and that's what they need," Couples said of Watson, who was one of his mentors in the early '90s. "They need some love."
Couples works off the advice of former New York Yankees manager Joe Torre, who told him six years ago to include top players in his Presidents Cup decision-making. In Torre's case, it was Derek Jeter, Jorge Posada and Mariano Rivera. In Couples' case, it was Woods, Mickelson, Jim Furyk and Steve Stricker.
Couples says he wouldn't have benched Mickelson as Watson did Saturday at Gleneagles. "Phil Mickelson has been the best [team] guy on every team I've ever been on, by far," he said.
An inveterate watcher of all sports, Couples points to how San Antonio Spurs coach Gregg Popovich sometimes turns timeouts over to team leader Tim Duncan. There was none of that kind of player empowerment at Gleneagles. Instead of being blunt, the way Watson was in the face of Keegan Bradley and Webb Simpson, Couples would have "cradled" his captain's picks.
Couples doesn't do rah-rah pep talks. The only speech made in his three team rooms was delivered by Michael Jordan before Sunday singles at Harding Park in 2009. Behind the scenes, Couples left Jay Haas to the administrative details -- and groomed a future Presidents Cup captain.
On Couples' teams, there was also a variation on the "pods system" that Paul Azinger successfully created for the 2008 Ryder Cup. At Harding Park, Couples actually assigned Jordan to a "pod" of rookies that included Anthony Kim and Sean O'Hair. One of the pods that won 3¿ points last year at Muirfield Village was Simpson, Hunter Mahan, Brandt Snedeker and Haas' son, Bill. As Jay told me, he and Couples went into the matches knowing those four players were interchangeable.
But it's not strategy that has been the secret to Couples' surprising success as a leader. It's the attitude. "I tell you why it's so much fun," Couples said. "Because I'm not going to make any of them nervous. I make them relaxed because I'm just another guy."