The Loop
The NCAA Championship viewing pitch: Come for the course, stay for the golf
Okay, that's a tad strong. But if you're tired of another week of 72-hole stroke-play events with logo-clads acting bored, a few points for your consideration.
__* Prairie Dunes. __One of the great courses in the world is on display, and Golf Channel has gone all out with some stellar crane camera shots to put this Perry and Press Maxwell design into perspective. Even with all the rains, the wildly contoured greens are still wicked fast. Watching today's college players negotiate the bumps and breaks made for great fun during Monday's first day of live coverage.
__* Team Match Play. __Yes, the ultimate in this realm still looms this fall at the Ryder Cup, but in these school-vs.-school contests composed of five individual matches, all five matches count. Though television hasn't been there to show it, the format has proven wildly dramatic since it was started in 2009. Throw in a pesky protagonist like Prairie Dunes, and the antics may be greater than ever. You'll get to see the passion, the agony, the burden of team golf on display, and it'll be a reminder that this same format -- only with three-person teams -- would have been terrific for the Olympics.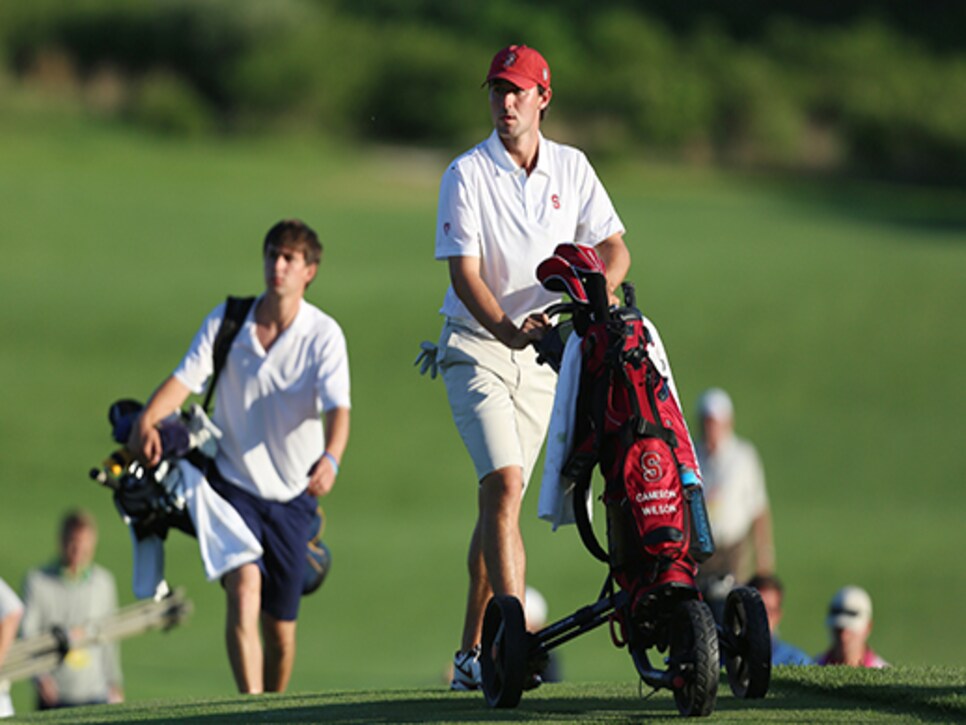 Coverage Tuesday has Golf Channel on-air from 10 a.m. to 1 p.m. ET followed by Golf Central and then afternoon coverage from 5 p.m. ET until the conclusion of play.
7 a.m. CT Match 1 - No. 2 Alabama vs. No. 7 SMU (off No. 1 tee) Match 2 - No. 3 LSU vs. No. 6 UCLA (off No. 10 tee)
7:50 a.m. CT Match 3 - No. 1 Stanford vs. No. 8 Illinois (off No. 1 tee) Match 4 - No. 4 Oklahoma St. vs. No. 5 Georgia Tech (off No. 10 tee)
1 p.m. CT Winner of match No. 1 vs. winner of match No. 2
1:45 p.m. CT Winner of match No. 3 vs. winner of match No. 4
The two teams advancing from the semifinals Tuesday, will meet for the 2014 NCAA national championship at 1:20 p.m. CT Wednesday.