News
The other Solheim Cup-the Ping Junior
Interest in women's golf this week is all about the Solheim Cup at Rich Harvest Farms in Sugar Grove, Ill. However, there's another important competition taking place just 10 miles down the road. The Aurora Country Club is hosting the Ping Junior Solheim Cup this Tuesday and Wednesday, pitting the 12 best American junior girls against the 12 best from Europe.

Since the junior cup's inception in 2002, each team has won twice and coincidentally on its own turf. That would seem to favor the Americans this time. Captains Nancy Lopez for the home team and Carin Koch for the visitors are keen to break this tie. Each team has an impressive roster of players.
Tiffany Lua, Kristen Park and Jane Rah played two years ago for the U.S. Top-ranked juniors Alexis Thompson and Jessica Korda are on the team along with Sarah Brown, Ani Gulugian, Jennifer Johnson, Stephanie Kim, Alison Lee, Kristen Park, Alexandra Stewart and Kristina Wong.
Koch's team includes Anna Arrese, Rosanna Crepiat, Tonje Daffinrud, Ana Fernandez de Mesa, the Maguire twins, Leona and Lisa, Sherlyn Popelka, Sophia Popov, Klara Spilkova, Kelly Tidy, Johanna Tillstrom and Sally Watson.
Both the Solheim junior and professional cups have a similar format: On Day One, there are four four-ball matches in the morning and four foursome matches in the afternoon. Day 2 features 12 singles matches. On Thursday, the juniors play at Rich Harvest Farms in a junior/senior event with the actual Solheim Cup members.
For many, the Solheim junior event is a precursor of future teams when they, no doubt, will be selected. Former junior cuppers Morgan Pressel, Paula Creamer, Brittany Lincicome for the U.S., and Anna Nordqvist for Europe are on their 2009 squads.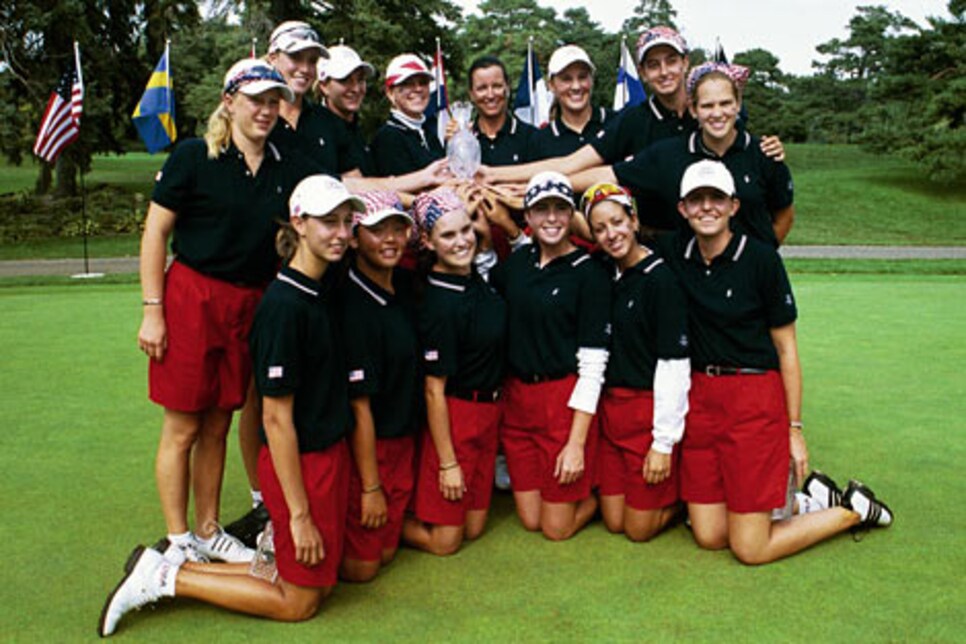 These talented golfers play mostly for their individual records. When the flag of their country is hoisted up the pole and their national anthem is played, emotions ascend to another level. Those lucky enough to play in such competition experience the best that golf offers.