The Loop
The Open champion will be an old reliable—so say my new numbers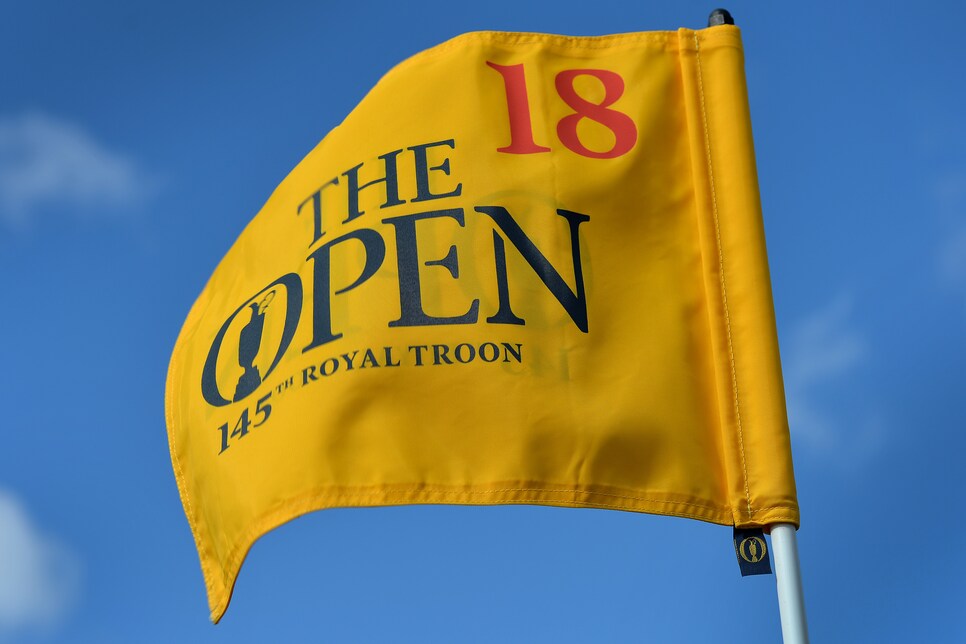 As you know, The Open Championship is golf's oldest major, emphasis on old.
It is old like Old Tom Morris's beard, old like golf clubs that use Latin phrases in their crest, old like a P.G. Wodehouse golf story character—gruff and tormented and rumply, flawed but only perfectly so like Archibald Mealing or Chester Meredith or made wise by the scars of a lifetime in the game like the Oldest Member.
The Open Championship is so old that it contests its events at clubs that until just recently had only one locker room.
The Open Championship is so old that in its early years when a player hit a wayward tee shot and shouted "Fore!" he knew it had nothing to do with numerology.
The Open Championship is so old that, well, claret. (Claret, I've recently discovered, is what chaps in waistcoats with a country residence in Bowness-on-Solway or Kirkby Lonsdale used to call red wine from France after an afternoon chasing a fox. Which, as it turns out, meant something different back then.)
That's why my pick this year for the Open Championship, based on my fanciful and utterly useless algorithms of the absurd, will be an old player, a Rudyard Kipling sort of player who's known triumph and disaster and treated them just the same. (My picks, as a disclaimer, have only known disaster.) Of course, the older persuasion is not without precedent. In the last 10 years, eight of the men who finished holding the Claret Jug had already celebrated their 30th birthdays.
So you can have your boy-band and spring breakers of Jason, Jordan, Rory and Rickie. They may have old heads on their shoulders, but their shoulders do not ache enough with the scars of championships lost or the burden of history and time racing against them.
Just look at the recent roster and you find a litany of heartbreaks reversed. Padraig Harrington's scrambling save after two balls in the burn at Carnoustie that got him into a playoff in 2007. Darren Clarke winning as the 111th ranked player in the world in 2011, nearly two decades after an out-of-bounds shot at Troon cost him a chance at a Claret Jug. Ernie Els battling back from the yips and injury and mid-career malaise to win in 2012. Phil Mickelson playing like the youngest 43 year old in major championship history to win at Muirfield in 2013.
The average age of an Open champion since 2006 is almost 36. The median number of wins is 15. Over the last decade, the winner has been a veteran of an average of 12 previous Opens. And the median world ranking is a respectable but generally not dominant 19. More often than not, too, the Open champ has previously won a major championship, making him respectable and familiar like a Graham Greene novel or that Tennyson poem we're all supposed to know. In short, accomplished enough to be respectable without flaunting it. In another sense, very, very British.
And so I put the numbers into my made-up algorithm, looking to find the current player who was closest to the median age, world ranking, number of career wins and Open Championship appearances. The answer conclusively points to one man, one old-but-not-so-old, one accomplished-but-not-so-accomplished, and one man so content with being British that he's excited about going to an event so many of his younger golfing brethren are running away from.
Justin Rose, a veteran major champion recovering from an aching back and on his way to the Olympics, is who my numbers say will take home the Claret Jug.
Justin Rose's professional career was hatched with his gleeful Open Championship debut as an amateur when he finished a remarkable tied for 4th in 1998. He's never finished better, but his numbers (age 35, No. 11 in the world, 15 career wins and 14 prior Open appearances) put him closer to the prototypical Open champ of the last decade than any player in the field.
Has he had a great year this year? Not really, thanks to his recent back injury, but he's certainly in better form than Clarke or Els were before their wins, and he's very much in the mold of Zach Johnson or Padraig Harrington in the years they won.
Now I remember when 35 wasn't old. But think about it this way: Rose was top-five-ing in the Open Championship when Jordan Spieth was still waiting to turn 4. He missed his first 21 cuts as a pro when Rory McIlroy was a kid chipping balls into a washing machine. And he won his first pro tournament when Jason Day was a teenager mouthing off to his coach Col Swatton at an Australian golf academy.
And while Rose did become the first English player in 43 years to win the U.S. Open just three years ago, in the age of Instagram and Snapchat and #SB2K16, Rose has become as relevant to the currency of the game as Churchill seems to #Brexit.
Which, come to think of it, might be the kind of guy the world needs. And maybe Rose is just the kind of winner the Open—and golf—needs. Old, sturdy, resolutely passionate, dependable. In a word, typifying the Royal Troon motto that's etched in Latin but, like Rose, sounds so completely British: "As much by skill as by strength."