The Loop
The Once and Future King: Rory launches a counter-attack on Spieth
"Almost overnight, Spieth assumed the mantle that has belonged to both future hall-of-famers, like Northern Ireland's Rory McIlroy, and major disappointments, including Spain's Sergio Garcia, all of them faced with the unenviable task of replacing one of the greatest golfers of all time." — > Slate, on April 13, one day after the Masters
The coronation was quick and brutal -- the minute Jordan Spieth slipped his arms into the green jacket, the loyal foot soldiers of the young king began erasing the memory of all those who had once worn the crown. The old monuments were toppled, the enemy castles were burned, and the dissidents were banished into the wilderness. Those who remained quickly learned to speak the language of the conqueror.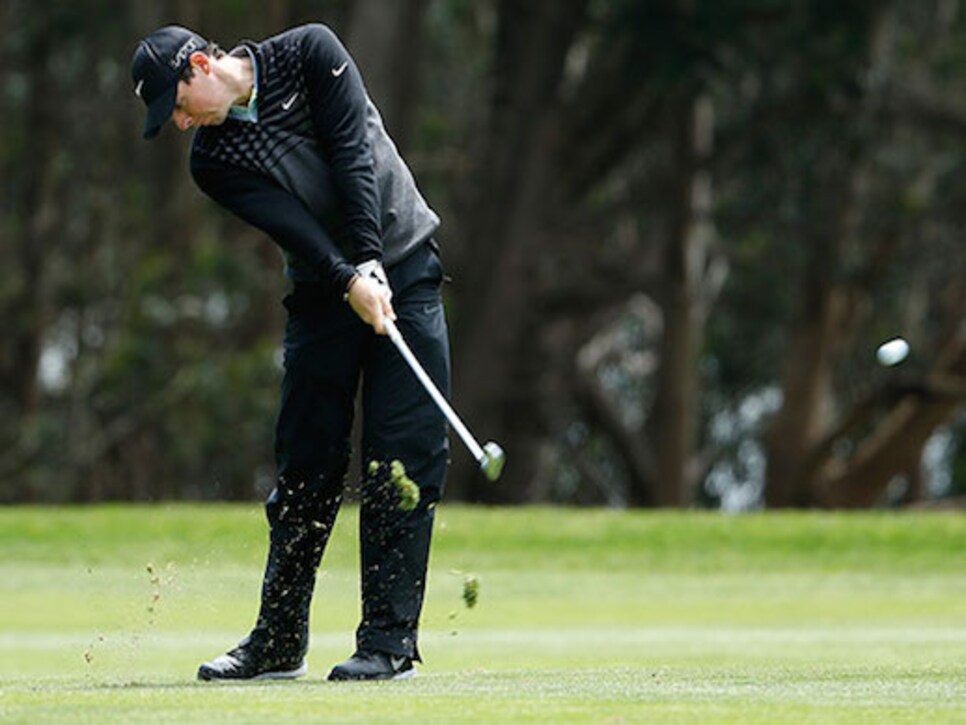 "He's going to sort of fly the flag for golf for quite a while," said Justin Rose. "People were getting excited about that out there. You could tell."
"When I first met him, I tell you, I'll never forget it," added Ben Crenshaw. "I looked right at him and he looked at me and I thought I was looking at Wyatt Earp. He just had that look about him, just wonderful."
"Following two days at Augusta National," gushed The Golf Channel, two days before he'd won, "it's impossible to shake the feeling that we've all seen this before."
Tiger was having none of it. Spieth, he said, was better: "The difference is that he's separated himself. I didn't have that separation after two rounds. I believe I only had a three-shot lead at the time. So there's a big difference."
Everywhere you looked, media and fans and players were heralding the long-awaited arrival of the youth movement, with Spieth in the vanguard. And the fresh-faced monarch, with his rosy cheeks and his gentle smile and his polished manner, waved to the crowds and said nothing.
Meanwhile, in exile, one particular golfer must have felt a bit perplexed. He had notched a top-five finish at Augusta, and a few months earlier, at age 25, he had won his fourth career major while grabbing the top spot in the world rankings — a spot he still held. If golf needed a new king, or the next Tiger, he seemed to have a strong claim. Instead, Rory McIlroy was on the outs, crushed by the Spieth coup d'etat, and would now have to resort to guerrilla warfare, miles from the throne.
OK, that's plenty. Time to dial down the rhetoric -- you get the point, and the whole ramble was probably unfair to the 21-year-old Masters champ. Jordan Spieth's win was remarkable, and the similarities to Tiger's '97 win were uncanny, and the hyperbole that followed wasn't his fault. In fact, he took every opportunity to admit that he wasn't yet on Rory's level. You can't blame him if nobody seemed to get the message.
"The next generation is here!" bellowed Jim Nantz that Sunday, and if you were waiting for a CBS underling to scurry to his side and whisper that its members already arrived, you'd wait in vain. The narrative had been established: Jordan was the only show in town.
Do I need to reiterate the greatness of Rory McIlroy? How every time he wins, he hits a new milestone that only Jack and Tiger have hit before—including his 10th PGA Tour win before turning 26 on Monday, at the WGC-Cadillac Match Play? Jordan Spieth is a wonderful golfer, but even after his win at Augusta, the sum of his accomplishments barely placed him in Rory's shadow. The fact that golf's principal actors fabricated a story that reversed those positions was an odd little puzzle.
Why did it happen? It may be as simple as the fact that Jordan is American, and Rory is not. We want the rising stars in global sports to come from native shores, and that's only natural. Just look at how few of us can be bothered to watch the historic Federer-Nadal-Djokovic rivalry matches in tennis, compared to the fever that swept the country in the days of Sampras and Agassi. We're a partisan nation, and that's fine. (There is a special irony, though, in the fact that Ireland has a long history of devouring its young geniuses—my favorite example in Rory's case comes from this New York Times story, when fans called him a "snob" and got miffed because he had a private parking spot at the Irish Open. At home and in America, he has the worst of both worlds.)
There's a second theory, though, and this one has nothing to do with nationality. In golf, I believe that a large segment of American fans covet a champion like Spieth -- a player so phenomenally inoffensive and bland that if you squint hard enough, you might confuse him with one of those half-sketched, iconic old figures like Bobby Jones. I know very little about Spieth the person -- that's by design -- but Spieth the public figure is flat-out boring. He is a publicist's dream, with no sharp edges, no whiff of controversy, and the appropriately faint hints of mild religion and conservative politics. He's comfortable in front of a camera, good looking in the most non-threatening way possible, and utterly incapable of embarrassing himself. Deep down, I think this is what we might want—we've learned the pitfalls of knowing too much about an athlete, and there's comfort in recognizing someone great that will keep us at a distance, leaving us to our false, self-nourishing projections. Appeal to our nostalgia, and we'll let our vision blur.
Rory is not boring. While Spieth comes from suburban Dallas, Rory hails from war-torn Northern Ireland, where every decision he makes is analyzed for its political implications. While Spieth is mild-mannered and quiet, Rory is unusually honest, and occasionally confrontational. While Spieth dates his all-American high school sweetheart, Rory dates celebrities and models (and breaks off engagements by phone). While it's hard to know if Spieth is smart or aggressive or fierce beneath the tepid self-rebukes on the course, all three of these qualities are evident in Rory. (Even Spieth's complaints are cautiously framed, as in this tweet where he disguised his annoyance at the fickle nature of match play behind a desire to improve the event—by making it stroke play.) And while Spieth hasn't developed a quintessential style in his three wins, Rory has a closing kick not even Tiger, in his front-running heyday, could match.
Rory's cold blood flowed this weekend for the first time since Gleneagles. Billy Horschel had him dead to rights on Friday, but Rory drained a long birdie putt on the 17th to steal a hole -- and later the match. He pulled the same late come-from-behind acts against Paul Casey and Jim Furyk in the quarterfinals and semifinals, and saved his best golf for Sunday's championship match, when he routed Gary Woodland to win his second WGC event.
One thing that always impresses me about Rory is his thorough mastery of the game's psychological side. Last summer, I watched him intimidate opponents like Phil Mickelson, Rickie Fowler and Sergio Garcia in the incredible three-month stretch that saw him capture his two latest major titles and his third Ryder Cup. He was at it again this weekend in San Francisco, winning six consecutive matches despite a game that hasn't quite clicked. He prevailed with a formula based in sheer willpower—close hard and hit the spectacular shot at the perfect moment. He's relentless and unapologetic, and I don't doubt his fellow pros -- especially his victims -- like him less than the comparatively affable Spieth.
At the moment, Rory is the man who deserves our superlatives. There are champions and there are challengers, and when we mix them up, we're being willfully ignorant—the situation couldn't be clearer. But perception can become reality, and the most interesting element of Spieth's premature ascension will be Rory's rebuttal. Seeking out the "next Tiger" in golf is reductive and lazy, and even the most obvious rivalries have a way of petering out. Still, it was hard not to read Rory's win as a response to the Spiethian fanfare. Here was the once and future king, vicious in exile, with an opening salvo for a summer of war.