The Loop
The Oklahoma City Thunder team plane apparently got hit by the world's largest bird
One of the tougher things to do for an NBA team is to play back-to-back nights on the road, a situation the Oklahoma City Thunder face this weekend. The road trip did not get off to an ideal start, with the Thunder losing a 119-116 squeaker to the Minnesota Timberwolves on Friday night. After the tough loss, the Thunder had to catch a flight to Chicago, where they will take on the Bulls on Saturday.
At 30,000-feet in the air, the last thing on the team's mind was basketball, when their plane collided with something that caused a massive dent in the front of the aircraft. Luckily, they landed safely in Chicago, and players posted pictures and videos of the damage, including Carmelo Anthony:
So, what the hell could cause a dent that big? A bird, according a statement from a Delta Airlines spokesperson confirmed in The Oklahoman:
"Delta flight 8935, operating from Minneapolis to Chicago-Midway as a charter flight for the Oklahoma City Thunder, likely encountered a bird while on descent into Chicago. The aircraft, a Boeing 757-200, landed safely without incident; customers have since deplaned and maintenance teams are evaluating. Safety is Delta's top priority."
Was this the largest bird in history? Last we checked, pterodactyls are extinct.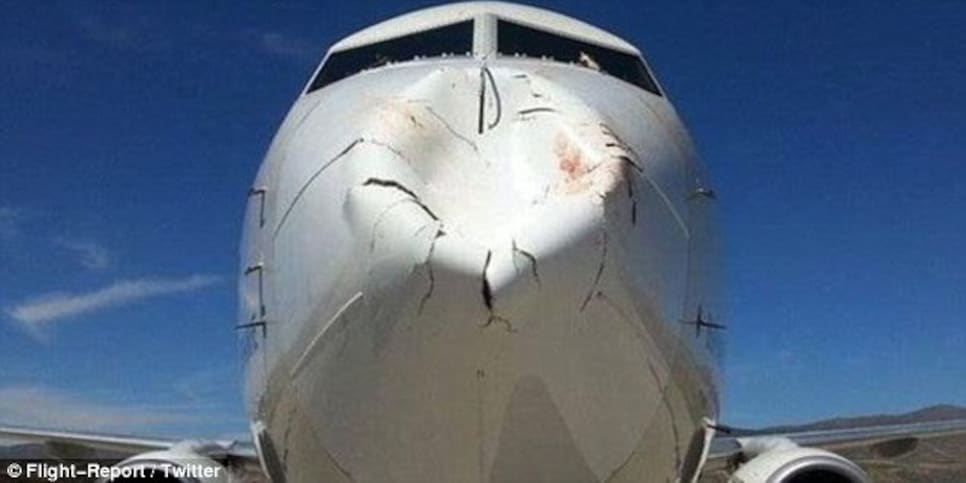 © Flight-Report / Twitter