The Loop
The odd couple: Mickelson, Bradley back in form
DUBLIN, Ohio -- The pairing of Phil Mickelson and Keegan Bradley is a formidable one, for unidentifiable reasons, though the word quirkiness surfaced on Friday. Maybe the answer is found by placing a mutual in front of quirkiness.
The frequency with which they've been exchanging not high fives and knuckle bumps, but backside slaps, at this Presidents Cup is not a conventional way of acknowledging one another's quality play.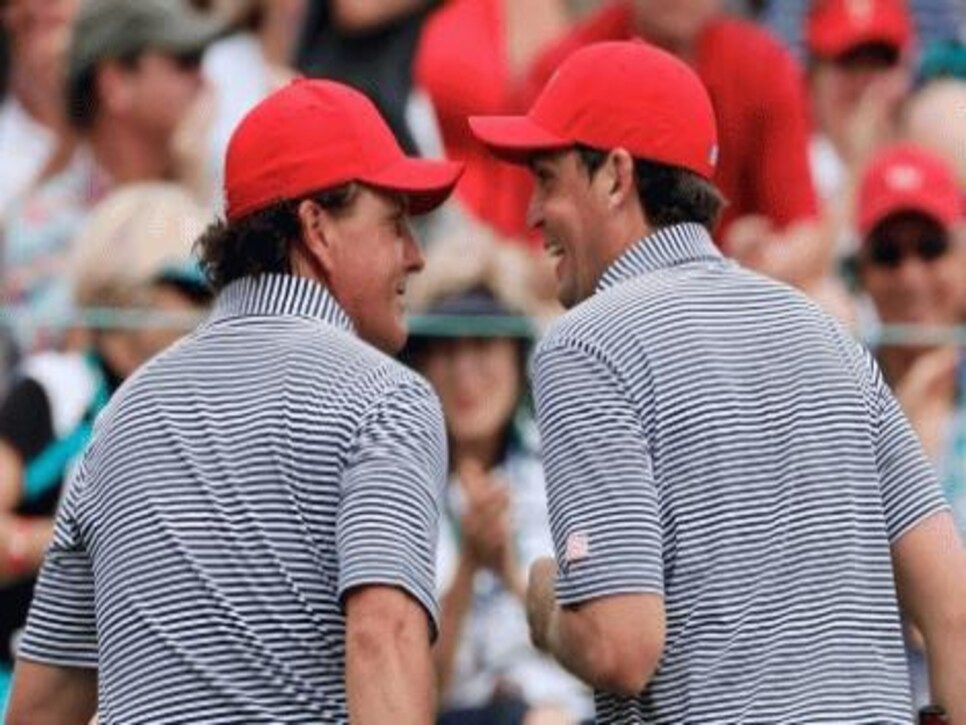 Bradley, meanwhile, is renowned for his start-and-stop pre-shot routine, his stink-eye approach to putting, the hyper-intensity he brings to a game better played at an even keel. Mickelson, for his part, is analytical (over-analytical?), using two drivers at times, none at other times, putting a Frankenwood in his bag.
They are, at any rate, compatible, which plays out in a strong record together in team competitions, including their 4 & 3 victory over Jason Day and Graham DeLaet in foursomes on day two at Muirfield Village Golf Club.
It evened their record in this Presidents Cup -- they lost in a four-ball on Thursday -- that at the end of another wet day allowed the U.S. to cling to its one-point lead, 4 1/2 to 3 1/2, with only two matches having concluded by nightfall.
The victory by Mickelson and Bradley included a front nine of 30, an eye-opener number in this alternate-shot format. They went eagle, birdie, birdie, birdie in one four-hole stretch to turn a one-hole deficit into a 3-up lead.
The eagle came on the par-5 fifth hole, where Keegan Bradley hit a near-perfect hybrid to the green, leaving Mickelson a 15-foot putt that he holed.
"I would be really worried about carrying the water with a hybrid, but it was not even a consideration for him," Mickelson said. "He hit the most beautiful hybrid dead straight, eight feet right of the pin and it went to the back fringe and couldn't have been an easier 15-foot putt downhill."
Their record pairing together now 4-1; they were 3-0 together at the Ryder Cup last year, including a 7 & 6 victory over Luke Donald and Lee Westwood.
"We play well together and I don't know if I could put my finger on it," Mickelson said. "I love the excitement and intensity he brings, I love the quirkiness."
They are 3-0 in alternate shot dating to the Ryder Cup. "I just think that when Phil and I get rolling in this alternate shot, we complement each other so well," Bradley said. "And I was saying that I think that we both really enjoy kind of showing off in front of each other. It's fun to hit a 270-yard hybrid to eight feet. It's fun whenever Phil is off the green and I half expect him to chip it in every time.
"We are having so much fun and are really energized to play good golf. And after losing yesterday's match, our first match we've lost together, we were both pretty devastated. It felt horrible."