The Loop
"Invention, my dear friends, is 93 percent perspiration, 6 percent electricity, 4 percent evaporation, and 2 percent butterscotch ripple," said Willy Wonka. "Little surprises around every corner, but nothing dangerous."
Last week, while walking the new fourth course at Bandon Dunes, my tour guides to the surprises were Ken Nice, the superintendent/agronomist of Old Macdonald, and Jeff Brinegar, the head pro at Bandon Trails, who will be the head pro of Old Macdonald.
Nice (left) and Brinegar: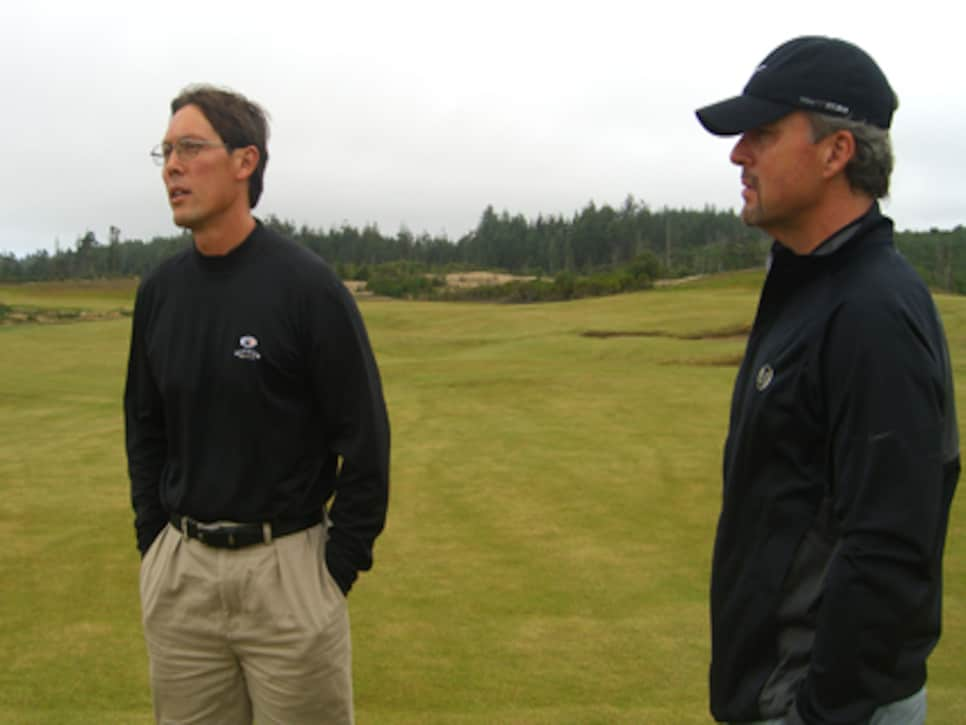 Here's a link to a short video of the tour:
I know Brinegar from last year's tour of the first 10 holes of Old Mac that I described for Golf World. (Here's a link to that story.) Those 10 holes have been open since April, and management has limited play to about 600 rounds a month. I just met Nice, who started on property as an assistant superintendent before the opening of Bandon Dunes in 1998. Nice helped grow in Pacific Dunes, Bandon Trails and now is doing the same at Old Mac. Nice drove us around in a company truck--stopping at various points of the new eight holes so we could get out and walk to the tees, up the fairways and onto some of the greens. From the tees, and even the fairways, the new eight holes look like they're playable. It's not until you get on the greens that you realize the grass is a little long and thin. The new holes are 1, 2, 12, 13, 15, 16, 17 and 18 (plus a new tee box on No. 3).
I've certainly been a contributor to the wind machine of hype about the most anticipated golf course since, well, Bandon's new course in 2005 (Trails), and then the new course before that in 2001 (Pacific). It has been a decade of buzz for Bandon Dunes owner Mike Keiser, but he deserves it. I refer to Bandon as my favorite golf destination in the country. Keiser has pieced this perfect puzzle together over a long time, adding elements only when they're necessary. The aesthetics of the property make it so easy on the eyes, complete with fire pits, caddies and no carts enhancing the architecture of the lodge, hotels and cottages that blend into the tree-filled scenery. The fact that it's hard to get to is one of the nitpicks, but in the end I think it leaves Bandon with an air of exclusivity that the public can get only if invited to stay and play at a place like Pine Valley. Bandon Dunes is a private club for the public.
My best guess: Old Mac will exceed all hype and expectations. The course has the look and big greens of the Old Course at St. Andrews, and, among other things, it has the various elements of iconic Charles Blair Macdonald holes, which was the inspiration behind the course in the first place: with an Eden, a Cape, a Redan and a Road Hole. "I think our Road Hole is better than the one at National," Nice says of the classic on Long Island. "That's just my opinion."
I also see traces of Turnberry and Tralee (two of my favorites), and you can throw Royal Dornoch and Royal County Down into the mix. Old Mac is a tougher walk than the Old Course--there are more hills to climb. I'm also guessing it will be considered more friendly for couples golf or high-handicappers because it's more open off the tees than the other three Bandon courses. But if the prevailing wind is a factor, the tees are back and pins are in the most challenging part of the massive greens, the par 71 (which can play from 7,100 yards) can be tougher than the Trails, Bandon and Pacific.
Last week Keiser treated himself, and two groups of friends, to that first round of all 18 holes on Old Mac. "The round reinforced that the rhythm of all 18 works," said Keiser, adding that he played from 6,400 yards and shot an 83. Anything within 10 feet on the new greens was an automatic one-putt and anything on the green was an automatic two-putt." Jude Reyes shot the course record--a 75," said Keiser. "And then Bill Wolf, in the group behind us, broke it. He shot a 67. Two good rounds. And it's proof that the course is very playable."
Come June, not all 10-footers will be one-putts and four putts, or even five putts, on the enormous Old Mac greens could be a reality.
Keiser says he will be seeing groups off on the first tee all day for opening day of Old Mac. "We'll pass out a commemorative coin and, the last time I checked, tee times are only booked through 3:30."
During my tour, I stopped and interviewed a group from Washington on its annual Bandon boondoggle. (They wanted to know if they were being Ambushed.)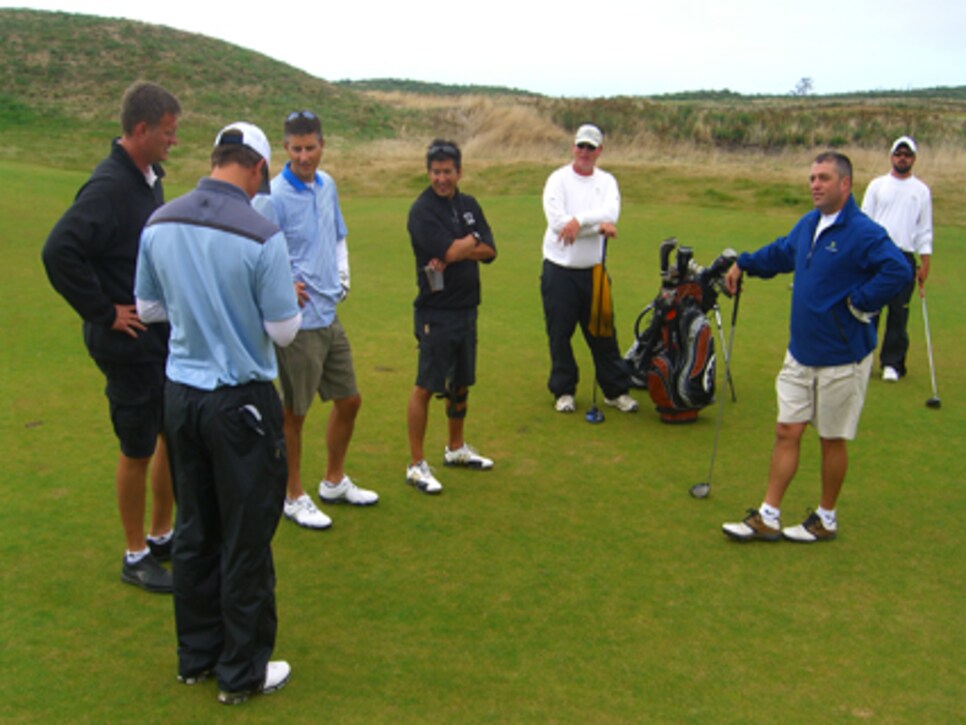 "It's wide open off the tees," said Michael Crowson.
"Greens are huge with endless pin placements," said Bruce Haldors.
"I know I'm probably not supposed to say this," said Jim Tawslee of Seattle, "but I like it more than I like Trails."
Not supposed to say what? Nothing could be better for Keiser, Nice, Brinegar or Bandon than to hear people arguing that Old Mac is better than any of the other three courses on the property. All three are on Golf Digest's list of America's 100 Greatest Courses: Pacific is No. 14, Bandon is No. 33 and Trails is No. 80.
I also ran into Donnell Guthrie and Sheldon Withers, two female members of Fishers Island in New York, who carry single-digit handicaps. "It's like Scotland," said Gutherie. "It's fabulous. If you can't make it on this green," she said, pointing to the green at the eighth hole, "you're a real lousy golfer."
"Yes," said Withers, "but a three-putt is a common occurrence."
By the name, Old Macdonald, most of us know Keiser's paying homage to C.B. Macdonald, considered the father of golf architecture in the United States and the architect of Keiser's favorite course, the National Golf Links. Tom Doak and Jim Urbina, who built Pacific Dunes for Keiser, have stuck to that master plan, but you can see Doak's focus on the short game and use of natural undulations on and around the greens, and you can see Urbina's influence on green-to-tee complexes with no clear sign of where the green ends or where the next tee begins.
Needless to say, it was a fantastic four days in my golf-centric world. I played 36 holes on each of the first three courses, then the tour of the eight new holes at Old Mac, followed by the chance to play the 10 holes that are open.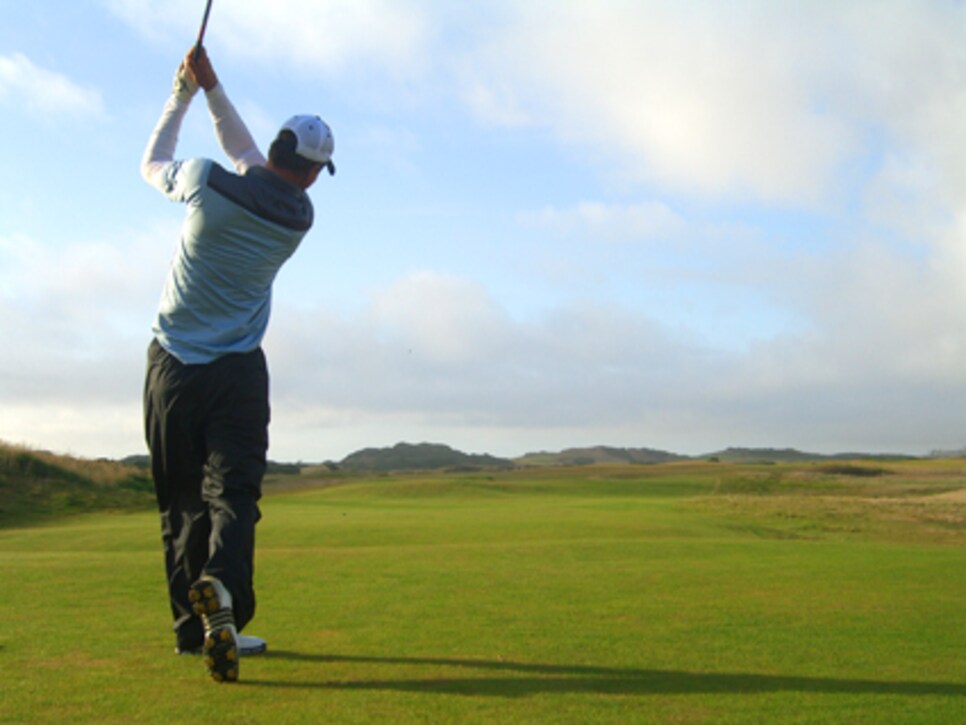 More details and information in an upcoming issue of Golf World, but here's a visual portion of the tour of the latest eight holes at Old Mac and some of the holes I was able to play there . . .
Principal's Nose-style bunkers, also seen at the Old Course's 16th, that are in the front of the green of the par-4 first: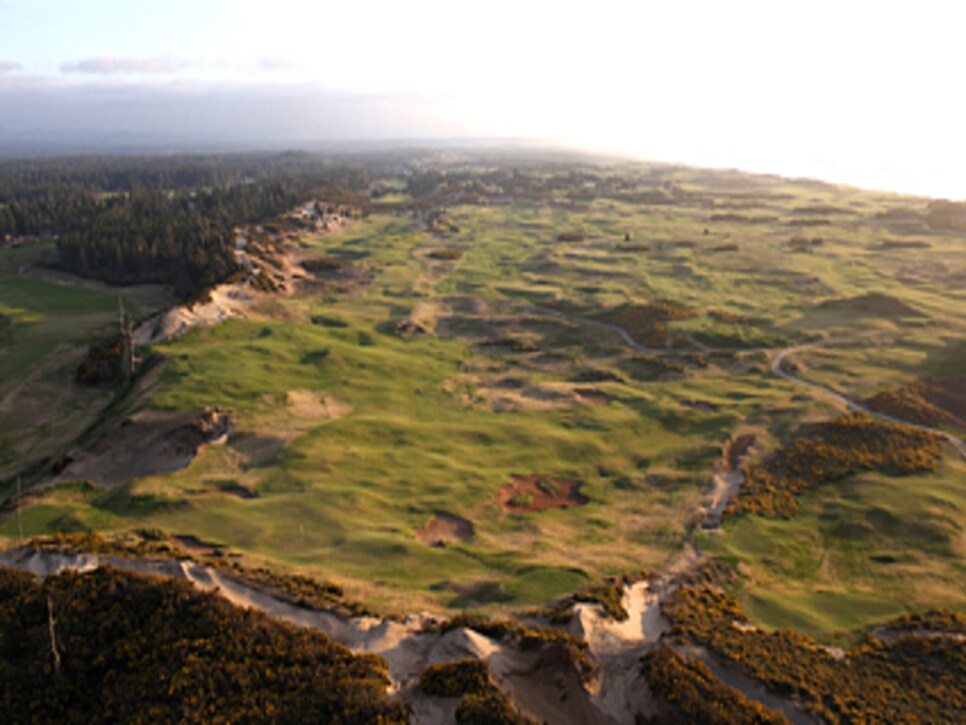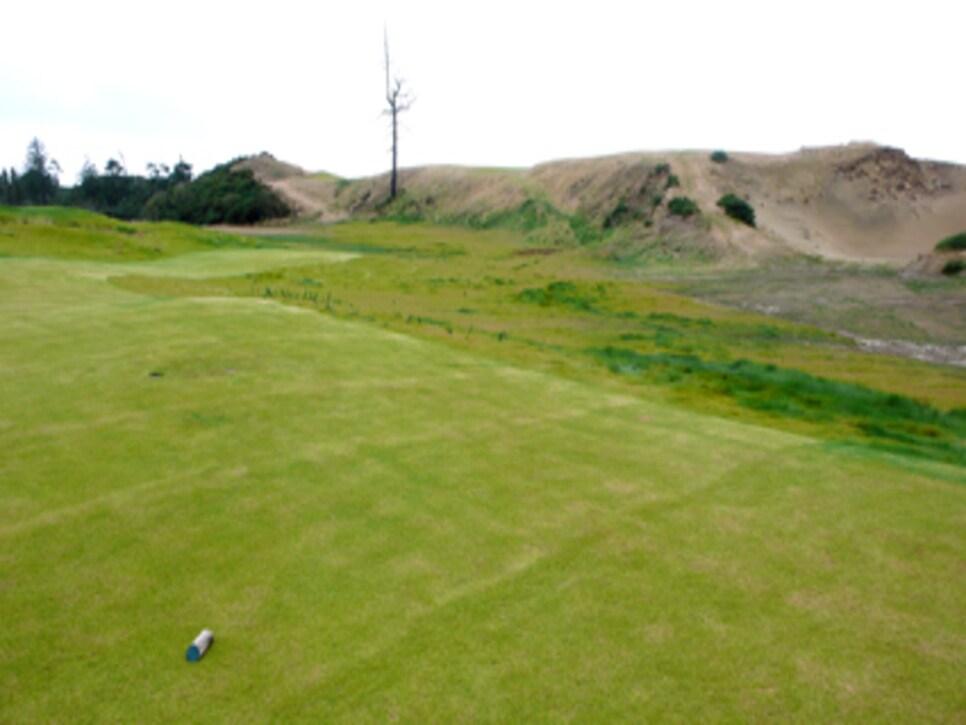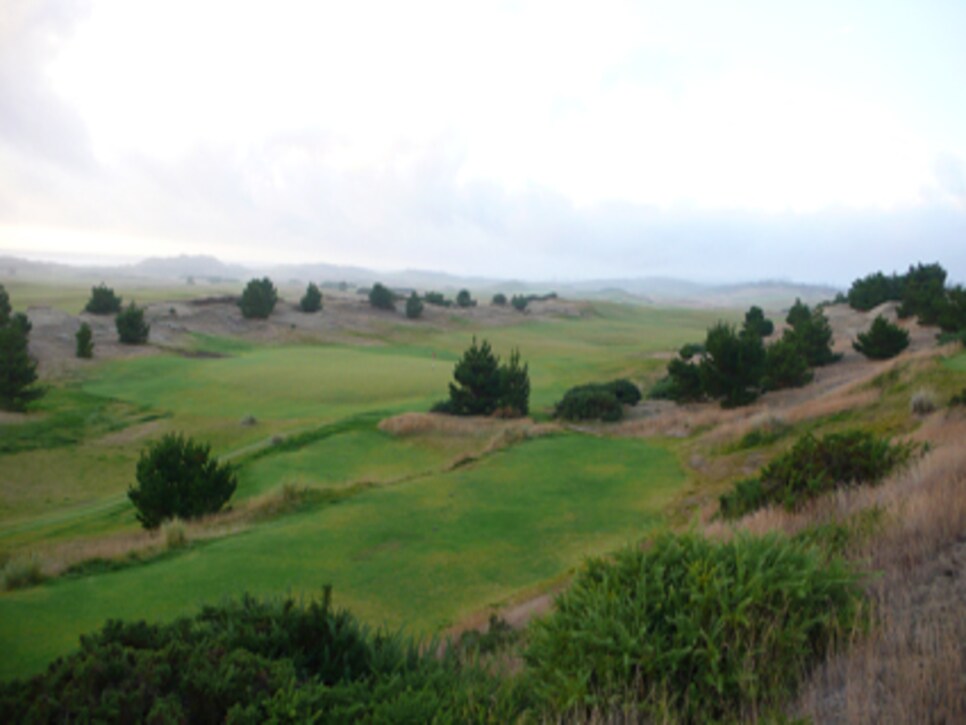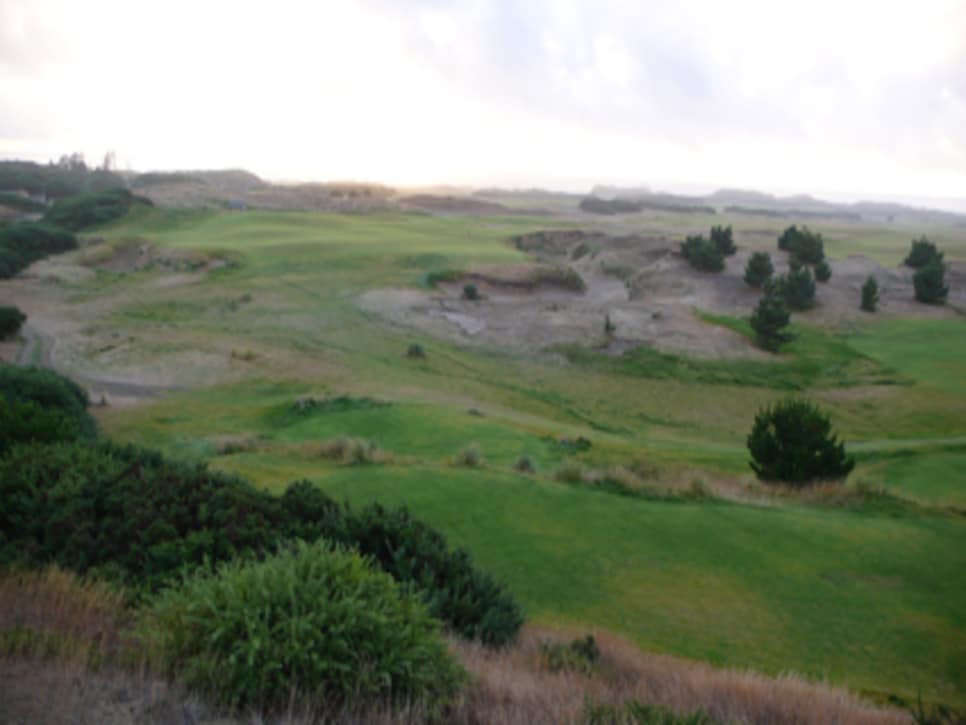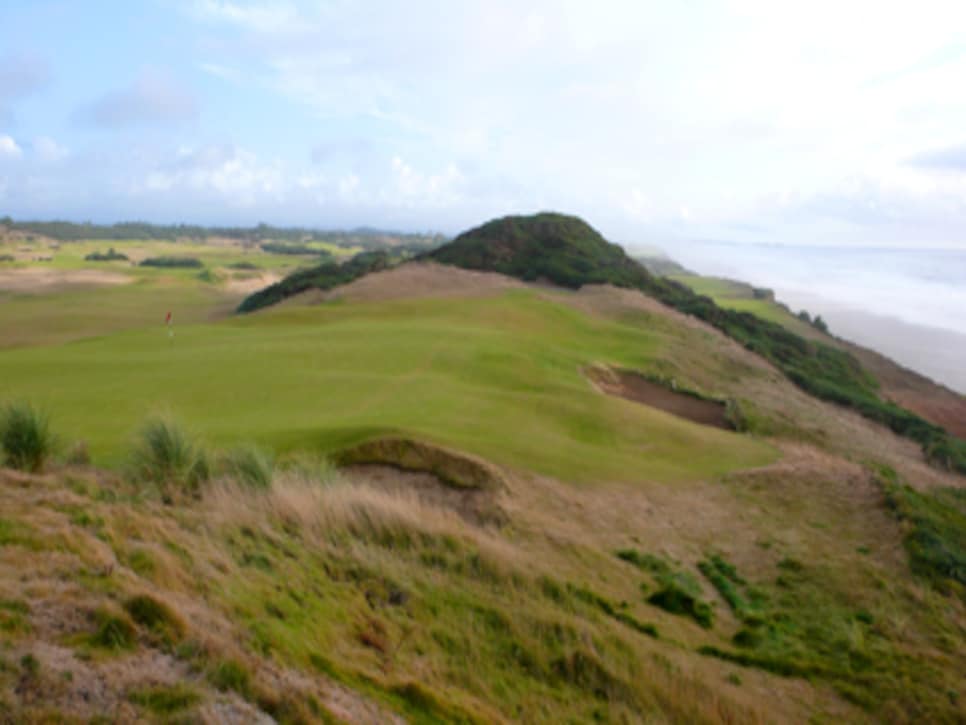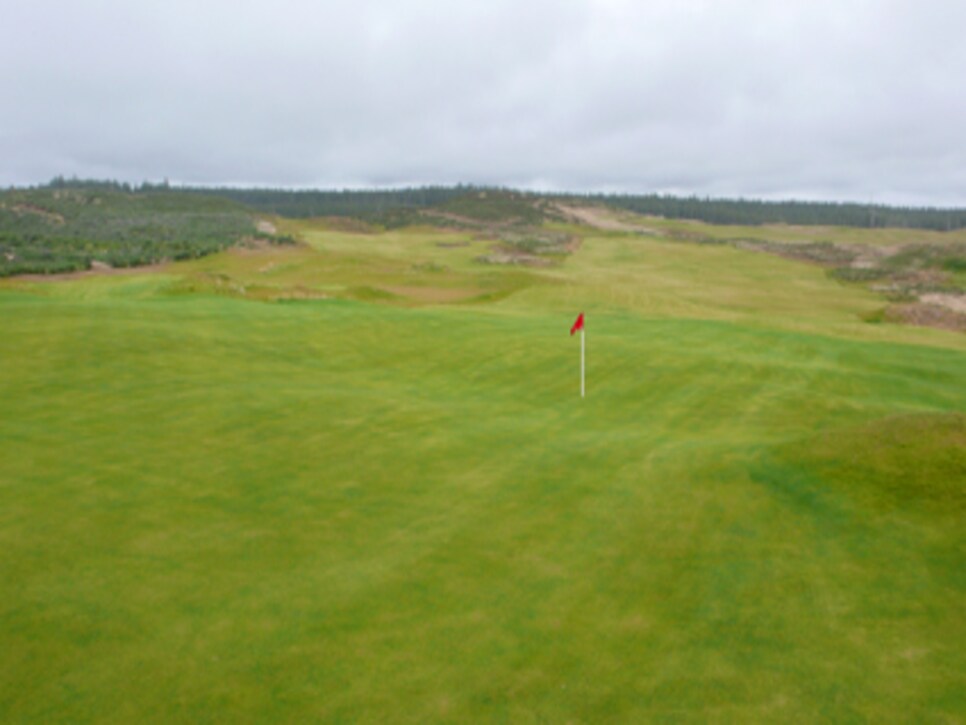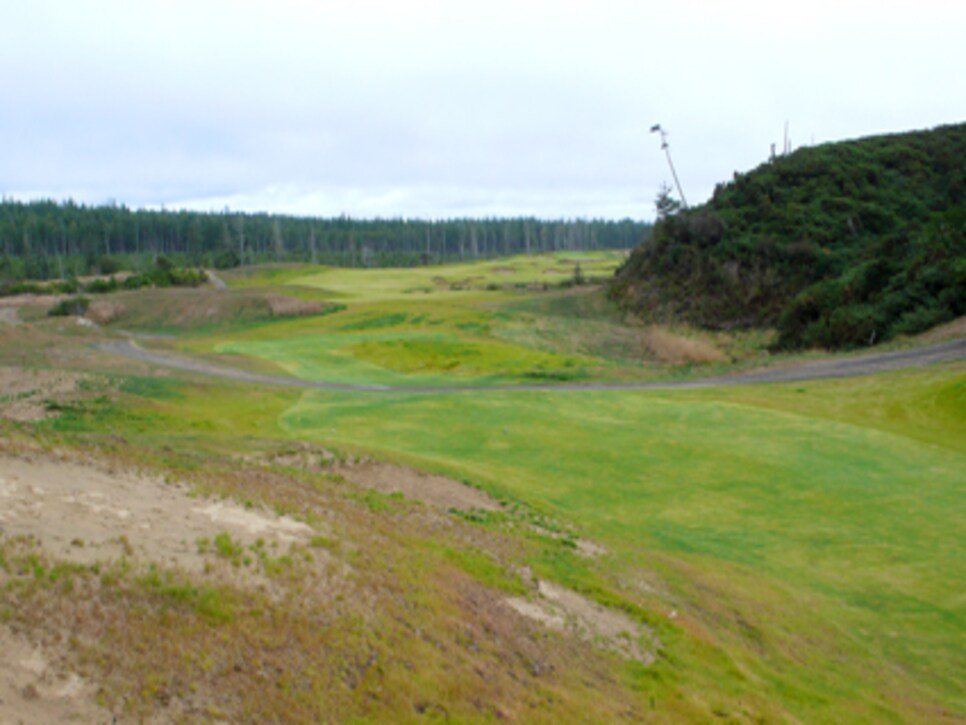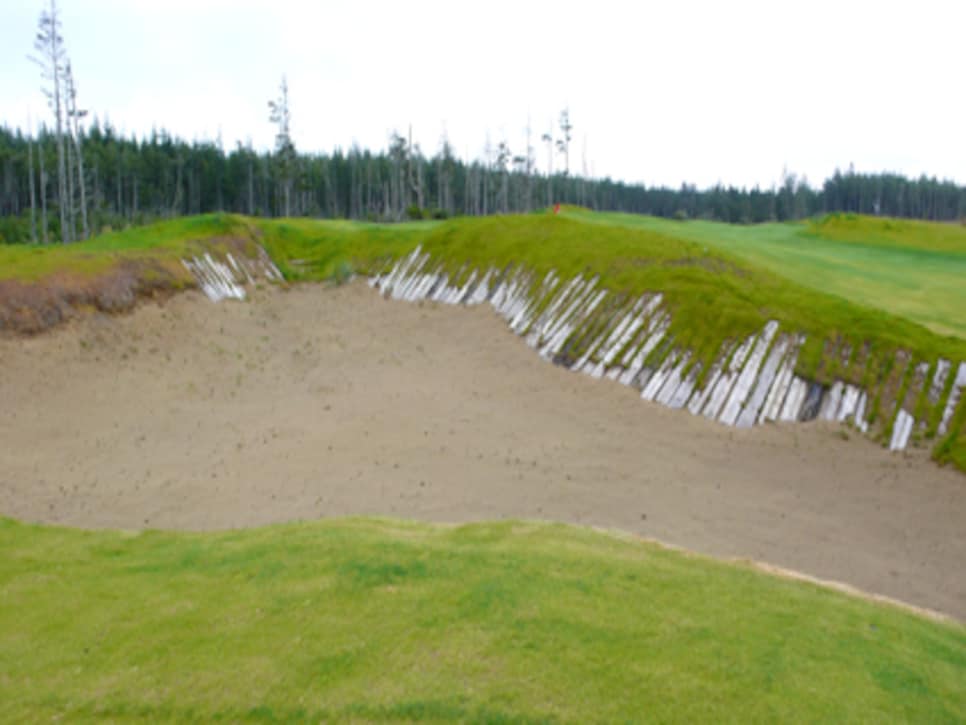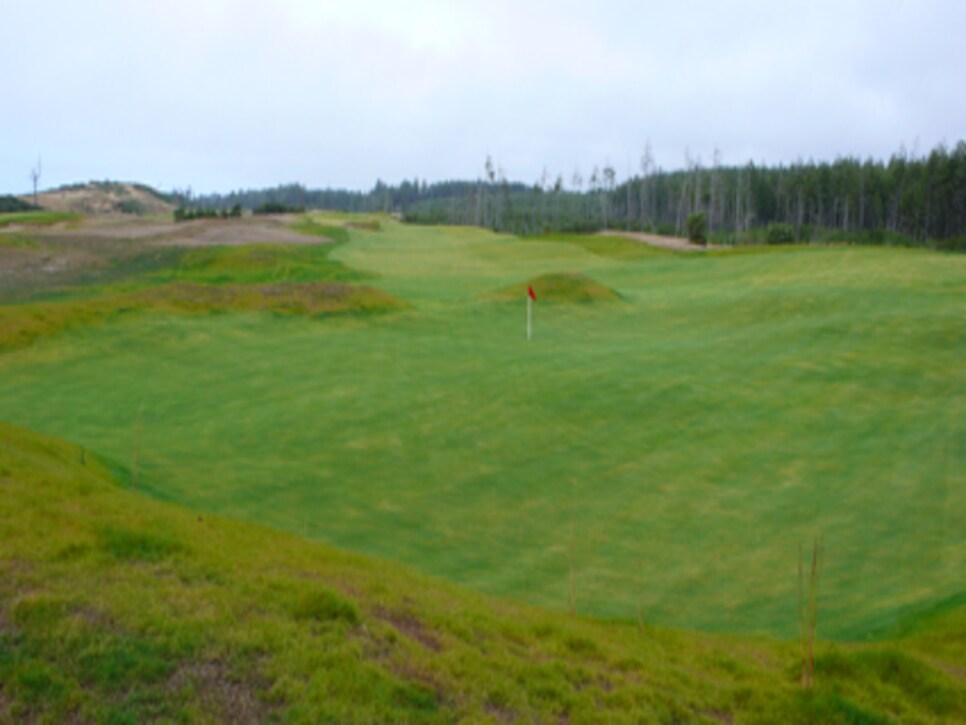 --The location of the clubhouse for Old Mac has yet to be determined. It will be smaller than the clubhouses at Pacific and Trails and much smaller than the lodge at Bandon Dunes. "There will be a place to grab a beer and a brat," says Nice. "That's about it."
--For playability purposes, and to open up more pin locations, Keiser, Doak and Urbina have  removed a bunker on Old Mac's fourth and 10th holes.
--The grass at Old Mac will be 100 percent fine fescue as opposed to the other three courses, which are 90 percent fescue and 10 percent bentgrass. This can be considered inside-baseball, but over the years, Nice has learned the fine fescue creates a better playing surface, especially on the greens, and it's easier to maintain one grass as opposed to two.
--The front nine will be a par 34, and the back nine a par 37. There will be a total of three par 5s and four par 3s.__
______[#image: /photos/55ad71a9add713143b42312f]|||Sunset.jpg|||"I never thought there would be one course," said Keiser, "and now there are going to be four. Well, four and a half."
The half Keiser's referring to is the 12-hole par-3 course that's scheduled to be built by Ben Crenshaw and Bill Coore in 2011, opens in 2012. See the post below for more about Bandon's fifth course.
As Willy Wonka said, "If you want to view paradise, simply look around and view it." Paradise for golfers is what Keiser is building in Bandon Dunes.