The Loop
The NBA one-and-done rule is terrible and must go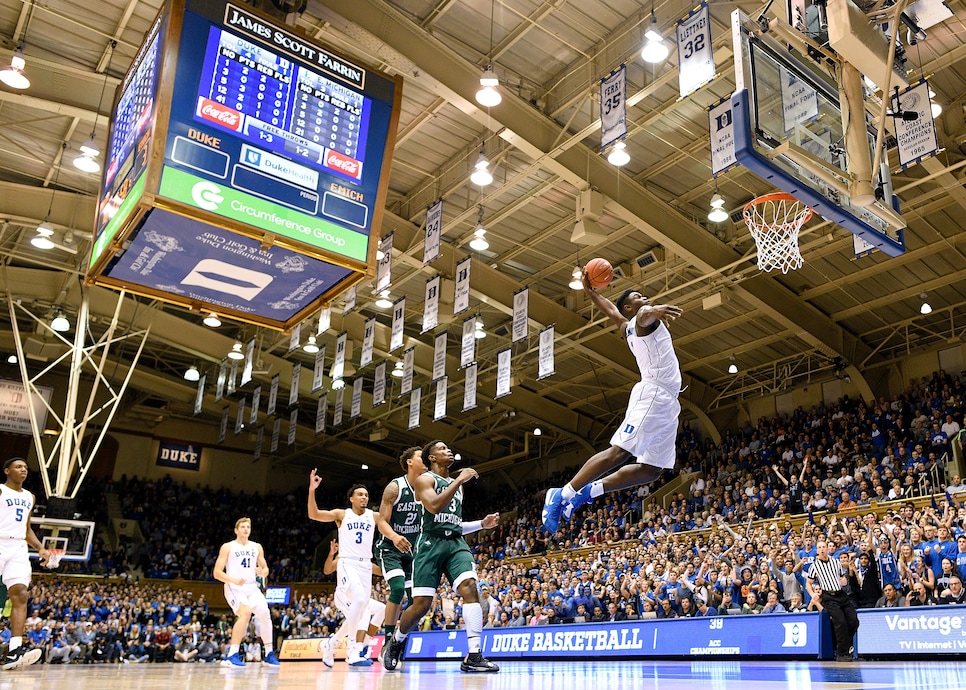 As the best league in American sports, bar none, it seems that the NBA always makes the right choice. Thus it was no surprise to learn this past summer that Adam Silver was in negotiations with the Players Association to kill the one-and-done rule once and for all. Both sides were in favor of ending the unfair practice, but negotiations have now stalled because of two issues. The minor hang-up is participation in the pre-draft combine—the NBA wants it to be mandatory, the NBAPA does not. The real sticking point, though, is team access to the medical records of draft prospects. The NBA wants as much information as possible in order to protect its teams, but agents want to restrict that access to protect their players. This seems to be the final snag in the way of repealing the rule, which would likely go into effect starting at the 2022 draft.
I've been thinking about one-and-done quite a bit lately because of Zion Williamson. As a Duke fan, I've been somewhat obsessed since I first saw him play against Kentucky, and after witnessing him in the flesh last week at Cameron Indoor Stadium, I came away with three main thoughts:
1. The combination of his body type (thick, with tree trunk strength) and athleticism—especially leaping ability—just shouldn't be possible. When people call him a "freak," this is what they mean...the contrast is astounding, and you're not supposed to have both.
2. He's a once-in-a-generation talent. Along with all his other gifts, I think he might become one of the best rebounders in NBA history by the time he's done.
3. It's an absurdity and an outrage that he's not already making millions.
In what other walk of American life, besides basketball and football, would you ever tell an 18-year-old with this kind of ability that he can't go out and make money as a professional? Where else would you tell someone they aren't allowed to reach their full earning potential?
Now, granted, that's not exactly what the NBA is doing—they simply say a player can't go from high school straight to the league. The player could, in theory, sit out a year or play internationally. But sitting out is a great way to lose draft stock, and living abroad is a huge, life-altering move for a young man. So in essence, the NBA pushes most of its future stars to play one year of college basketball.
I'm purposefully ignoring the debate about whether blue chip NCAA players should be paid (yes), or whether a year of free "education" they'll never use is true compensation (no), but I have to bring it up now to summarize the situation: The NBA not only excludes these players from their ranks, but fundamentally forces most of them to go play for free while making tons of money for someone else. Is that not, at best, indentured servitude?
It's a profound injustice, especially when you consider that one freak injury or accident could turn a player like Zion Williamson from a millionaire into a pauper. Stan Van Gundy, who has coached at every level, even called it racist:
"I think a lot of it was racist, quite honestly. And the reason I'm going to say that is, I've never heard anybody go up in arms about, 'Oh my god, they're letting these kids go out and play minor-league baseball' or, 'They're letting these kids come out and play minor-league hockey.' They're not making big money, and they're white kids primarily, and nobody has a problem."
"But all of a sudden, you've got a black kid who wants to come out of high school and make millions — that's a bad decision? But bypassing college to go play for $800 a month in minor-league baseball – that's a fine decision? What the hell is going on?"
He makes a great point. And as Nancy Armour of USA Today put it succinctly in a recent column, writing, "Zion Williamson doesn't belong in college."
A lot of people like to trot out the paternalistic argument that, for many players, "it's not the right move." Sure, if the one-and-done rule is repealed, there will be some who err by jumping straight to the NBA. But there are others who won't, and in the end, this is America—the decision should belong to them.
The Dunk of the Year: Zion Williamson, Duke
We're not going to top this one all season—the height alone is astounding. And if you can take even more humble bragging (or is it just outright bragging?) from me, it was even more incredible to watch live:
I will fully admit to falling off my peak college basketball fandom (2009-2012 were the golden years)—mostly because the style of play is generally terrible outside of four teams—but the emergence of Zion has rendered me a fanatic reborn. I've been counting the minutes until Duke takes the floor at the Maui Invitational on Monday, and if you get the chance, I fervently suggest you watch this guy in action.
Choke of the Week: Maryland Football
In some ways, Ohio State's Urban Meyer is living a charmed life. Yes, everyone kinda hates him, and yes, everyone is shitting on his team's play this season. But the fact is he could have gotten into way more trouble than his three-game "suspension" after "mis-handling" domestic violence accusations (he still got to coach his team in practice). And as far as the actual football goes, the highly talented, extremely underachieving team he helms still has just one loss. It was a bad one, no doubt—49-20 at Purdue—but before this past weekend, he dodged other close losses against Penn State and Nebraska while picking up a few wins against ranked opponents. In theory, the no. 10 Buckeyes can still make the playoffs with a win against Michigan and another in the Big Ten championship. Unlikely, but it's still in play.
And that's because, against Maryland, Urban's team got extremely lucky once again. After an incredibly underwhelming game by the favorites, the Terps had a chance to clinch the upset with a two-point conversion attempt in overtime. Here's how it played out:
You might have to watch it two or three times, but when you finally see how open the receiver was, and how terrible that pass was, you will throw your hands on your head and truly understand the level of chokiness in play. How do you blow that pass?!?! How is Urban Meyer this lucky??? OSU is going all the way.
The Only Reason to Ever Like Harvard, Ever: The Flip-Off Running Back
This is hysterical: In the middle of a touchdown run against rival Yale, Harvard running back Devin Darrington actually flipped off his opponents. Flipped 'em the ole bird!
Instead of winning some kind of trophy, which is what would have happened in a just world, Darrington was penalized and the touchdown was revoked. Didn't matter—Harvard won anyway, and Darrington rushed for 91 yards and two touchdowns. Justice was served.
And now, let's all return to our regularly scheduled lifetimes of hating everything about Harvard, always.