The Loop
The NBA Finals inspired Scottie Scheffler to shoot his opening-round 69 at Oakmont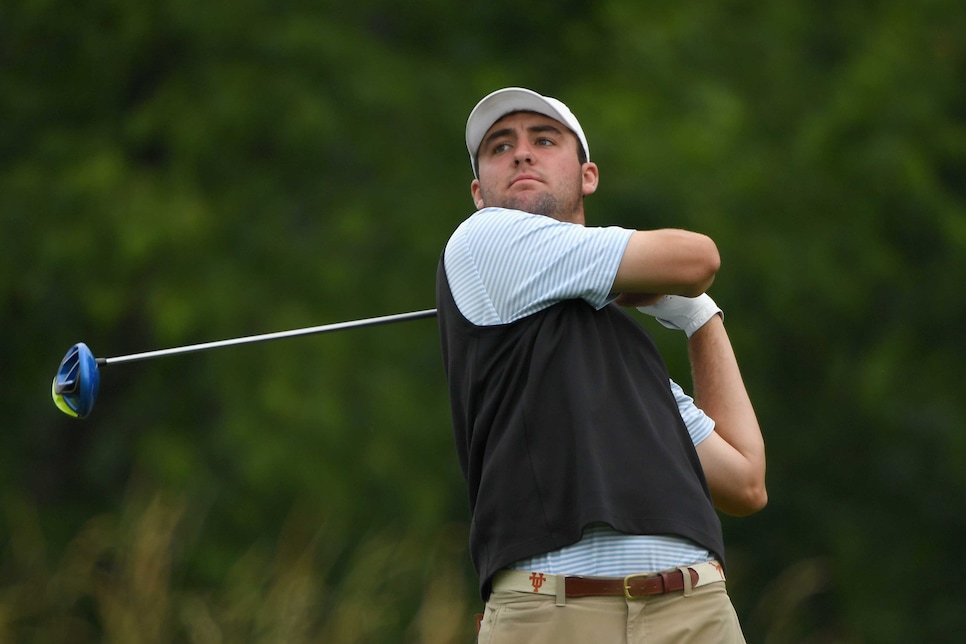 OAKMONT, Pa. -- There were any number of reasons why Scottie Scheffler would be grinning as he stood outside the clubhouse Thursday afternoon at Oakmont Country Club.
The 19-year-old University of Texas sophomore, playing his first round in a major championship, had just posted a one-under 69. Technically, the amateur was the leader in the clubhouse, thanks to the fact Andrew Landry still had to finish his 18th hole and just nine players overall completed their rounds before a third stoppage of play due to dangerous weather forced USGA officials to call it quits.
Yet, the real cause for the wide smile? He was free to watch Game 6 of the NBA Finals Thursday night in its entirety.
"I wanted to get done so I could stay up late tonight," Scheffler said after the round.
Think I'm overstating this point? Scheffler acknowledged his rushed himself over the 2½-foot par putt he had on his final hole to make sure he completed the round. "Probably should have been a little more cautious," he said, despite seeing it go in the hole.
OK, so Scheffler didn't want another early wake-up call, having gotten up at 4 a.m. Thursday morning to prepare to be the first threesome off the 10th tee at 6:45 a.m. Particularly, too, if he had to get up again before sunrise just to make one or two swings.
Still, getting the chance to stay up for the Golden State-Cleveland game wasn't far from his mind.
"I love the NBA," Scheffler said.
For his first round in a major -- one made even more difficult by all the starts and stops -- Scheffler said he was surprisingly calm. In part it stems from the confidence he had built over the past few weeks. The former U.S. Junior champion had helped the Longhorns reach the finals of the NCAA Championship earlier this month, beating NCAA medalist Aaron Wise of Oregon. He then advanced through Sectional Qualifying to grab his spot in the field.
The other calming factor? Having his older sister, Callie, on his bag.
When he qualified for the Open, he asked her to caddie, as she had in several of Scottie's biggest events, including his starts in a pair of PGA Tour tournaments. A college golfer herself, Callie had just started a summer internship as she works toward a business degree at Texas A&M, but got the go-ahead to miss a week to be at Oakmont.
"It's very important to me," Scheffler said. "We both know the drill [with each other]. The atmosphere out here is a little different than what we're used to, but to have that experience behind us is really helpful."
Scheffler noted that the toughest part of Thursday wasn't nerves but adjusting to the changing course conditions brought on by the weather.
"Coming into the greens and trying to control the spin with your wedges was tough," Scheffler said. "All three days before when we were playing we were trying to put as much spin as possible on the ball into the green and then just bounced off. But on 11 today, my second hole, I spun my ball back 50 feet of the front of the green. I was sitting there … I thought I hit a pretty good shot and was left with a pretty tough two-putt."
Dealing with the weather delays was another matter. During the first one, which started just past 10 a.m., Scheffler remained on the course and stayed loose talking with other competitors. When the second stoppage arrived at 12:08 p.m., Scheffler went back in the clubhouse and at lunch, only to lose track of time.
"I made a mistake of not really playing that close of attention," Scheffler said. "Suddenly it was 1:45 and we were starting to get whisked out [to the range]."
It didn't keep Scheffler from making two of his three birdies over his last six holes to be the only player to finish his round under par -- and completely at peace as he tunes in to the Warriors-Cavs on Thursday night.