links instincts
Course developer Mike Keiser writes about discovering the soul of golf in his book 'The Nature of the Game'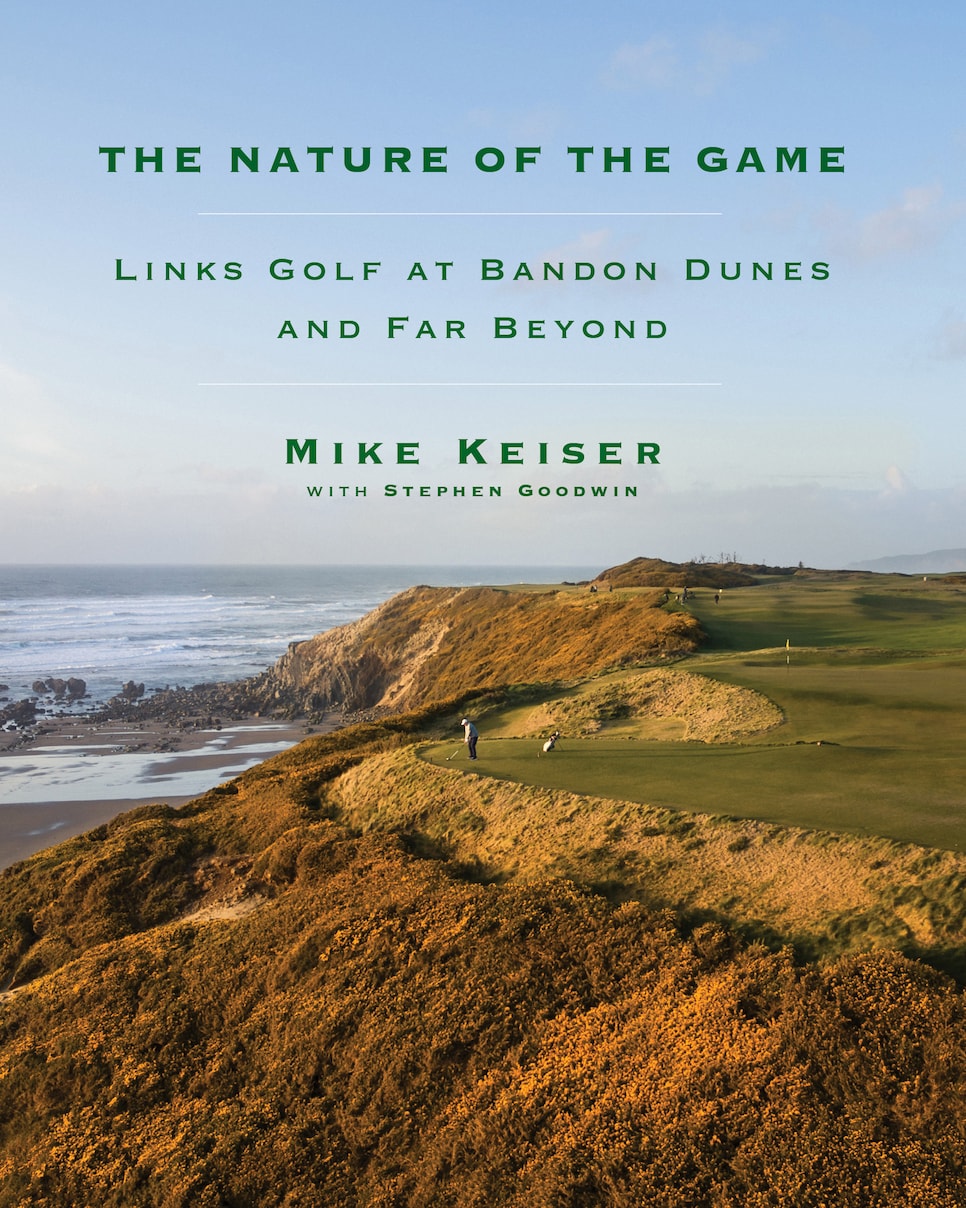 "The Nature of the Game: Links Golf at Bandon Dunes and Far Beyond" by Mike Keiser with Stephen Goodwin will be published by Knopf Doubleday Group on May 3, 2022. Copyright © 2022 by Mike Keiser and Stephen Goodwin.
"The impression of the true old game is indescribable. It was like the dawn or the twilight of a brilliant day. It can only be felt. The charm, the fascination of it all, cannot be conveyed in words. Would that I could hand on unimpaired the great game as it was my good fortune to know it!"
— CHARLES BLAIR MACDONALD
There are two kinds of golf, links golf and all the others, and they're as different from each other as a caddie is from a golf cart.
I haven't always been a links purist. Like most Americans, I grew up with a fuzzy idea of what links golf was all about. To the best of my youthful knowledge, "links" was just a slightly fancier way of saying "golf course." In my teens, I realized that links courses were found mostly in Scotland, where everybody's hero, Arnold Palmer, showed up annually on black-and-white TV, slashing the ball out of waist-high rough or staggering through the crowds thronging the fairways on his way to winning the British Open. All the spectators seemed to be wearing rain slickers and carrying umbrellas, and the whole event, from the galleries and the gloomy weather to the pot bunkers and the gorse, looked foreign and dank. The shaggy, bumpy, treeless courses certainly didn't bear much resemblance to the green, groomed, tree-lined country clubs around Buffalo, N.Y., which to my mind set the standard of beauty.
If you'd told me then that I would someday consider links golf the most exciting, authentic form of the game, I would've laughed at you. I just didn't understand the mystique that had grown up around what seemed to me an antiquated version of the sport. There is a famous old saying that the links were created by the hand of God, and expressly designed to provide the ideal grounds for golf. My initial reaction to statements like that: Really?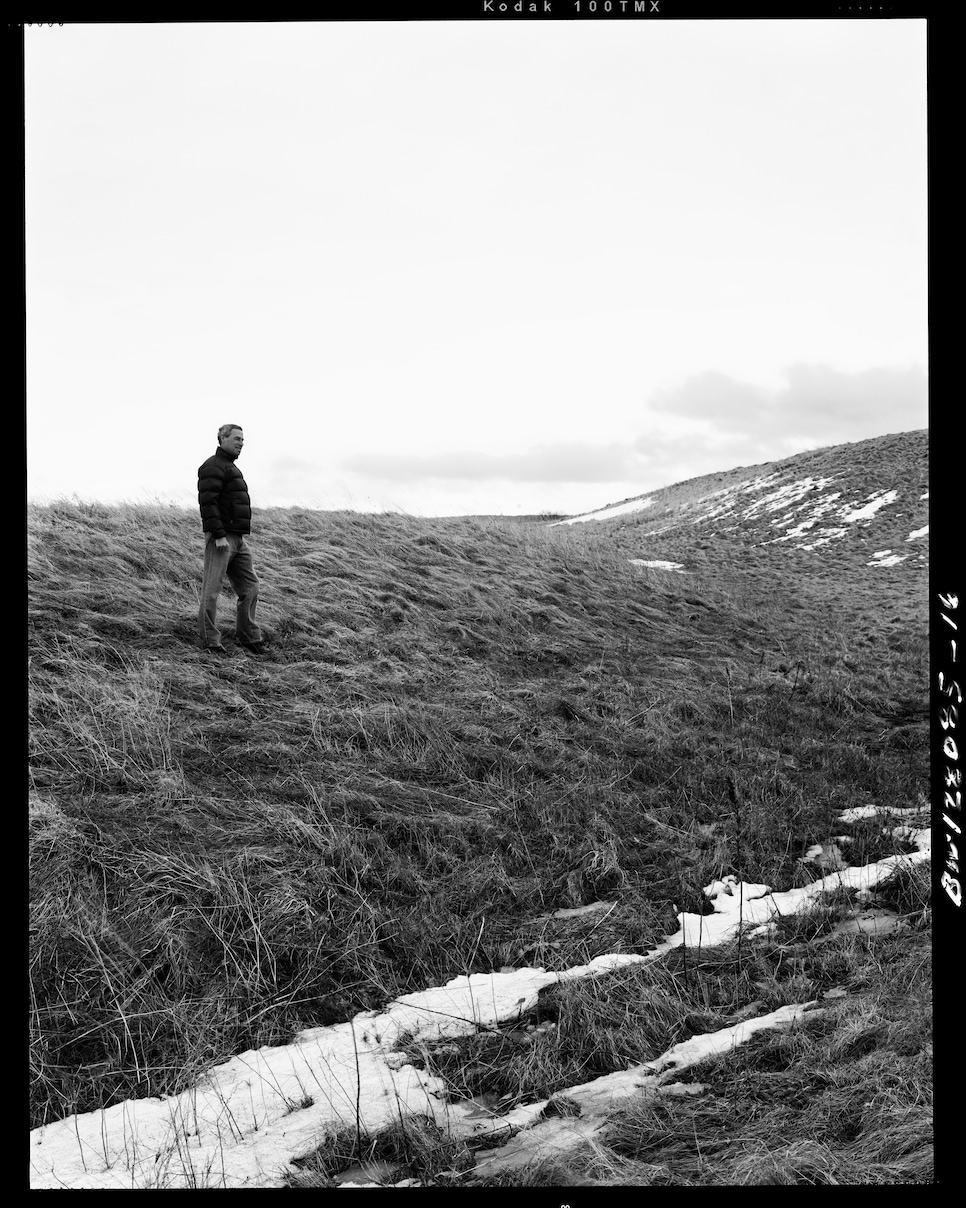 LAY OF THE LAND Mike Keiser surveys linksland in 2007 that would eventually become Cabot Cape Breton Golf Resort in Nova Scotia. Photograph by Tom Fowlks
'THERE IS SOMETHING MYSTICAL AND ETERNAL ABOUT THE LINKS.'
Yet I have become a believer. When playing a links course, I throw cynicism to the fresh winds blowing off the sea. This game feels foreordained, and I sense, as golfers have for countless generations, that there is something mystical and eternal about the links—"something more deeply interfused," to quote William Wordsworth, a poet whom I've revered since college. A round on ancient links where golfers have walked for centuries brings out the poet in almost everybody.
In me, the links also brought out the developer. My first journeys to Scottish and Irish links happened to coincide with my first forays into the golf business. I can't single out a lightning-bolt moment when the clouds parted and the gods of links golf spoke to me, but at some point it occurred to me that other American golfers might fall in love with it just as I had—so why not transport the links to the United States?
The idea seemed so far-fetched that I instinctively regarded it as a daydream and pushed it aside. This was in the 1980s, when there weren't any true links in the country. Even the famous courses that called themselves links, like Pebble Beach, were not true links.
A century ago, in the early days of American golf, several of our great courses were designed and built by men who'd learned the game in Scotland. Many of them were actually Scots who'd grown up on the links. But there were many Americans, too, who'd made a careful study of the Scottish models. Inspired by these originals, they sought to adapt traditional design principles to a new set of conditions. On this side of the Atlantic, there was no linksland comparable to that on the coast of Fife. Golf architects worked on different terrain, in a different climate, and on different soils. Some of the pioneering architects, like C.B. Macdonald, tried to create faithful reproductions of famous holes in Scotland. Others, like A.W. Tillinghast and George Crump, were less concerned with any particular holes or courses but devoted to capturing the spirit of the links.
Macdonald, Tillinghast, Crump—they were all part of an era that is often called the Golden Age of golf architecture. In the years between 1910 and 1930, this profession of golf architecture was brand new, and the game itself was catching on as a popular, exciting new pastime. Some writers thought it wouldn't be long before every man, woman and child was bitten by the golf bug. Between the courses built here during that period and the links of Scotland, there is a striking family resemblance. They are members of the same clan. You can take the game out of Scotland, but you can't take Scotland out of the game.
Though I knew that the game had originated in Scotland, I hadn't thought much about the differences between links golf and American golf. I certainly hadn't considered the reasons why our courses had developed so differently, a difference that had only grown more pronounced over the decades. My reaction to links golf was much simpler. Why, I asked myself, don't we have courses like this at home?
Now, 20 years after Bandon Dunes opened, it's apparent that a great many golfers here were asking the same question because we've witnessed what can be called a links revival. The courses that I've built, working with architects who share my vision, are imbued with the charm and character of the foundational links. They have the seaside locations, the fescue turf, the coastal winds, the design features and shot values of true links courses. People don't come to Bandon Dunes to play the same game they can play at their home courses. They come for the same reason that drew me to the linksland—to play a game that is as close as possible to the one invented by the Scots.
Before I could break ground in America, I had to know something about the original links, and my education began almost as an afterthought on a trip to England. In 1985, my wife, Lindy, and I went to London to visit Chris and Deedy Ogden, friends and former neighbors from Chicago, and Chris set up a golf trip. His father, Mike, and his son, also Mike, joined us for a trip to Ireland that was immediately christened Three Mikes and a Chris.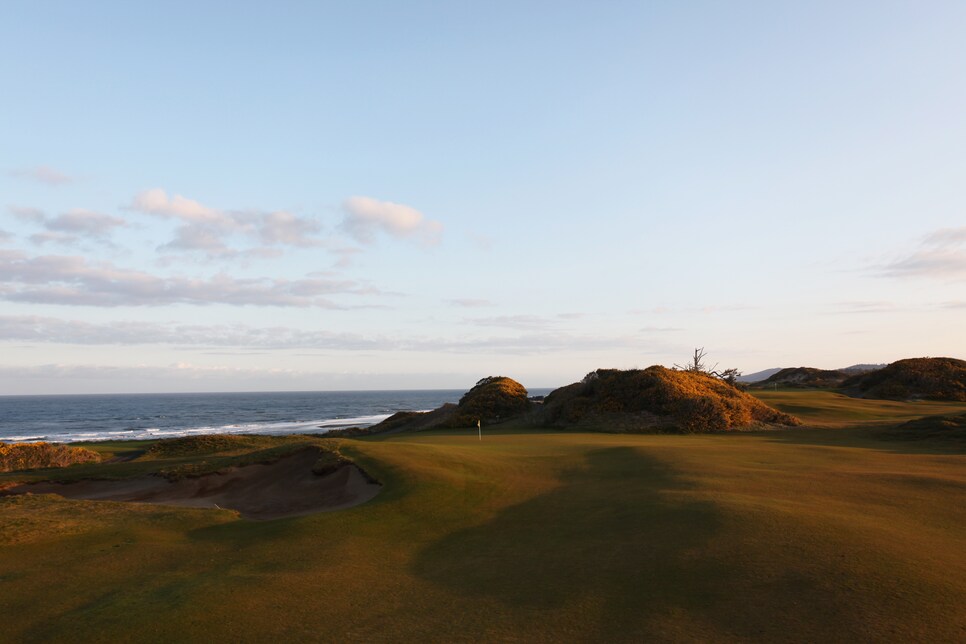 WEST COAST STORY Pacific Dunes was the second course built at Bandon Dunes Golf Resort in Oregon, Mike Keiser's homage to Scottish links. Photograph by Stephen Szurlej
Stephen Szurlej
'WHERE HAD AMERICAN GOLF GONE WRONG?'
Off we went to Royal County Down, Lahinch and Ballybunion, four Americans folded into a van and speeding along the narrow, winding, terrifying Irish roads. Stone walls, fields of emerald green, fickle weather. I was the best golfer of the bunch, and Chris played mostly to humor his dad. In other words, we were four duffers hacking our way around those challenging courses in wind, mist, sunshine and rain, sometimes all of those within a few holes. Our weathered caddies were rich with timeless caddie wisdom, rooted in the certainty that a small white ball will inevitably reveal the comedy and tragedy of the human condition.
We stayed at guesthouses or small hotels with creaking floors and antique plumbing. The bathtubs had claw feet, and the toilet tanks, mounted high on the wall, had long pull chains. The hosts were delightful and eccentric. The food was plain but hearty. At Lahinch, the ancient barman served us delicious pork cracklins. The Ballybunion clubhouse was a repurposed Quonset hut. We felt as though we were roughing it, but no one missed the luxury and comfort of American golf resorts. On the contrary, the sense of being in a place teeming with local characters and customs made our trip an adventure. The first hole at Ballybunion took us past a cemetery with Celtic crosses—what could be more Irish? A few holes later, we passed a field filled with caravans, or campers, where folks on holiday were sitting out on lawn chairs. Not a sight you'd ever see from the fairways of Pebble Beach or Pinehurst.
As I recall these memories, it seems we might easily have been disoriented and miserable—but we weren't. I was euphoric, as was the senior Ogden, who decided to call it quits after a round at Ballybunion. "I'm ready to retire," he announced. "I have played the greatest course in the world."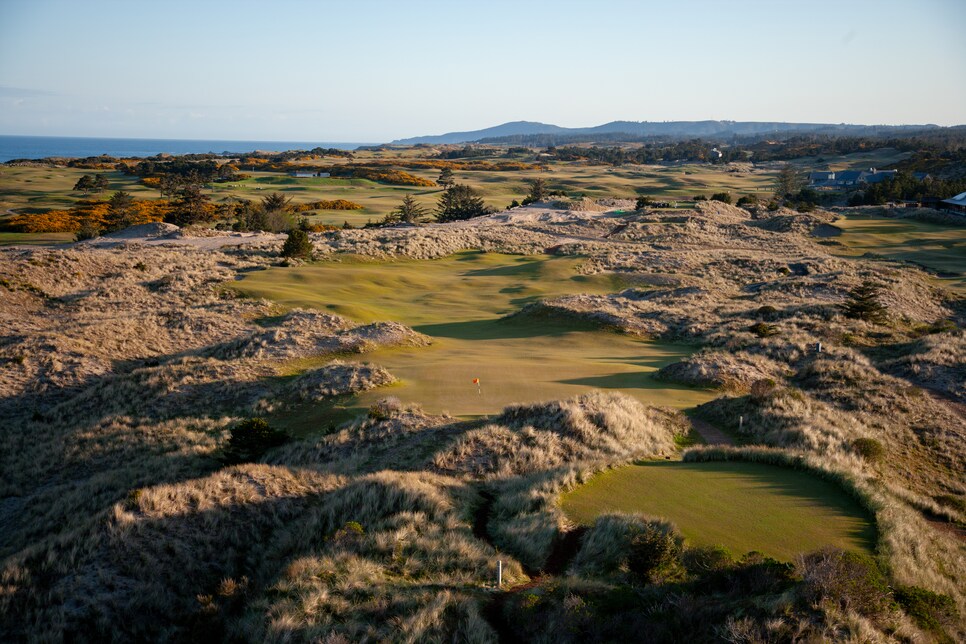 HAPPY TRAILS Situated well inland, Bandon Trails, the third course built at Bandon Dunes, has more trees and elevation change than the other courses. Photograph by Stephen Szurlej
Stephen Szurlej
That's how I felt, too. Ballybunion is one of the most beloved courses in the world, and one of the most beautiful. Though all true links courses are near the sea, only a few have spectacular holes like the 11th at Ballybunion, a long par 4 with a fairway terraced into billowing seaside dunes. The teeing area juts out over the beach, bringing you right up against the full might and majesty of the North Atlantic.
Was that what won me over, the beauty? Was it the warmth and humor of the people we met at the clubhouses and guesthouses? The caddies? The overall sense of golf as a pursuit that gave meaning and pleasure to every part of the day? Why had we all adopted without a moment's hesitation the mindset that we would play in any kind of weather? What had made us so happy to walk? Why didn't we miss the service and pampering of golf at home? Why did the game here, played with the same implements, feel so ancient and so right?
To put it another way: Where had American golf gone wrong?
These and many other questions tugged at me after that Irish trip and kept tugging on subsequent adventures I had with my regular golfing group. Many of us were classmates from the Nichols School in Buffalo, and our commissioner, Warren Gelman, organized our trips meticulously. Before we started going to British links courses, we'd visited American clubs and resorts such as Hilton Head and Innisbrook, Firestone and Muirfield Village. The highlight of these extended weekend jaunts was to play a course that had hosted a PGA Tour event. We'd bought into the idea that the tracks where the pros competed for big pots of money had to be the best in the world. Never mind that they were long and relentlessly difficult, with narrow fairways, cavernous bunkers and numerous water hazards. (I admire the stance of architects Bill Coore and Ben Crenshaw: "We don't do water hazards.") Playing them was like taking an exam that you knew you were doomed to fail but nevertheless had to keep scribbling in your blue book until the bell rang and you were released.
Which led to another question: Since links courses were also difficult, why did I feel cheerful and refreshed after shooting 90 at Ballybunion or Royal Dornoch, as opposed to grumpy and discouraged after shooting the same score at Firestone? On the long summer evenings in Scotland, I wanted to keep on playing until it was too dark to see the ball. At Firestone, even before the round was over, I wanted to slink off the course, have a stiff drink and forget the whole experience. To admit to myself that I hadn't enjoyed my round on a course designed by Robert Trent Jones, at the time the most acclaimed architect in American golf, felt like a failing on my part.
As I tried to educate myself about the game's design and history, the questions kept multiplying. As is often the case, the conventional wisdom was misleading at best, a convenient justification for doing things the same old way. I became convinced that the heavily engineered courses in the United States weren't designed for golfers like me and my friends. To play them successfully, you had to be able to hit shots that were beyond our abilities—long, straight drives and high, precise approaches. You had to be able to recover from deep bunkers and putt on surfaces as slick as the hood of a car. And yes, you had to stay out of the accursed water hazards. The only people who could manage these feats were pros and a tiny fraction of top amateurs. Why design courses for them? Why inflict misery on everyone else? Who had decreed that a round of golf should be an examination, and the architect should be an examiner intent on exposing the student's every flaw?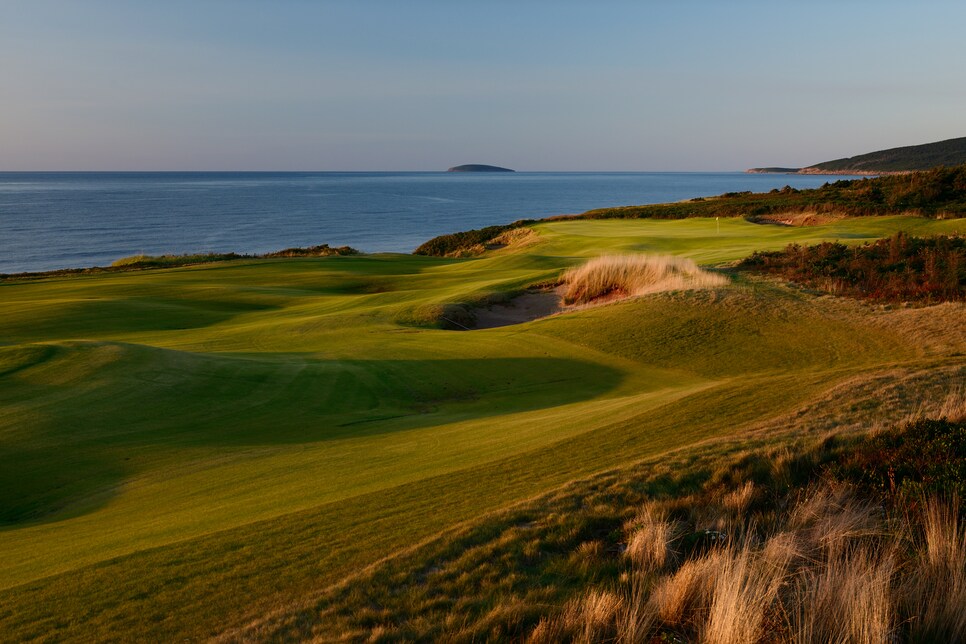 BANDON OF THE EAST Cabot Links (above), Cabot Cliffs and the Nest, a par-3 course, are part of Cabot Cape Breton Resort perched on the cliffs of Nova Scotia. Photograph by Dom Furore
Dom Furore
Links courses had mostly evolved without architects. If they were created by God, they were built by men—who in the beginning didn't have many tools. The construction was done by hand, with shovel and wheelbarrow. Most of the ridges, hollows, folds and twists of the ground were left untouched, and golfers had to figure out how to maneuver around the course. Grazing sheep and nibbling rabbits kept the turf open, trimmed and healthy. The only water hazards were ditches or small streams (burns) that ran through the course. Golf balls were expensive, and the thrifty Scots didn't like to lose them; the most likely place to do so was in the prickly stands of gorse (whins). The keepers of the links did face some of the bunkers with sod to stabilize them, and they built up greens to improve drainage, but the overall effort was to make the links playable for everyone, young and old, crack or duffer. In Scotland, the links were located on commonly owned ground, and the spirit of the game—the national game—was public and inclusive.
The Scots are known as a stern, dour people, but they betray their humor and appetite for amusement in the game they invented. Links golf is meant to be enjoyed.
What soon became apparent was that I was not the only golfer who responded to the call of the links. In truth, I felt as though I was a little late to the party. Every issue of a golf magazine seemed to include another rhapsodic article about yet another traveler's discovery of the joys of the links. On my own trips, the signs of a rapidly developing golf-travel industry were hard to miss. Tour operators for traveling golfers had sprung into operation. Larger, more luxurious hotels were being built. New courses opened, and old courses tidied themselves up. After unveiling an impressive new clubhouse, Ballybunion seemed to attract hundreds of overseas members almost overnight. At the best-known links, starting with St. Andrews, tee times had to be made months in advance.
'IT OCCURRED TO ME THAT OTHER AMERICAN GOLFERS MIGHT FALL IN LOVE WITH LINKS GOLF JUST AS I HAD.'
Some of the reasons for this shift in perception were straightforward matters of time and money. In the days of ocean liners, only wealthy golfers could afford the pilgrimage to Scotland, a trip that could last for months. Less expensive air travel had completely changed the calculus: now more and more people could easily get to the British Isles, and they could go for a week or even a weekend. From New York, the flight to Ireland was only a few hours longer than one to Florida. You could board a plane at JFK in the evening, wake up at daybreak at Shannon Airport, and, by eight o'clock, after a full Irish breakfast, be standing on the first tee at Ballybunion, miraculously alert and energized. When all the expenses were added up, a links expedition probably cost about the same as a comparable trip to an American resort. If memory serves, the 1985 green fee at Ballybunion was 35 Irish pounds, about $60.
The price wouldn't have mattered, though, if the experience of links golf hadn't touched some nerve. Golfers are sometimes dismissed as self-absorbed, vacuous dullards whose conversation is limited to exhaustive accounts of the shots they played on their most recent round. They can be obsessed with technique, numbers, scoring, equipment, bets, bad bounces—the all-consuming details of the game.
Links golf somehow exists on a different level entirely. It speaks to the inner golfer, and it speaks to the soul. Anyone who doubts this should read Golf in the Kingdom by Michael Murphy, a hymn to links golf that has sold more than a million copies since its publication in 1971. During the 1980s, it might have been the most ubiquitous golf book in the world, often the only book for sale in golf shops from Myrtle Beach to Pebble Beach. For readers like me, Murphy captured perfectly the strangeness and enchantment of the links experience. As a matter of fact, I was so taken with the book that I used the name of its star character, Shivas Irons, on a bank account that I set up to finance my golf expenses, except I misspelled it as Chivas Irons.
Golf in the Kingdom recounts the adventure of Michael Murphy (same as the writer, though this is a novel), a young American who's on his way to India for a year of study. On a detour to the legendary links of Burningbush, in Fife, the "Kingdom" of golf, he falls under the spell of a charismatic pro, Shivas Irons, a golfing genius and a student of the occult. Reading about Murphy's round with Shivas and his dinner with local notables singing the praises of gowf, you can almost smell the gorse, breathe in the sea air and feel in your bones the solid contact of a perfect golf shot.
In form, the book is a vision quest, and golf is the medium through which Murphy seeks meaning, wisdom and transcendence. (The author once commented on the number of seemingly conservative golfers who'd embraced his work: "Who knew that so many Republicans were mystics at heart?")
Murphy wasn't the first to write such a book. Another of my favorites, Scotland's Gift: Golf, published in 1928, is C.B. Macdonald's account of his discovery of the game as a young man at St. Andrews and his attempts to transplant it, spirit intact, to America. Many articles and essays about links golf are abbreviated versions of the vision quest. The most eloquent of golf writers, Herbert Warren Wind, wrote lovingly and at length about Royal Dornoch and Ballybunion. More recently, Lorne Rubenstein, Michael Bamberger and Tom Coyne have become bards of the links, describing this experience so powerfully that their books make even casual golfers want to undertake a quest of their own. The links pilgrimage is a journey for those who want to discover the soul of the game and, as Macdonald said, "find their own soul in the process."
'IF NOBODY HAD BUILT A TRUE LINKS IN THIS COUNTRY, WHAT MADE ME THINK I COULD?'
My association with KemperSports dates back to this time when I was not only traveling frequently to the links but also making my first investments in golf. I flirted with buying a tract of land in Virginia's populous Loudon County. I looked up and down the East Coast for suitable venues, chartering helicopters to inspect property on the coast of North Carolina, and even ventured as far as Cuba, where the Russian pilot demanded payment in cash—but that's another story.
One transaction stands out as a symbol, or symptom, of my tentative entry into this new business: I bought a lot in Bloody Point, a highly touted golf community in South Carolina that had everything—marquee architect, oceanfront location, big gates, all the usual trappings of prestige. I never built on that lot, just couldn't pull the trigger, and it took me years to resell it—at a loss, I might add. Bloody Point simply wasn't my kind of place.
What was my kind of place? The answer, it was becoming unavoidably clear, was Dornoch or Ballybunion. Faraway towns, beautiful seaside links. Remote as they were, I noticed that traveling golfers kept arriving in rental cars, vans, and buses: Americans, Swedes, Germans, Japanese, Koreans. Tears blurred their vision when they arrived at St. Andrews and laid eyes on the Old Course. For golfers from all over the world, the call of the links was evidently irresistible. My entrepreneurial curiosity was fully engaged. Would an American links along the lines of Dornoch or Ballybunion attract the same busloads? Could I or anyone else build such a course?
At first, as I've said, the question itself seemed ridiculous. If nobody had ever built a true links in this country, what made me think I could? I might as well decide that I wanted to become, say, a French Impressionist painter. A particular convergence of historical factors—time, place, culture—was necessary to create the circumstances in which links golf (or Impressionism) could take root and flourish. To replicate those circumstances, I would need a piece of linksland, a tract of sandy, well-drained land that had been rumpled and ridged over the centuries by wind and tides and was now covered with lean turf that had been conditioned by the grazing of sheep and the nibbling of rabbits. Furthermore, to create the real thing, I would also have to speak Scots, wear tweed, play gowf with hickory shafts and gutta percha balls, and forget the history of the game since 1900—in short, I'd have to channel Old Tom Morris, the patron saint of the links.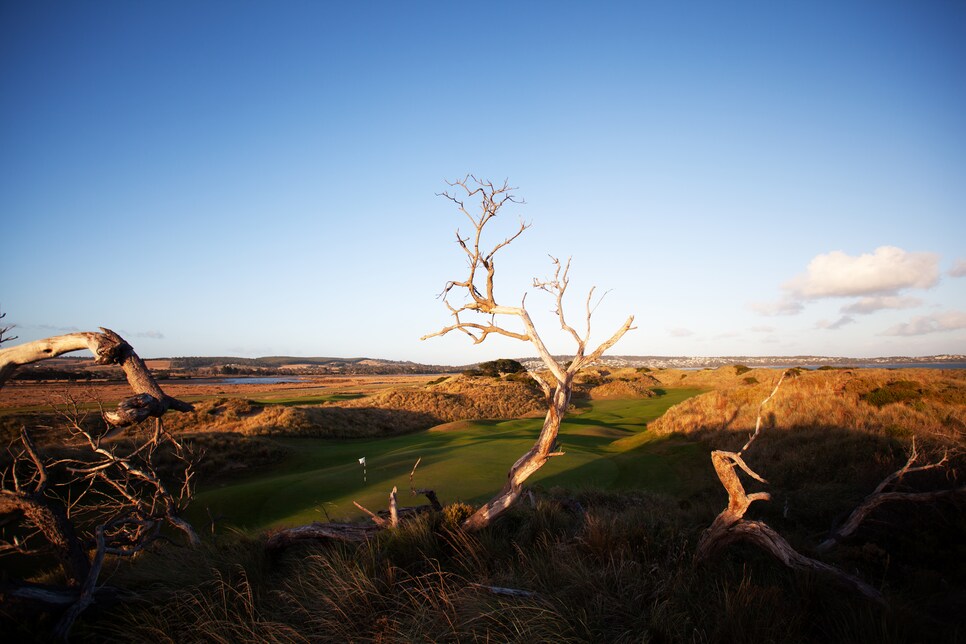 TASMANIAN ANGEL Keiser helped develop Barnbougle Dunes (above) and Barnbougle Lost Farm among the dunes on the coast of Tasmania, Australia. Photograph by Stephen Szurlej
This was not a realistic option. Nevertheless, the idea of building a links course had taken hold, and I kept wondering how to go about it. Many traits of the classic links were obviously impossible to reproduce. For example, golf had been played in Scotland for centuries by kings and commoners, and one reason that the Old Course at St. Andrews is so venerated is that it's steeped in history. All golfers feel this the moment they arrive in the Auld Grey Toon. No one can transplant history. In addition, many of the most storied links flow right into the heart of the town, whether at St. Andrews or Dornoch or Carnoustie or North Berwick, and the course has long been an integral part of the community's identity and culture. That wasn't going to happen in any American town.
However, other traits might be reproducible. Even if linksland, strictly defined, referred to a specific stretch of the Scottish coast, and even if the geologic conditions that sculpted the linksland spanned centuries, I had played enough links courses to know that there was no uniform standard or template. The dunes on Irish links are generally larger than those in Scotland. Some courses, such as St. Andrews, are quite flat, and others, like nearby Gullane, are hilly. Some are treeless, and others have groves; some are marshy, or rocky, or drained by ditches, or crisscrossed by stone walls—but these features don't identify or disqualify them.
In short, links terrain is varied, and I thought there had to be places in the United States with the two essential qualities—a seaside location and sandy soil. My favorite links courses, Ballybunion and Royal Dornoch, have glorious views of the sea, and the golf is infused with a sense of space and infinity. As for sandy soil, I liked how links turf felt underfoot, and I knew that the firm, fast playing conditions of the links could be reproduced somewhere in America.
But would Americans be willing to play such courses? They were used to soft courses that encouraged aerial golf, or target golf. The challenge was to hit the ball high, often over a hazard, to a safe, receptive target, whereas links courses were best played close to the ground. To keep the ball from being buffeted by the ocean winds, a golfer needed to hit shots with a lower trajectory, letting them bounce along the ground toward the target. Though bump-and-runs are in some respects easier to execute, it takes a fine hand to play them accurately. Plus, these low, running shots can take funny hops and bad bounces, so better players—those expecting to shoot a low score—generally prefer to play through the air. By definition, links golf is not fair, and American golfers had learned to expect fairness. One of the essential phrases in Scottish golf is "the rub of the green"—acknowledgment that unpredictable bounces are to be expected and accepted without complaint.
An even more fundamental question: Would Americans walk? Links golf is a walking game. The Scots and Irish have always sneered at golf carts, which they call "buggies," pronounced boogies. It's estimated that only 30 percent of the rounds in the United States are played on foot. Carts certainly didn't belong on the course that I hoped to build, but would an American links be required to allow them? Could a course claim to be authentic if carts were trundling down the fairways?
My fantasy links resembled Royal Dornoch, where golfers walked, with or without caddies, and a sparkling wind blew off a foam-flecked sea. Like most grand schemes, mine was vast and changeable, varying from one overseas golf trip to the next, influenced by the courses I'd played most recently.
Yet the core idea had taken root. Golf instinct, business instinct, artistic instinct, cultural instinct—they all chimed in to tell me that Americans would embrace a links course.