News
The mysterious breaks of Mission Hills CC
RANCHO MIRAGE, CALIF.-  Here's a fun drinking game for those of you watching the Kraft Nabisco at home: every time a television commentator mentions that all putts at Mission Hills "break toward Indio" (the neighboring town), have yourself a shot. Michelle Wie, for one, would probably beg to differ with the Indio assessment. Her body language on Thursday at times conveyed frustrated disbelief when putt after putt went wide of her target, in no apparent pattern.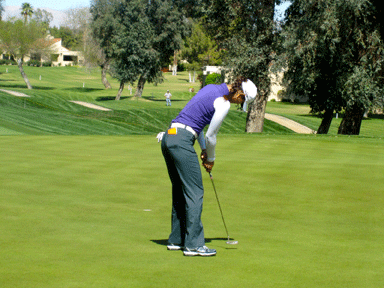 *In a pretty stellar ball-striking round (she hit 11 fairways and 14 greens), her lone birdie came courtesy of a two-putt from 12 feet on the par-five 11th.
As the temperatures rise, the winds pick up and the greens get faster over the next few days, figuring out Mission Hills crazy breaks could very well become the deciding factor of this tournament.