The Loop
The Muny Life: Country Club of Woodbridge
In my part of the country at this time of the year, avid golfers become migratory. Some fly hundreds of miles south and don't return until spring, but most of us circle the ground closer to home, like Canada geese searching for open water. We study the sky and the Web and the Weather Channel, and when we hear rumors of snow-free fairways we hit the phones. Over the past decade or so, my friends and I have assembled an extensive portfolio of all-season golf courses, in three states. This past Sunday, we added a new one: Country Club of Woodbridge, about 45 minutes southeast of our home course (which closed for the winter on the Monday after Thanksgiving).

Woodbridge used to be a private club; the town bought it in the aftermath of the mortgage crisis, and Billy Casper Golf manages it. The course was designed in 1938 by Orrin E. Smith, who worked with Donald Ross on a couple of projects and designed or redesigned 20 courses in our state, including the course of our No. 2 Enemy Club, which we like a lot. The selectmen of the town of Woodbridge are thinking about turning part of the course into condominiums for oldish people, or something, but I hope they don't, because we want to go back -- maybe on New Year's Day, when (the starter told us) they usually have a good crowd.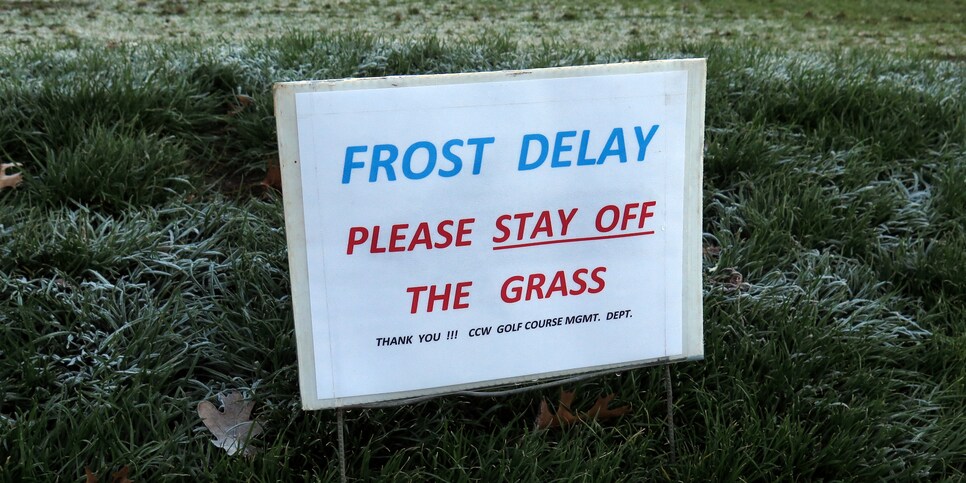 There was a frost delay, but that was OK because it gave us a chance to get caught up. Several of our guys were easy to spot in the crowd outside the golf shop, because after December 1 the Sunday Morning Group gives two extra handicap strokes to anyone who wears shorts. You would think that wearing shorts in sub-freezing weather would be unpleasant, but in fact your legs adapt fairly quickly, by becoming permanently numb: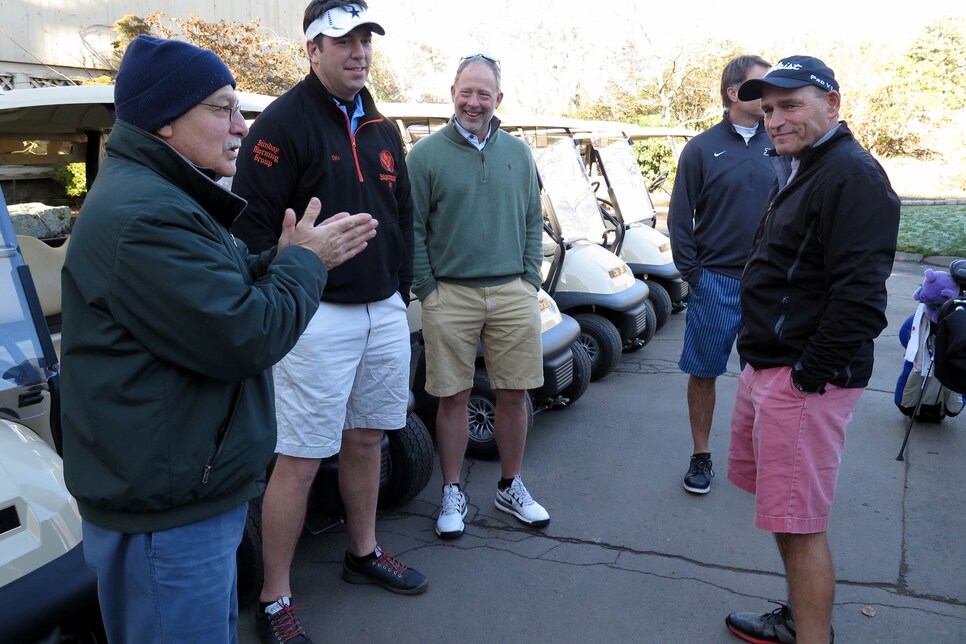 The frost delay didn't last all that long, and when it was over the starter shotgunned everyone. We had 12 guys, and all three of our groups started on the first hole. By then, the sun had made the day seem sort of hot. We played two best balls, All Balls Count on the money hole (No. 12), and skins.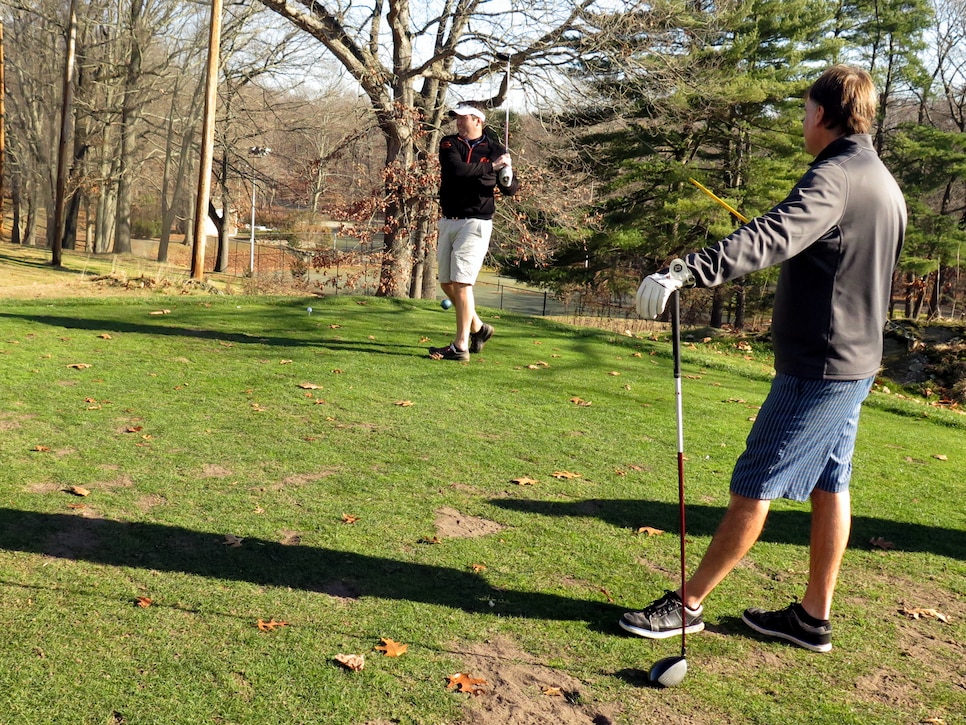 On the third tee, we met a member of the town's golf committee. He wasn't playing, but had driven out to say hello. He told us that Woodbridge is unusual in that the property was once owned by Roger Sherman, the only person to sign all four of the principal founding documents of the United States: the Declaration of Independence, the Articles of Association, the Articles of Confederation, and the Constitution. Here's a picture of Sherman dressed in an eighteenth-century golf outfit: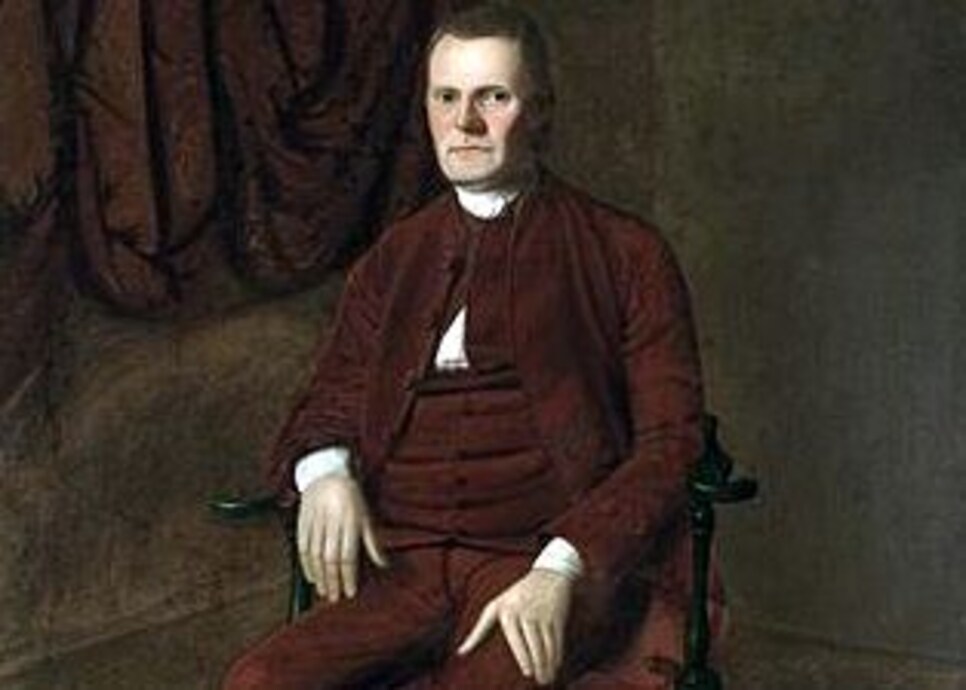 The layout is Woodbridge is a little tricky, but it's easy to navigate if you remember (as the starter told us) that when you leave a green your next tee is almost never the one you come to first. Near one tee, we saw a golf-ball vending machine installed by an entrepreneurial neighbor: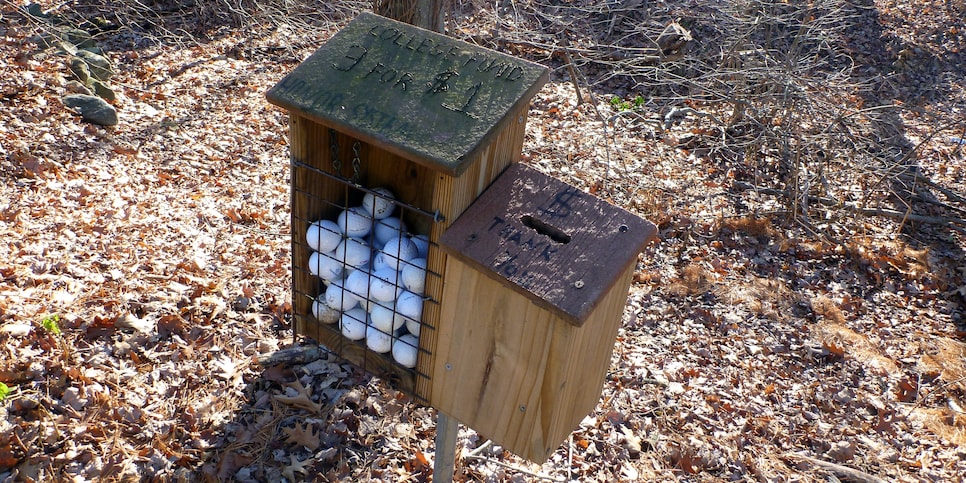 Afterward, we drank beer and went over our scorecards in the golf shop. My team came in last, but I won two skins and split the money hole with Chic and Todd. That puts me closer to the top than to the bottom of the standings for the Jagermeister Kup, our all-winter competition.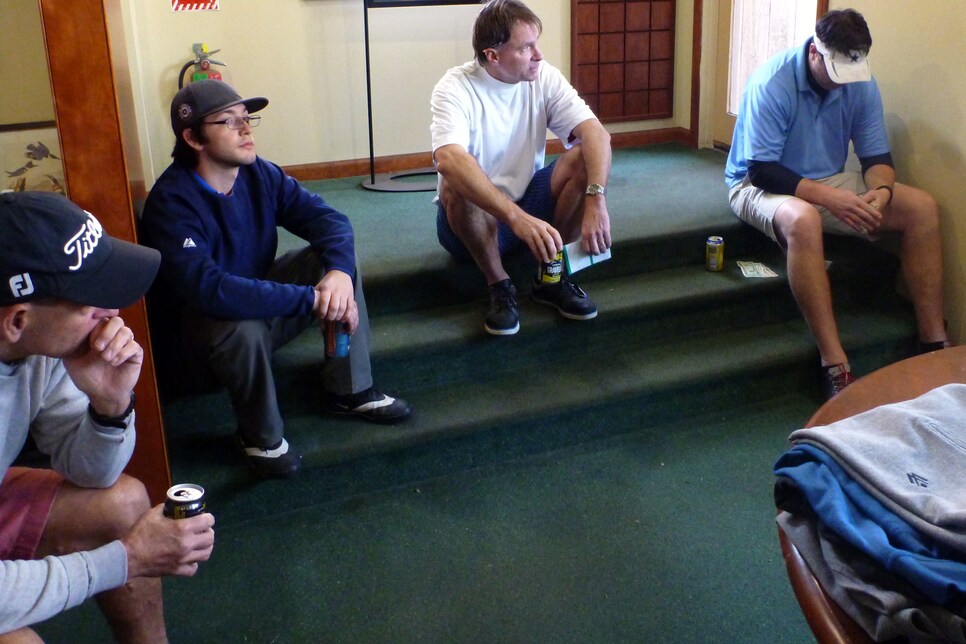 We had a great day -- as I had known we would because the night before I had a dream about golf. In the dream, I discovered that Nancy Reagan is much younger and more interested in me than people have generally thought. She also loves golf, although she told me that when her husband was in the White House she kept her interest to herself. She drives a Cadillac convertible -- Seville-type, not Escalade -- and in the parking lot of the golf club where I ran into her I saw that there were two golf bags in the backseat, hers and Hedy Lamarr's. Both sets of clubs were in "mint vintage" condition, and the woods had simple muted-pastel headcovers. Nancy said she wanted to give me Hedy Lamarr's clubs, and maybe her own as well, along with some sort of golf journal she had kept for years. The journal was written in dream writing, so I couldn't quite make out what was in it, but I was pleased because I knew that I would eventually get at least a couple of Golf Digest columns out of it. Nancy is totally not the calculating, vindictive ice queen that people have always made her out to be. I don't think our relationship was "going anywhere," but I'll never know because right about then I woke up to take a whiz. When I described all this to a friend later, he said that Hedy Lamarr's days of appearing in people's dreams were probably just about over. He's definitely right about that; in fact, I think that even my dream was probably a bit of a stretch.