The Loop
Last week at the PGA Show in Orlando, I saw an elderly little man eating lunch alone at the counter in the hotel restaurant. The white hat was unmistakable. I sat down next to him, knowing that if I did, I probably wouldn't be able to leave for quite a while. But I wouldn't want to anyway. And sure enough, an hour later, I remembered why Bob Toski might possess the greatest golf instruction mind the game has ever known.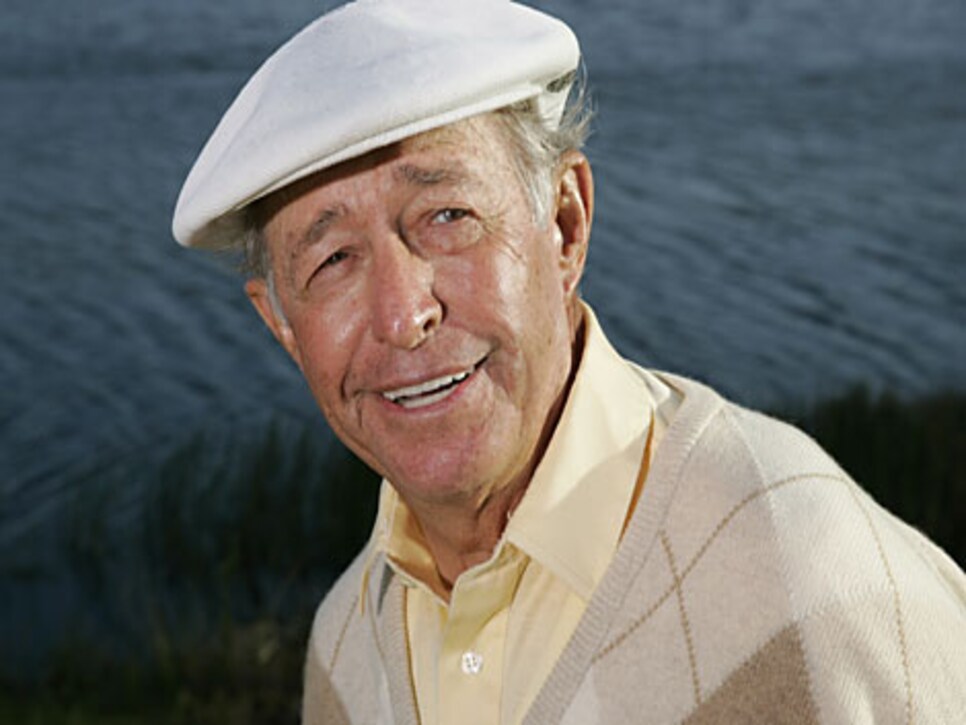 (Photo by Stephen Szurlej)
"Mouse," as he was affectionately called when he dominated the tour money list in 1954 and throughout his illustrious teaching career, is as sharp today as ever. Sadly, he lost his wife of more than 50 years to cancer not long ago, but Toski seems relatively upbeat, at least when he speaks about the golf swing and teaching. He also looks to be in better physical shape, at 84, than he was when I wrote an article with him for Golf Digest some four years ago (August 2007). Indeed, he was the final speaker and demonstrator at the PGA Teaching and Coaching Summit the day before, and the audience had been enthralled with his theatrics.
"You play golf like you walk and run," he said to the crowd. "Where should your weight be in the swing, on your heels or on your toes?" He then showed how awkward it would be to run with your weight on your heels, as he hobbled back and forth. Next, with his weight on his toes, he hopped around like Mohammed Ali in his prime. "Golf is no different," he said. "You need to be agile and athletic to play your best."
Toski is a master of getting your attention. At the restaurant counter, where we were joined by his devoted protege, Steve Bourbon (who is becoming a respected teacher in his own right), Bob proved once again that he approaches teaching the game in a unique way, one that no one else has ever been able to duplicate. And hundreds of other teachers owe much of their knowledge to Toski's influence, from Jim Flick and Dick Aultman to Davis Love Jr. and Peter Kostis. I could barely keep up with his one-liners and insight, trying to write as much of it down as possible. Here are just a few gems that seem truer today than ever before, as only Bob Toski can say them. I hope they help your game:
-- It's all about the swing. You have to swing the club and the lower body will respond. You don't swing the club with your lower body. You swing it with your hands and arms. But the body can't be static. When you hit a putt, the only thing that moves are your hands, arms and shoulders. When you hit a chip, your lower body moves a little. On a pitch, a little more. On a full swing, even more. So why would you try to keep your lower body static on your backswing (the X Factor) when you want to hit the ball as far as you can? When a pitcher throws a baseball, he doesn't try to keep his hips still as he pulls his arm back!
--Control distance and direction to achieve perfection. It's not all about how far you hit the ball. You need to hit it the right distance to score your best, and distance doesn't mean a thing if you can't control the direction as well.
--Swing on the line of play and you will find your way. Bob says you should always strive to swing the club on the simplest line, directly toward your target. The original K-I-S-S method (Keep It Simple, Stupid).
-- *Feel the force, don't force the feel. *Bob quickly points out that, at 5-feet-7, 130 pounds, he had to feel the weight of the clubhead and let it work for him. To do that, he needed a very light grip pressure, relaxed arms and shoulders and active footwork.
-- Use the Coca Cola swing: The pause that refreshes. In other words, there should be no flash speed at the top of your swing. The club should be quiet and not bouncing. This gives you a chance to move the lower body down into the swing. You want to feel that you push the club back and pull it through. Think push, pause, pull.
In the coming weeks, I'll bring you more nuggets of wisdom from Toski, and remember to follow me on Twitter @rogerschiffman.