The Loop
The most dangerous score in match play
I was watching the final match in the U.S. Mid-Amateur Championship on TV on Thursday. Scott Harvey was leading Stewart Hagestad by four holes with six holes to play. My wife and I had to leave to go out to dinner, so I turned on the DVR. "That guy's in big trouble," I told her as we left the house. She asked how far behind he was. "No," I said. "His problem is that he's too far ahead."
Four up is the most dangerous score in match play. When you lead an opponent by one hole, you think only of extending your lead to two, but when you lead by four your focus turns insidiously toward the trophy room. You hadn't expected the match to be this easy, yet here you are, so far ahead that your cat could finish it for you. Uh-oh -- what if you lose?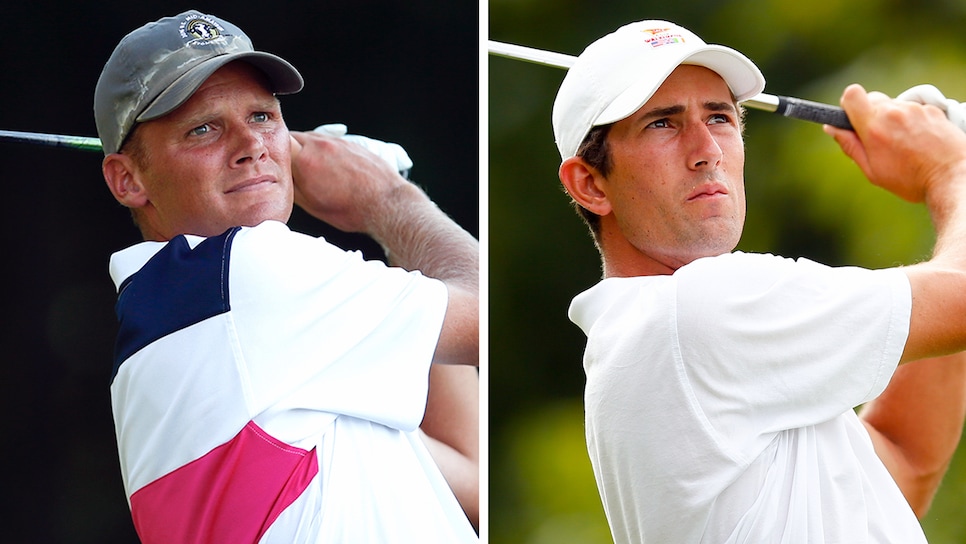 Four up is the narrowest margin that seems too big to squander, and the widest one that seems small enough to throw away. It teeters unnervingly between the certainty of triumph and the possibility of humiliation. Meanwhile, you have to deal with an opponent who no longer has anything to lose.
I once watched my teammate Norm compete in an inter-club match in which his opponent played beautifully for 14 holes and was 4 up with four holes to play. On the 15th tee, both men knew the match was basically over, because Norm would have to win all four remaining holes just to tie. But Norm birdied 15, and you could almost hear the gears of panic beginning to grind in his opponent's brain: If I can lose one hole, why not two? (He then lost No. 16.) And if I can lose two, why not three? (He lost No. 17.) And if I can lose three . . .
Norm won the last hole, halving the match, and he did it without having to putt. In fact, he did it without having to hit an approach shot, because his opponent -- who in his mind had returned to the clubhouse two holes earlier to explain to his teammates how he had wasted a lead that couldn't be wasted -- pulled his drive into a grove of trees, failed twice to punch his ball back into play, and conceded the hole right there, too ashamed to go on. As I watched him staggering up the hill, I wondered if he would ever play again.
Whenever I find myself down in a match, I try to channel Norm, whose calm perseverance made an inspiring case for never giving up. In a match many years ago, though, I ended up on the wrong side of that dangerous score, and the player I channeled, unfortunately, was Norm's opponent. Playing against a better golfer, I somehow made all the putts that mattered for 11 holes and found myself four up with seven to play. Until the moment my putt dropped on No. 11, I had never truly believed I could win. Now, though, my strategy changed from innocently lethal offense to suicidally anxious defense. I counted the remaining holes on my fingers, like a blackjack player in Vegas deciding how much he can afford to lose.
You can guess most of the rest. I lost the match on the first extra hole, to a bogey. The worst of it was hearing the other guy, afterward, boasting about the deficit he had overcome. "Four up with seven to go!" he crowed to one of his teammates as I put my clubs back in my car, wondering if I would ever play again. (I beat him last year, though. This year, too.)
On Thursday, I turned on the DVR when my wife and I got back from dinner, but I had already guessed the result. Harvey lost the 32nd hole, and then the 33rd, and then the 35th, and then the 36th -- all to birdies. Then Hagestad birdied the first extra hole, and they were done.