The Loop
JOHNS CREEK, Ga. - Everybody figured the 260-yard, par-3 15th hole at Atlanta Athletic Club would be a beast during the 93rd PGA Championship. During the early going Thursday, the water-guarded one-shotter has turned out to be just that.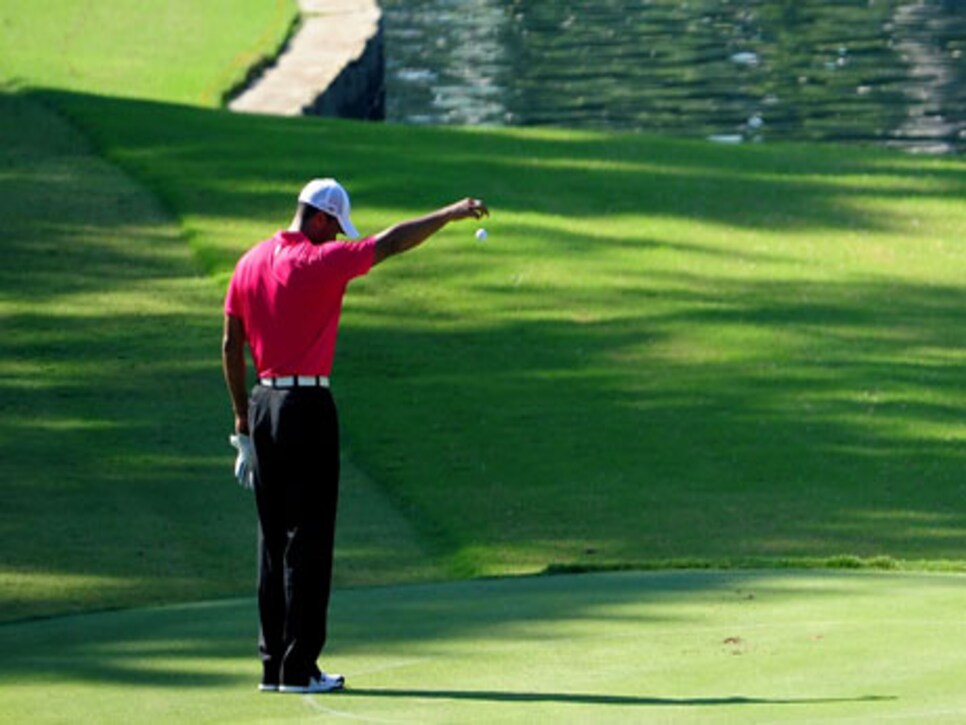 Woods drops after hitting his tee shot in the water on the par-3 15th hole. (Photo by Getty Images)
Tiger Woods' round, which looked so promising (three under) through five holes, started to go south (he finished with a seven-over 77) with a double bogey at No. 15 after his 4-iron went into the pond right of the green.
"I've been there," an Atlanta Athletic Club member who was marshalling the 15th hole said.
Woods' blunder was by far the only one at the 15th. As of the 3 p.m., No. 15 was playing to a 3.5517 stroke average. At that point, only the demanding par-4 18th was playing more difficult. There had been seven birdies (one by Steve Stricker, en route to his 63), 40 pars, 27 bogeys, 11 double bogeys and two "others."
"They wanted a drivable par 4," said Davis Love III. "They got it."
It was grin and bear it for the competitors, who have played longer par 3s - the eighth at Oakmont CC during the 2007 U.S. Open was 300 yards for two rounds - but Atlanta AC's version is much more penal. It played 253 yards from the tees used Thursday.
"I'm not a huge fan of playing a 260-yard par 3 with water and bunkers, but like I said yesterday, we all have to play it, we all have to suck it up and try to hit a good shot there," said Stricker. "You're going to see some big numbers there and you're going to see some birdies there. But it's very difficult."
As Bob Sowards, an Ohio club professional who carded a first-round 69 said after parring No. 15 with a 17-degree hybrid and two putts, "I don't play many holes like that."
A decade after making a hole-in-one on No. 15 during the third round of the 2001 PGA at Atlanta AC, David Toms hit a 2-hybrid and made a par. "If I still had a 5-wood, it would have been a 5-wood shot today," Toms said. "I guess it's fair. It's a tough, long par 3. They give you a little bail-out over there to the left, short and left if you want to play it that way."