The Money Issue: The Rules Are Changing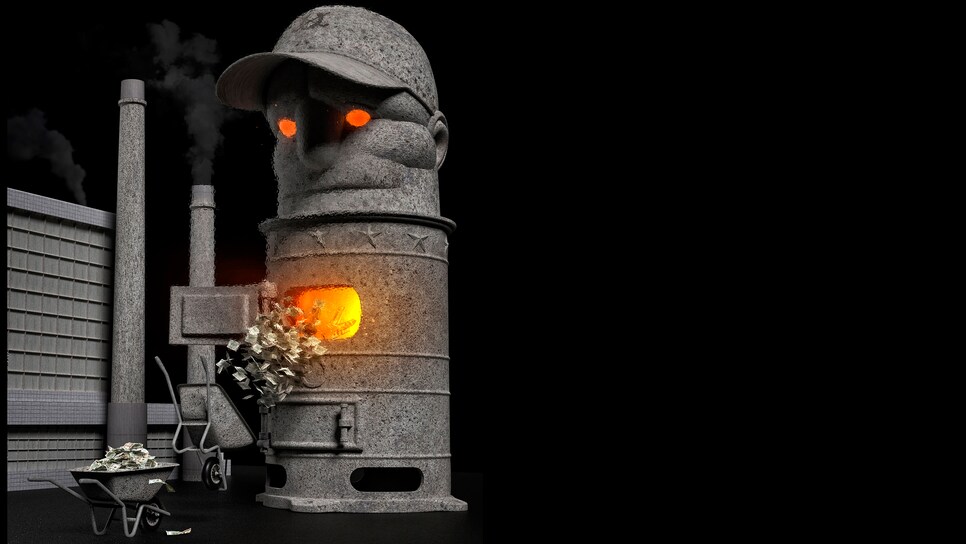 Illustration by Eddie Guy
Shortly after the turn of the century, when the golf economy was running hot, Nike chairman and co-founder Phil Knight was asked at the annual stockholders' meeting if the company could have found a better way to spend $100 million than by extending Tiger Woods' contract for five years at $20 million a year. "No, it couldn't," Knight replied emphatically and, in terms of words, economically.
When Knight said that in September 2000 at the Memorial Coliseum in Portland, Ore., it had a ring of truth. Woods had just won three consecutive major championships—the U.S. Open by 15 strokes, the Open Championship by eight and the PGA Championship in a thrilling playoff. Seven months later, he would complete the Tiger Slam at the 2001 Masters, becoming the first to hold all four men's major championships simultaneously.
For relatively new Nike Golf, and for golf in general, the ceiling for growth seemed to be quite high. The Woods deal unleashed a flurry of high-priced contracts as golfers followed their form of free agency—not changing teams like baseball, football and basketball players, but by changing equipment companies.
Phil Mickelson, Ernie Els, David Duval and Davis Love III were among those who cashed in big-time, either by changing companies or by using the possibility of leaving to enhance deals. And equipment companies, lacking the deep pockets of Nike lined with sneaker cash, began cutting deals with players to keep them, allowing them to sell their most valuable logo space—the hat—to other companies. And thus financial services, pharmaceuticals and other concerns got into the endorsement game.
Sixteen years after Woods' groundbreaking deal, the number of equipment companies has shrunk. Nike has stopped making clubs and balls. TaylorMade is for sale, and most say the new owners will be more cost-conscious. All that leaves some wondering if the hundreds of millions of dollars spent annually on player endorsements might be contributing to the consolidation of the equipment industry, which still showers players in money to play their clubs and balls.
That largesse can be seen in the 14th annual Golf Digest 50 all-encompassing money list. Though the names have changed—slightly—the stars are still pulling in eight figures a year off the course to supplement tour prize money, which continues to grow. Not only is Nike gone from the hardgoods scene, but Woods no longer has his hold on the top spot in the GD50.
For the first 12 years of the ranking, Woods was No. 1, usually by a wide margin. But reduced play because of injuries and the loss of more than half a dozen A-list endorsement partners after the 2009 scandal caught up to him in 2016, when he fell to No. 3 behind Jordan Spieth and Mickelson. This year, Woods is No. 4 behind Rory McIlroy, Arnold Palmer and Mickelson.
Last year's No. 1, Spieth, fell to No. 5 mostly because he earned $16 million less on the golf course, including only $550,000 in FedEx Cup bonus money compared to the $10 million top prize in 2015. That bonus went to McIlroy, helping him make more than $17.5 million on the golf course. Remarkably, the top earner off the golf course on the 2017 list is Palmer, who died last fall at 87. Nearly 45 years after his last PGA Tour win, the King made $40 million in licensing, endorsement and design money.
Lydia Ko at No. 44 was the only woman to make the list this year, in part because perennial off-course money leaders Stacy Lewis, Paula Creamer and Michelle Wie had sub-par years in on-course earnings.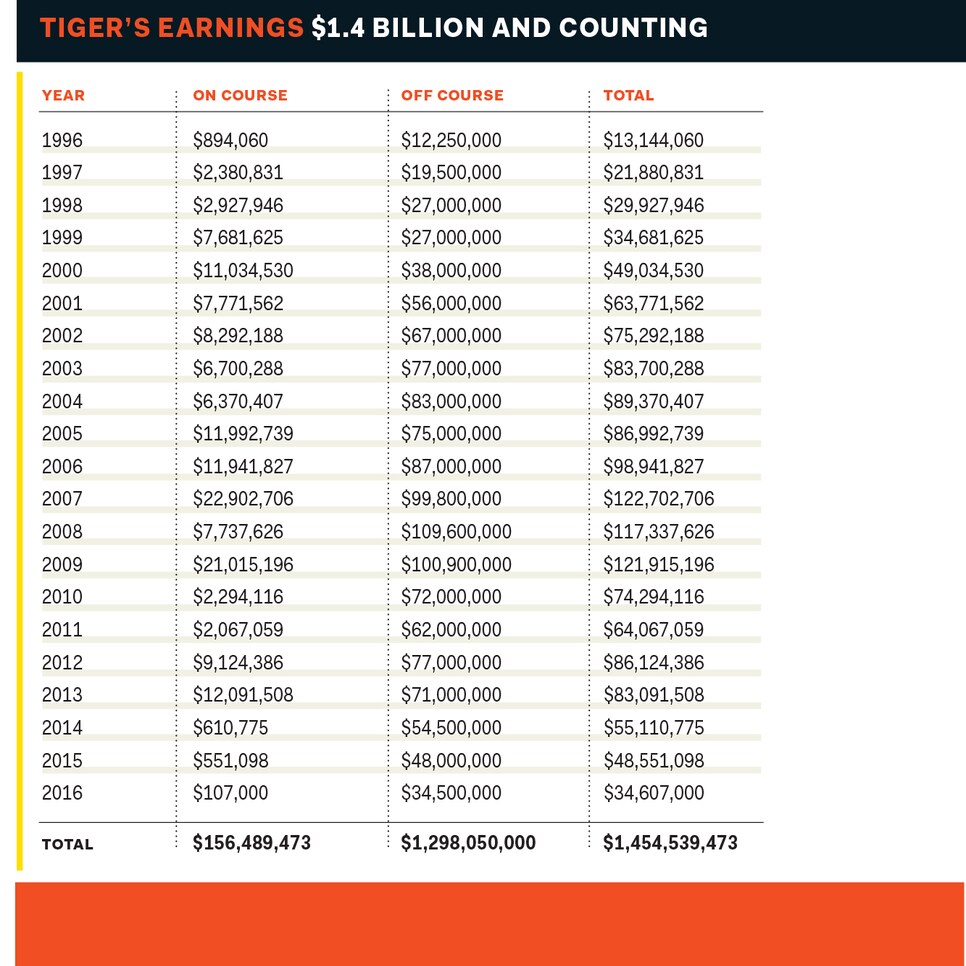 CHANGES AT NIKE AND TAYLORMADE
The withdrawal of Nike from the ball and club market—it will still market clothing and footwear—and the fact that TaylorMade will soon have a new owner have changed the endorsement landscape, not so much for the best players but for everyone else.
According to Casey Alexander, a research analyst specializing in golf stocks at Compass Point Research & Trading, Callaway, Ping, TaylorMade and Titleist have 80 percent of the ball and club market. "Everyone else doesn't have enough revenue left to compete on the marketing side," Alexander says. "You can have the best club in the world, but if you can't do marketing on multiple platforms [print, Internet, player endorsements, demo days, etc.], you can't compete. Every two or three years, someone gets tossed out of the ring. It wouldn't surprise me if in five years that 80 percent [of market share] for those four companies was 90 percent."
Alexander says the four big companies have profit margins in high single digits. In the heyday of golf, those margins were probably mid-teens, he says. Exactly how much money do equipment companies spend yearly on player endorsements? "No one shares that information," Alexander says. "No one wants to."
One source familiar with endorsement deals, speaking with Golf Digest under the condition of anonymity, estimates that TaylorMade, which says it has "more than 125 players" under contract, spends "$20 million to $25 million combined on its big four [Dustin Johnson, Jason Day, Sergio Garcia and Justin Rose] and then doesn't spend that much on the rest of its players," putting its total endorsements at $40 million to $50 million annually.
"Different companies have different philosophies," the source says. "Titleist wants numbers [of players, to win things like the tour ball count]; other companies want names. The common thread is authenticity and believability of the marketing message." TaylorMade declined to comment for this story, as did Titleist.
"Player endorsements have been a long-term strategy at Ping as we started our tour program in the early 1970s," says Chance Cozby, vice president/sports development at Ping. "Product validation and brand awareness by the world's best players provide a great foundation for a premium product like Ping to succeed in the marketplace."
Will the departure of Nike and the impending sale of TaylorMade change the marketplace?
"Given industry consolidation, keen attention will be paid when determining whether to retain an athlete as a spokesperson," says David M. Carter of the marketing consulting firm The Sports Business Group and executive director of the Marshall Sports Business Institute at the University of Southern California. "Athletes who separate themselves from the pack and who can truly deliver a quantifiable return on marketing investment will remain in a strong position to secure endorsement deals. Athletes who are only marginally differentiated from their peers may struggle to secure meaningful endorsement dollars."
That has agents casting a wary eye.
"Clearly, this has been a unique year with golf equipment companies/professional tour-staff endorsements, primarily due to TaylorMade being in a holding pattern of sorts for most of the year and Nike abruptly exiting the equipment industry," says Jay Burton, an agent with International Management Group. "Needless to say, the other major equipment companies are using this as an opportunity to adjust their game plans. In the past two months, there has been a flurry of activity from TaylorMade/Nike tour players to test other equipment/balls."
Burton agrees that the pain will be felt by second-tier players but not the top stars. "Equipment companies need the endorsements of professional tour players if they expect to be major players in the game," he says.
"There definitely has been consolidation," says Mark Steinberg, an agent with Excel Sports Management, which represents GD50 players, including Woods, Rose and Matt Kuchar as well as young stars Daniel Berger and Justin Thomas. "But it hasn't really affected the pricing as much as I thought at this point." His clients are, for the most part, the guys at the top of the pyramid getting the big bucks. Woods still has multiple years left on his Nike contract and will continue to wear its clothing and shoes. But he is free to make money from other equipment companies.
Alexander says the big four companies have consolidated their power by keeping prices high.
"The guys running those four companies are smart enough to know you don't want to become a black widow and eat your mate," Alexander says. "They do better if they don't worry about gaining a market-share point or two. They wised up and are not discounting the price of the clubs, so that keeps the gross margins high enough so that they have enough money to do marketing. The big four don't worry about the bottom feeders. When the bottom feeders discount, they go into a death spiral."
Like most agents and analysts, Alexander doesn't expect the consolidation of the industry to affect the top players. "We're still in a marketplace of demand and supply, and the demand for quality players just went down by one company that was spending millions," he says. "Stars will still get paid. It will take time for the Nike impact to flow into the marketplace."
"Time will tell," Ping's Cozby says about the impact of consolidation in the industry. "In the short term, there has been very little change. In the long term, equipment brands will have to consider potential changes in requirements as players move to soft goods as a primary sponsor."
Are the companies paying too much?
"Because the world has changed, should we have known what the world was going to look like five years ago?" Alexander asks. "Are they over-paying? In hindsight, it's easy to say that. But they operated in the old framework. That framework has changed."
What kind of endorsement structure that new framework constructs is the real question. The result could be a trend set in motion by Tiger all those years ago: more money flowing to players from nongolf companies. Golfers remain the most valuable endorsement partners in all of sports.