News
The Memorial is the one PGA Tour event allowing fans during the first two months of the season restart. Here's how they're planning to do it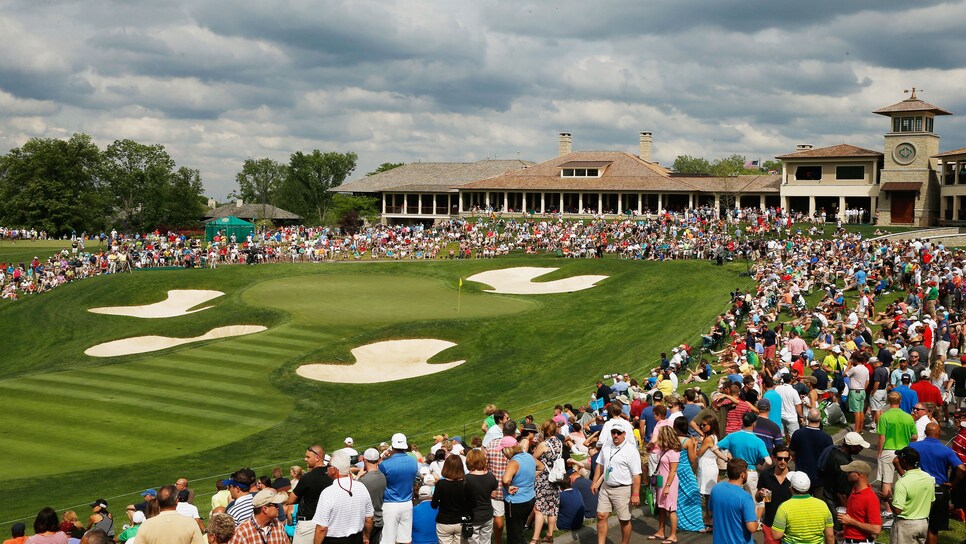 A view of the 18th hole and clubhouse at Muirfield Village Golf Club. The course plays host to two PGA Tour events this year, one of which (the Memorial) will be the only early tournament on the tour's revised schedule to allow fans.
Scott Halleran
DUBLIN, Ohio — The Memorial Tournament is an island unto itself on the PGA Tour's revamped schedule, a redoubt of sorts surrounded on all sides by a sea of, well, doubts.
On Monday, tournament officials offered further guidance on their plans to welcome spectators to Muirfield Village Golf Club for the long-running invitational tournament hosted by golf legend and Columbus native Jack Nicklaus. Currently, the Memorial is the only tour event through early August to commit to allowing fans—albeit a small contingent—to attend its event.
The WGC-FedEx St. Jude Invitational in Memphis has not, as yet, revealed whether or not it will be allowing spectators. It precedes the PGA Championship at TPC Harding Park in San Francisco, which also is proceeding without galleries.
On the same day that Executive Director Dan Sullivan was spelling out details for Memorial's modest patron presence, the 3M Open outside Minneapolis, which immediately follows the Memorial, announced that it would continue for a second year but on an empty TPC Twin Cities in accordance with current Minnesota health guidelines amid the continuing coronavirus pandemic.
Hollis Cavner, 3M Open Executive Tournament Director, sought permission to allow about 5,500 fans onto the grounds of the course in the suburb of Blaine, Minn. Most of those were to be via free admission to military families and veterans. "On a property that's 250 acres, with 5,500 people, you're talking about the equivalence of three people in a Walmart Supercenter," Cavner said.
Minnesota Gov. Tim Walz wouldn't go for it, largely, Cavner said, because he fears an increase in COVID-19 infections after riots and protests broke out in the wake of a killing of George Floyd. "He said that they feel like there is going to be a spike in July with all that is going on here," Cavner said. "That came up in our conversations."
That puts all eyes on Central Ohio, where Muirfield Village will host consecutive PGA Tour events. The Workday Charity Open, a new tournament that for one year takes the place of the John Deere Classic, which was canceled, will be held July 9-12 at Muirfield Village without fans. The following week is the Memorial Tournament, which is preparing to allow perhaps as many as 8,000 fans per day, according to published reports. A June 10 release stated that it will allow only 20 percent of maximum capacity—and that includes personnel and volunteers needed to operate the event.
The pressure on Sullivan and his team is enormous. Officials of events scheduled later in the year will be watching closely, including the USGA, which has reversed course and now hopes it might be able to allow a limited number of fans for the U.S. Open in mid-September at Winged Foot Golf Club in Mamaroneck, N.Y. Leaders of other sports undoubtedly will be taking interest as well.
"We're all learning at the same time, and I'm not really sure there is a perfect plan," Sullivan said. "We're doing the best we can and receiving input from many people. We know we're under a microscope, and we've got to get this right. We understand our responsibility, we need to ensure we have the proper protocols in place to protect everyone who attends. We want to make sure we set a precedent for others to follow and build from."
Cavner, for one, believes that will happen.
"I have to tell you, Dan did a tremendous job with his presentation," Cavner said of the 49-page proposal Sullivan delivered to Ohio Gov. Mike DeWine that paved the way for allowing the Memorial to welcome a modest crowd. "The way he has handled things and done things, it's been very thorough, very professional, and he made his points and had great detail. They were so prepared, and they deserve to get fans."
The timing of the Memorial, which occupies the slot vacated by the canceled Open Championship at Royal St. George's in England, seems promising. The Columbus Dispatch reported Wednesday that six weeks after the state gradually began lifting its stay-at home orders, the average number of newly reported coronavirus cases has dropped by about 25 percent, and the number of weekly cases currently is at its lowest since the second week of April. Hospitalizations have dropped by more than half, from 1,067 to 513. Daily positive COVID-19 test results have fallen from 10.7 percent to 3.2 percent.
But that doesn't mean that Memorial officials will let their guard down or won't take every precaution. Its list of safety protocols, developed with help from the tour, is comprehensive.
For starters, the tournament is asking patrons to take their temperatures before arrival and to stay at home if it exceeds 100 degrees.
Temperatures will be taken and masks will be required upon entry to the grounds. Masks will be provided to those who do not bring their own. Also, all patrons, staff, volunteers, and competitors and caddies will be asked to complete a six-part questionnaire as recommended by the CDC. If any of the six questions are answered in the affirmative, the individual will be required to leave the property. Shuttles from designated parking areas have been eliminated.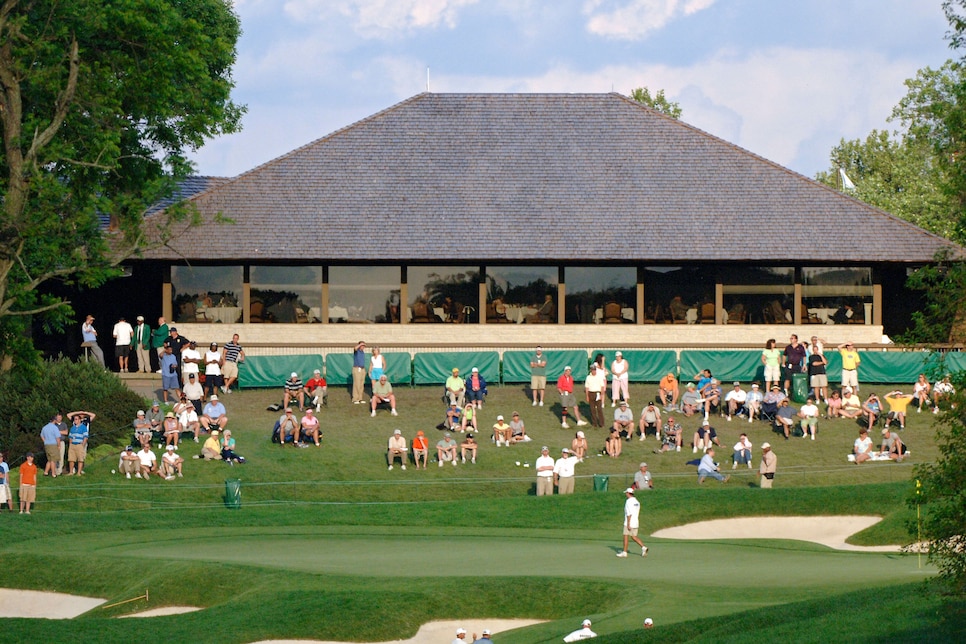 Memorials' plans for fans include no grandstands and volunteers helping spectators maintain space between each other.
Al Messerschmidt
On the course, one-way walking corridors and viewing corrals will be created to manage traffic flow and promote social distancing. Sullivan said a volunteer will be stationed at each corral, positioned at traditionally popular areas, to ensure that only so many patrons can enter at one time. Sanitizing dispensers will be located throughout the Memorial course and no cash will be accepted for any transaction, be it food, beverage or merchandise. There will be no grandstands on the property.
"We're going to make sure that people have space and are able to separate. We will have volunteers and staff walking the course and reminding patrons to separate, especially in the more popular, high traffic areas" said Sullivan, who added that other volunteers will be displaying reminder signs. Instead of "Quiet Please," the signs will read, simply, "Be smart. Stand Apart."
"We're going to work our plan every day and make adjustments when needed," Sullivan said. "We're going to work it every day and make sure that we have the right plan in place. We're going to have to communicate extensively throughout the week."
Even with every precaution imaginable being implemented, there is no way of knowing exactly how this experiment will unfold. But the Memorial, with Nicklaus as host, always has taken a lead in innovations and is uniquely positioned as more than just a competition, given its tradition of honoring outstanding players and figures in the game's history. This year, three-time major winner Nick Price is the honoree, while standout players Gene Littler and Ted Ray are being recognized posthumously. CBS Sports broadcaster Jim Nantz adds more luster as the recipient of the tournament's journalism award.
The Memorial is one of three "elevated" events on the PGA Tour along with the Genesis Open, hosted by Tiger Woods, and the Arnold Palmer Invitational. It offers a purse of $9.3 million and awards a three-year exemption to the winner (instead of two years at other tournaments, not including majors or World Golf Championships). It traditionally attracts one of the year's strongest fields and is expected to do so again—even with the Workday event preceding it. It's used to a bright spotlight.
"This year is going to be something none of us have ever experienced or expected," Sullivan said. "We have spent the last two months developing our plan and feel confident we will be successful, but we will learn a lot with each day and will need to be flexible and adjust. We will be very controlled in executing the plan. We are focused on making sure that we're doing the right thing in applying the protocols while ensuring our patrons enjoy their time at the tournament. How we operate the 2020 Memorial will be different. We are going to do it right and, in many respects, we hope we never have to do it again."