News
The Maturation of Matt Fitzpatrick
The 22-year-old Englishman can live with the 'baby-face' label, but it's the 'assassin' part he hopes defines his play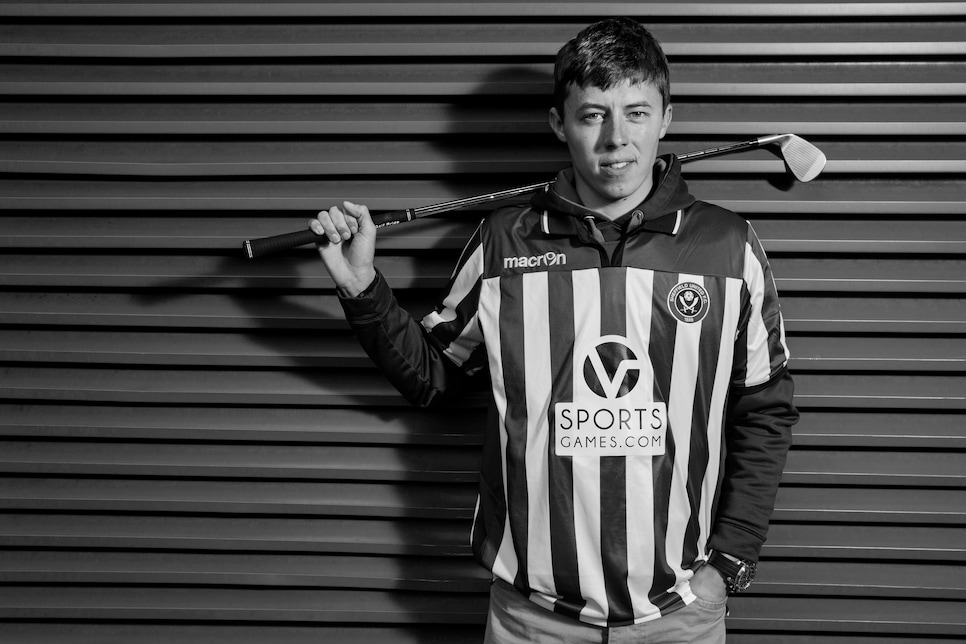 By both reputation and long-established stereotype, natives of Yorkshire—at 3,212 square miles, the largest of England's 48 counties—are known for a typically dour combination of parsimony and sporting doggedness. At least in terms of his style of play on the golf course, former U.S. Amateur champion Matt Fitzpatrick is an admirable combination of those qualities with a strong sense of regional identity. For the 22-year-old from the steel city of Sheffield, the son of a former bank manager, every shot and every par is a "prisoner," not to be yielded lightly or without a fight.
Driven is a common adjective attached to Fitzpatrick, who almost unnoticed made five birdies in the closing seven holes en route to a final-round 65 and a T-7 finish at last year's Masters, his first top-10 in any of the four major championships.
Impressive though that was for a young man making only his second visit to Augusta National, the then teenager's Augusta National debut in 2014 reveals more about the clear-headedness and level of ambition that burns behind his still-boyish features. Not for nothing does his swing coach, Mike Walker (who also works with another Yorkshireman, Masters champion Danny Willett), variously describes Fitzpatrick as a "baby-faced assassin," "ruthless," "one-track minded," "hell-bent on getting to the very top" and possessed of "an innate confidence, that is hard to see. It is within him."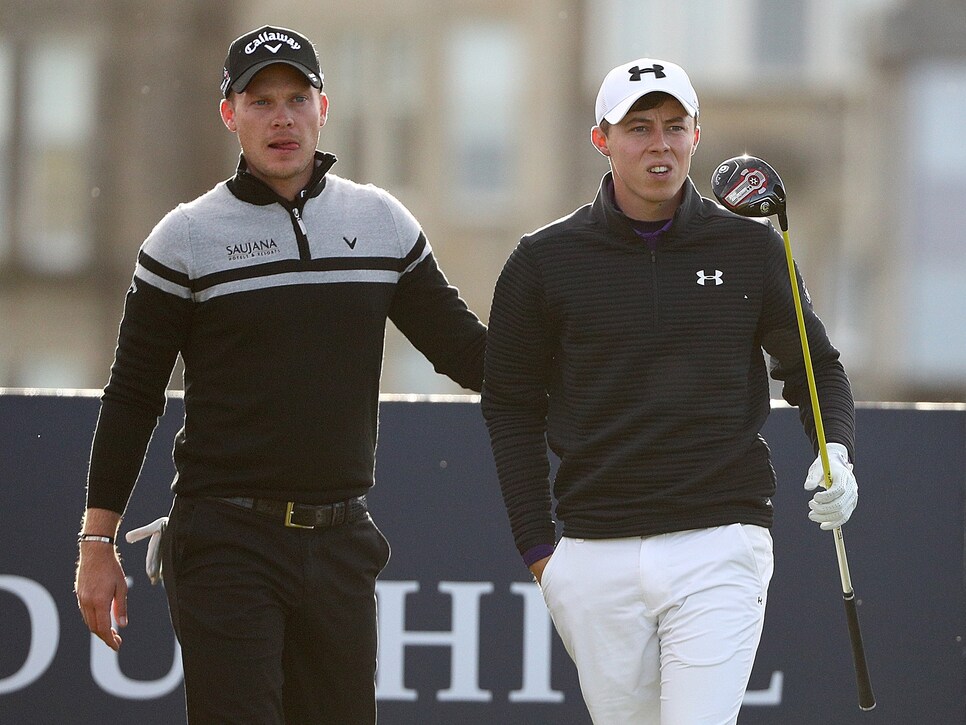 "On the last green in the second round, Matt missed a putt that would have seen him qualify for the weekend," Walker recalls. "That was a shame. But his reaction was interesting. After he missed the putt, he still took time to note down where it broke and how much, even though he knew he had missed the cut. He uploaded that data into a statistical app later that evening. Not only does this show how disciplined he is, he clearly expected to be back at Augusta. But that's him, always thinking ahead."
Before that though, a brief look back. Should Fitzpatrick contend in or even win next month's Masters, it would represent the next—and logical—step up a golfing ladder on which he has missed nary a rung. British Boys champion in 2012, the lad from the Hallamshire club was the leading amateur in the 2013 Open Championship at Muirfield, one month before claiming the U.S. Amateur title at Brookline. When he turned professional in 2014, he was ranked the World's No. 1 amateur.
Later that year, Fitzpatrick comfortably gained his European Tour card at the qualifying school. And less than 12 months later, as the youngest man in the field, he won the British Masters at Woburn. Today, the 30th-ranked player in the world is the owner of three European Tour titles, the latest of which was the season-ending DP World Tour Championship in Dubai, and already has a Ryder Cup under his belt, competing as a rookie at Hazeltine National last fall.
Just six days after his victory in Dubai, one achieved against a field containing 10 of his 11 Ryder Cup teammates, Fitzpatrick split from his agent, Chubby Chandler, at International Sports Management. It was an outwardly surprising decision, but one that only underlines a typically Yorkshire independence of mind and determination to do things his own way.
"My lawyer, Oliver Hunt, is looking after me right now," Fitzpatrick says. "We've had a few meetings with different groups. I just wanted something different when I left Chubby and to do my own thing. I like the idea of having someone looking after me and just me. But I have a decision to make, one I will take my time with."
Still, for all his obvious ambition, legitimate questions remain over just how far the far-from-physically-imposing Fitzpatrick can go in the game. At last year's Ryder Cup he played only twice, losing both matches, and more than once appeared a little out of his depth. Little wonder that, on an early week visit to the Hazeltine merchandise tent, he was asked if he was a member of the European Junior Ryder Cup side. Far from the longest off the tee—although with an average of 281.3 yards this season on the PGA Tour, not quite as short as his lower-than-average ball-flight can sometimes make him appear—his success is built around a steady long game and a short game that is the envy of many.
"Matt's game is so solid," says Lee Westwood. "His bad shot is rarely that bad, and his putting is fantastic. When he gets a chance to win, he doesn't back off. He is best suited to courses where hitting the fairway is a must. Tight and not overly long, where there are a lot of wedges to be hit, are the types of places where he shines. Then again, he can play well anywhere. He did so well at Augusta last year because he is such a good putter and has such a sensible way of thinking about things."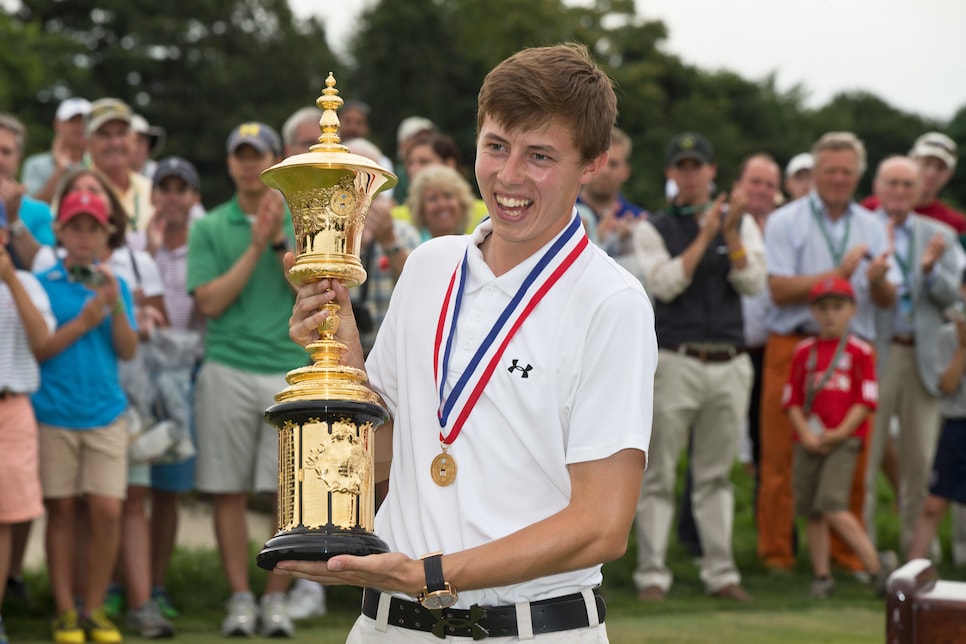 Through the WGC-Mexico Championship, Fitzpatrick ranks sixth in strokes gained/putting (.817) on the PGA Tour in the 2016-'17 season. But he doesn't quite accept that holing-out consistently—"he is incredible inside six feet," says Walker—is the only attribute that enhances the likelihood of him donning a green jacket.
"My game is well-suited to Augusta," Fitzpatrick claims. "At first glance, it isn't too demanding off the tee. But it actually is. It is so important to be in the right position. If you're not, you are penalized. And the same is true on the approach shots. Hitting the greens isn't that hard. But you have to be putting from the right spots to have a chance of making birdies.
"My iron play has always been a strength of mine, so I give myself a lot of makeable birdie putts. And at Augusta it's not necessarily about always going for the pin. There are six or seven holes on that course where you actually have to play away from the pin a bit. That's especially true on the water holes. It's all about making par on those. All of which takes a bit of discipline. The natural inclination is always to go for the flag. But I'm pretty good at fighting that temptation."
A closer look at Fitzpatrick's full-swing technique reveals a method Walker describes as "quirky."
"Matt has very flexible wrists," Walker says. "And he has a very strong left-hand grip. So his clubface position at the top always looks quite strong. He actually de-lofts his short irons, so he is extremely long with those. He has that in common with many great ball-strikers.
"His strong left-hand grip means he can hold the club square for a long time through impact. There isn't a lot of rotation. That's not a bad way to play, as guys like Lee Trevino and Paul Azinger have shown. Matt hits the ball as straight as anyone I have ever worked with."
Still, while a major-championship victory is clearly on his agenda, Fitzpatrick's immediate target is earning exempt status on the PGA Tour. To that end, he will play a full schedule in the U.S. until mid-May. A big fan of all things American—despite famously leaving behind his scholarship at Northwestern after only half a season—he also sees his longer-term future primarily on the left-hand side of the Atlantic Ocean.
"Six months from now I want to have my tour card taken care of," he says. "That will come with some good finishes. I look at all the British and European guys who play over here and live over here and know that I want to do that, too. I always have, whether it was through playing golf or not. I just like the way of life in the States. People may have thought the opposite when I left Northwestern so soon after getting there. But that was all about my golf. I left to be a full-time amateur, which was the first step towards being a pro."
That's another Yorkshire thing. Honesty and straight-talking.