FIRE PIT COLLECTIVE
The Magic of Bandon Dunes: An inspiring trip to the Oregon coast for the Uncle Tony Invitational
Editor's Note: This article first appeared in Fire Pit Collective, a Golf Digest content partner.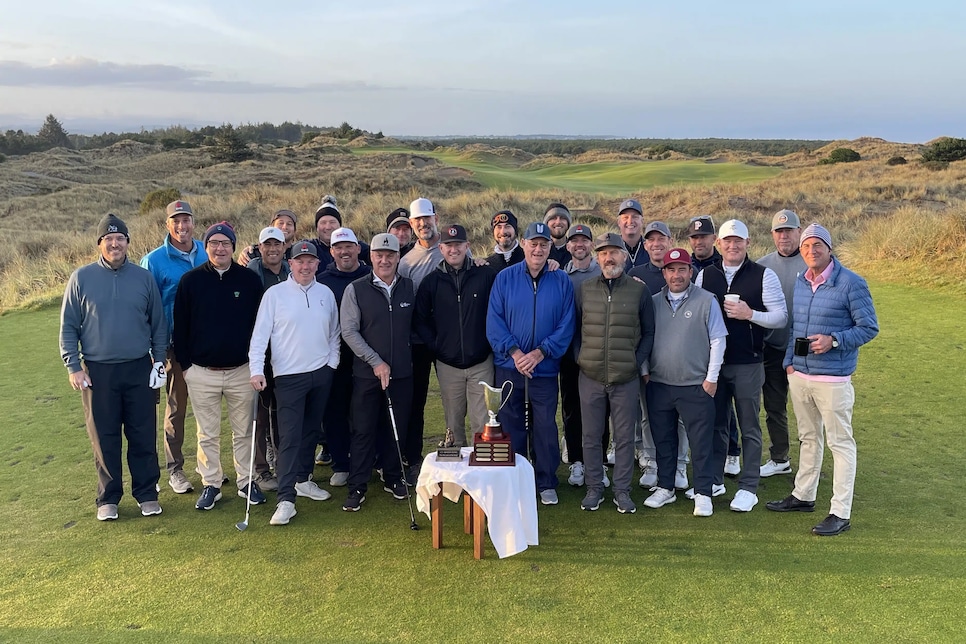 The Fire Pit Collective was started by Matt Ginella, an athletic native Californian who, with his decisive manner, hooded sweatshirt and sometimes hoarse voice, might bring to mind a high school football coach you once knew, but without the beer gut. He was Matty G. in his years at Sports Illustrated and on Golf Channel and earlier this year when he spoke so movingly at Tim Rosaforte's funeral. Matt leads with his heart, so you'd want him speaking at your funeral, but ideally not too soon. He's a break-80 golfer and a plus-4 talker and he had a favorite relative, his uncle Tony Kielhofer, who really had all the best words and could break 70 in his prime. Everything Uncle Tony knew, he taught to Matt. Matt spoke at Uncle Tony's funeral.
So Uncle Tony is gone but those who loved him remain, and they run an annual golf tournament started in his name: the Uncle Tony Invitational, played at the Bandon Dunes National Seashore and Golf Preserve, on the Oregon coastline. That is the event's longtime home. Bandon Dunes is in Matt's blood, and in his son's. Matt and his wife, Katie, have a son named Bandon.
Yes, I know: The actual name is the Bandon Dunes Golf Resort. It deserves something more. I'm just back, and the place has the feel of our great national parks, with its narrow, winding roads, low buildings, plain wooden signs, hiking trails, dense forests and vast expanses of American linksland. In all of golf, there's nothing like it.
If you've never been, you might have the wrong idea. You might think it's a playground for the flush and the bloated, and that it's super complicated to set up golf there. Not at all. Uncle Tony would have gone once and turned around if that was the case. It's a place for walkers and hikers and, if you're so inclined, you can drink all the red wine you wish. Most people don't even bring a car; they get shuttled around or walk. The courses are made for walking, as is the game. Exceptions as needed, yes. Of course. But the game and the place were both meant for walking.
Uncle Tony had a bunch of brothers-in-arms. He is survived by Uncle Bill, Uncle Lew, Uncle Ashy and, as of this year, Uncle SJ. Bill was Tony's brother-in-law but the others are no relation to Tony. They have been bestowed the title to serve as Matt's advisors and inspirations to the rest of us.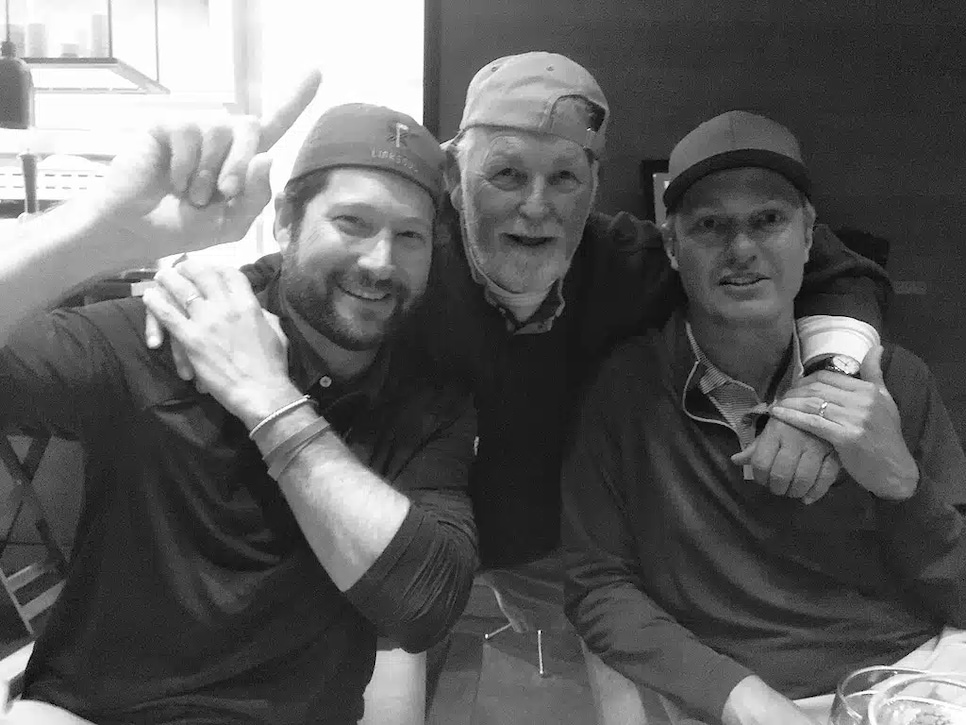 The late Uncle Tony (center), with Josh Lesnik (left) and his partner Tom Pashley, who won this year's UTI, their third such victory.
You might ask, How does a new uncle suddenly appear?
You might be wondering a lot of things.
I was an invitee to the UTI this year for the first time. I'm at liberty to share a few things and not more. Here are some Uncle Tony quick-hit facts:
• The event was played, as per usual, on six of the seven courses at Bandon Dunes over four days, including the Preserve and The Punchbowl. Or was it four courses and six days?
• There were 24 contestants playing better-ball golf in two-man teams, in gross and net divisions. Yes, it's all men. Believe me, it's better that way. Gross and net, but net is really the thing. Per the Uncle Tony playbook, if there is a playoff, the teams go off naked. That is, no strokes. This hardly needs to be said: The ball is played down. If you lose a ball, take a penalty stroke and drop it in the vicinity of where it should be.
• I was the worst golfer in the field, and I'm not that bad. My partner was Alan Shipnuck, and if you like the way he writes you'll like the way he plays. His swing brings to mind a hot knife through soft butter, and he hit some off-the-peg 9-irons that might still be hanging in the brackish Bandon air.
• If somebody is invited one year and not invited to return, for cause, there's a phrase for that. Let's say a golfer named DeChambeau played one year. But he was brusque with the caddies or missed the closing dinner, something like that. He would be a one-and-done with this shorthand: He was DeChambeaued. A name turned into a verb. By the way, the caddies at Bandon Dunes wear green baseball caps with one word stenciled on the back: LOOPER.
Let me go off a wee side trail here to tell you about one of the loopers, a young woman named Kara, who carried Pat Foley's bag through the tournament. Foley, as many hockey fans know, was the longtime voice of the Chicago Blackhawks. Kara works for Oregon State University, studying forest health as a tree corer. She caddies at Bandon on the side, has an associate's degree in forestry and might continue with her studies. Her boyfriend is a chef and made her the delicious-looking avocado-and-cheese sandwich on whole wheat she ate at the turn on Day 4. When one player in our foursome hit a driver off the tight Bandon Dunes turf and into the air, Kara whooped spontaneously. Few hat-trick hockey calls could be more thrilling to hear. As Michael Murphy writes in Golf in the Kingdom, "Personal charm is a physical thing. It also carries elements of endless surprise." Kara's got it.
By the way, one of our Fire Pit Collective producers and editors, Jake Muldowney, was, quote, discovered at Bandon Dunes by Matt, when Matt was playing UTI golf and Jake was caddying there. Jake grew up in a golfing family and it shows, but there are a million paths into this game's web.
In the first round, Alan and I were paired with our colleague Ryan French, the Monday Q gent who learned the game from his father on the course in their backyard in tiny Alpena, Mich. On the long uphill par-5 16th at Bandon Trails, Ryan, probably one of the 100 best golfers to come out of Alpena, killed a drive. But then I saw him with a 4-iron in his hands for his second shot. I couldn't understand why he was laying up. He wasn't. He hit it hole-high and got up and down out of a trap for an unlikely birdie. His caddie was not Kara. This guy was not a whooper. It takes all kinds, in this golf thing. To the question, Is this uphill or down, there is no one way to answer.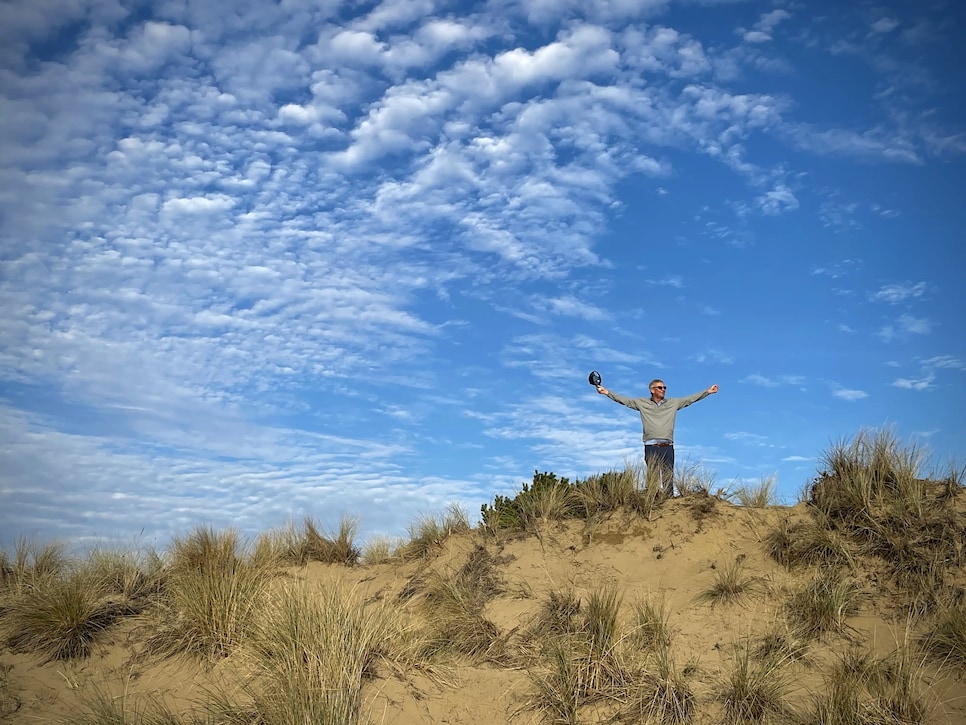 Irishman Marty Carr has played golf all around the world but was blown away by his first first trip to Bandon.
The UTI events, plural, are typically played over four days and 112 holes, but the net title this year required four sudden-death playoff holes, no dots on the card. (As it should be!) So 116. Yes, it's an unlikely number. I can lay it out for you here if you wish, and if you don't, skip ahead. It's a free country.
Eighteen holes the first day on Bandon Trails, a Coore-Crenshaw course that is breathtakingly beautiful and remote in the best sense. This was the first of four competitive rounds that count toward the overall UTI standings. You keep the same partner for each of those rounds but pick a name out of hat to pair off with someone new for the afternoon adventures. On the first day, that was the Uncle Lew, the four-man scramble around The Preserve, Bandon's 13-hole par-3 course.
Eighteen holes the second day at Pacific Dunes, a Tom Doak design that is breathtakingly beautiful. That round was followed by nine holes of alternate shot on the front nine of the original Bandon Dunes course, for the Uncle Ashy. (There are actual trophies for the Uncle events, plus actual money!)
The third day we played Sheep Ranch, which opened for play in 2020, though if somebody had said it opened in 1890 you'd believe that too. The oceanfront course has grass bunkers but no sand traps. After that we played the Uncle Bill, a tournament on the 18-hole putting course called The Punchbowl.
The fourth day we played Bandon Dunes, Bandon's original 18-hole course, designed by David McLay Kidd, a Scotsman. It shows! When regulation play was over, two two-man teams needed four extra holes to see who would hoist the trophy named for Uncle Tony.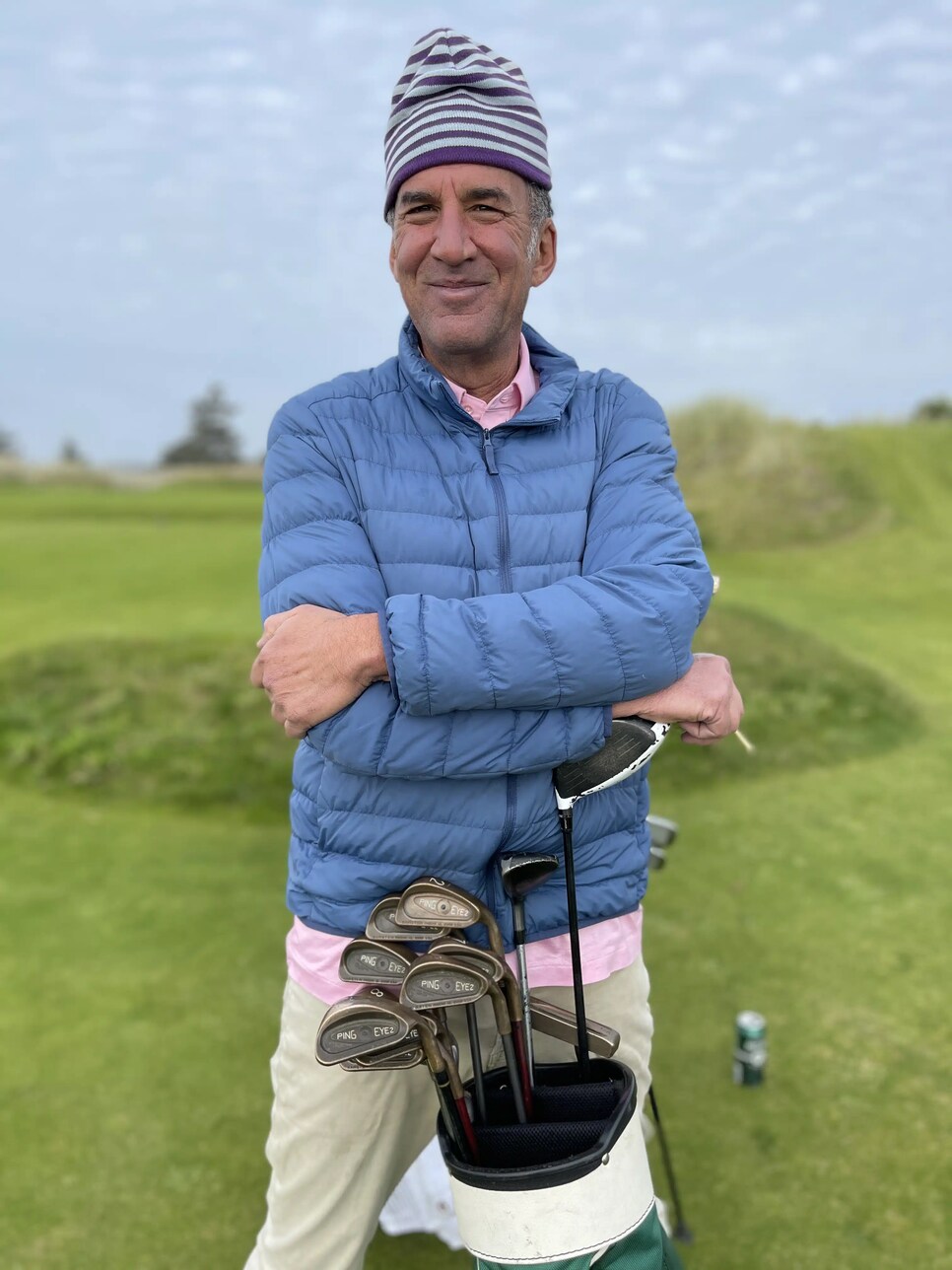 Do you recall how Denzel Washington ran his practices as Coach Boone in Remember the Titans? That's how this UTI thing was run under Coach Ginella, the tournament commissioner. Four days of here's your tee time, dinner at 7, gather 'round the campfire afterward, unless bed calls.
I am not, at all, a resort-golf person. Bandon Dunes does not feel like a resort. I had been there only once, about 20 years ago, and I liked it. But this time I loved the place. Even with the many new holes, it does not feel different. At all. Every day, I was awed by how thoroughly enjoyable—and largely playable—the golf is. And so natural. And let me summarize the golf sophistication of this UTI crowd: Over four days of play, I did not hear anybody offer a single unsolicited swing tip.
This is a fool's errand, but flying home (Portland to Philadelphia, red-eye), I asked myself this: If you had one day at Bandon Dunes, and on that day you could play as much golf as you want but on only one course, how would you rank the six courses? Yes, I'm counting the par-3 course and the putting course. No, I did not get to play a fifth 18-hole course, Old Macdonald.
Warning: This is highly personal.
1. Sheep. The easiest walk. The most natural. Hard to lose a ball. Breathtaking.
2. The Preserve, the par-3 course. Some of the best par-3 holes in the world with a variety of tees and the chance to invent holes all day long and into the night.
3. Bandon Dunes, the original. With the possible exception of Sankaty Head on Nantucket, as close to the Scottish linksland you can experience in the United States, and Sankaty Head is a private club that is impossible to get on.
4. Pacific Dunes, the Doak course. There was little wind and the course played short the day we played it and was probably far more enjoyable because of it. Visually stunning, both with the ball at your feet and everything you see with your chin up.
5. Bandon Trails. Visually stunning, both with the ball at your feet and everything you see with your chin up. I mean, on any given day you could flip four and five.
On Saturday night, there was a wrap-it-up dinner. The wine, the trophies, the toasts to various uncles, absent and present. I think I'm going to give the mic here to my old hero Michael Murphy, as he describes the end of a long dinner at the end of a long day and night of Scottish golf. This is Mike, channeling one of golf's greatest creations, Shivas Irons, the Golf in the Kingdom tour guide:
My friends, devoted discipline and grace will ye knowin's and powers everywhere, in all your life, in all your works if they're good works, in all your loves if they're good loves. Ye'll come away from the links with a new hold on life, that is certain if ye play the game with all your heart.

Michael Bamberger (below) welcomes your comments at Bamberger@firepitcollective.com