FIRE PIT COLLECTIVE
The great Bandon Dunes debate
Editor's Note: This article first appeared in Fire Pit Collective, a Golf Digest content partner.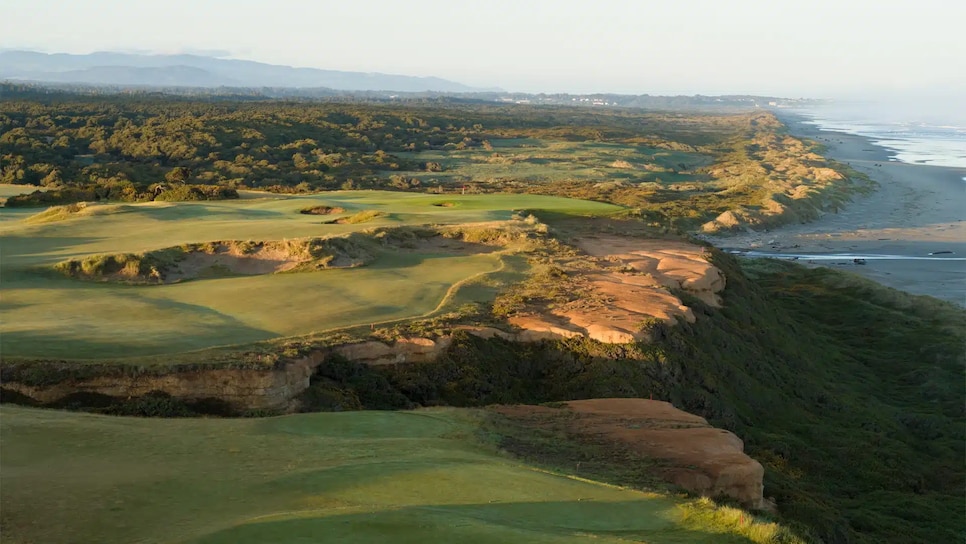 Debating and discussing the courses at Bandon Dunes is almost as much fun as playing them. Several of us at Fire Pit have been making the trek to Bandon for years, and over the last 53 weeks, four staffers made their first pilgrimage. So we thought this would be a good time to compare notes. (Those who have only four courses in their rankings did not play Old MacDonald on their maiden voyage.) Without further ado, here's how we collectively think of Bandon Dunes.
1. Bandon Trails: The routing, the walk, some of the settings of tees and greens, the adventure and variety of long and short 3s, 4s and 5s make this one of the best "inland" courses in the country and one of my favorite Coore and Crenshaw designs. Which is saying something. It's a trip through a painting. "Artistry" is a term I'd use to describe the looks from the 2nd, 5th, 8th, 14th and 17th tees; and the 9th,11th and 13th fairways. Whenever I get a chance to only double-up on one course, I choose Trails.
1a. Bandon Dunes: It's the OG, and for me that matters. It's also David McLay Kidd's Scottish stamp on U.S. soil, which makes it a true links course. There is so much else to love: the fun factor; the playability in any conditions; the 15th green and 16th tee shot (above); and it's that bench, off the cliff behind the 17th tee, where my ashes will be spread someday. It's that 180-degree view from that bench, up and down the Oregon coastline, that made me think: Bandon would be a fitting name for my son.
2. Pacific Dunes: It's not always easy on me, but it's always easy on the eyes. The design certainly showcases all that's great, and not so great, about Tom Doak. Almost immediately, it makes you uncomfortable about who you are as a golfer. It will test every aspect of your game, and that's pretty much on every hole, from intimidating tee shots to the wonky greens. The 4th and the 13th have to be two of the best par-4s in the world. As for the 1st, 6th and 16th? Those would be three reasons why it's tucked on this list behind Trails and Bandon.
3. Sheep Ranch: I've told the story about how it was such a design challenge to get 18 holes on this tight parcel of land. Not only did Coore and Crenshaw figure it out, it's an absolute gas to play. And that's true in a lot of prevailing wind, or no wind, and everything in between. The 1st hole is the best opening hole on the property, and it's not even close. And there are the other eight "infinity" greens that make you feel like I never want this to end. You'll most likely shoot your best score at Sheep, and who doesn't like feeling good about the time, energy and expense they've invested in such a fickle game?
4. Bandon Preserve: There might be better par-3 courses in the world, I just haven't played them. Again, it's the variety of adventure, options and opportunities for heroic shots that make this short course so much fun. "We have an extra hour, want to play the Preserve?" The answer is always: Yes! As it should be.
5. The Punchbowl: The next time you're out there, navigating the twists and turns of every putt, stop and listen for a minute. Those whoops and hollers, the music and emotion, that's what it's all about. Per Mike Keiser, "I don't want you just to come to Bandon once, I want you to come back." And it's the camaraderie and value of something like the Punchbowl that does just that. I've only gone back 27 times. And counting…
6. Old Mac: It's not that I hate it—I get that it has its place on the property. But given the other options, I like all of the above a lot more. If I wanted a putting course, where three-, four- and five-putts are all in play, I'd prefer Punchbowl. The greens on Old Mac are outrageous. And the course is borderline unplayable in the prevailing summer winds. Although the finishing stretch is incredible, one course has to be last on this last. And for me, Old Mac is it.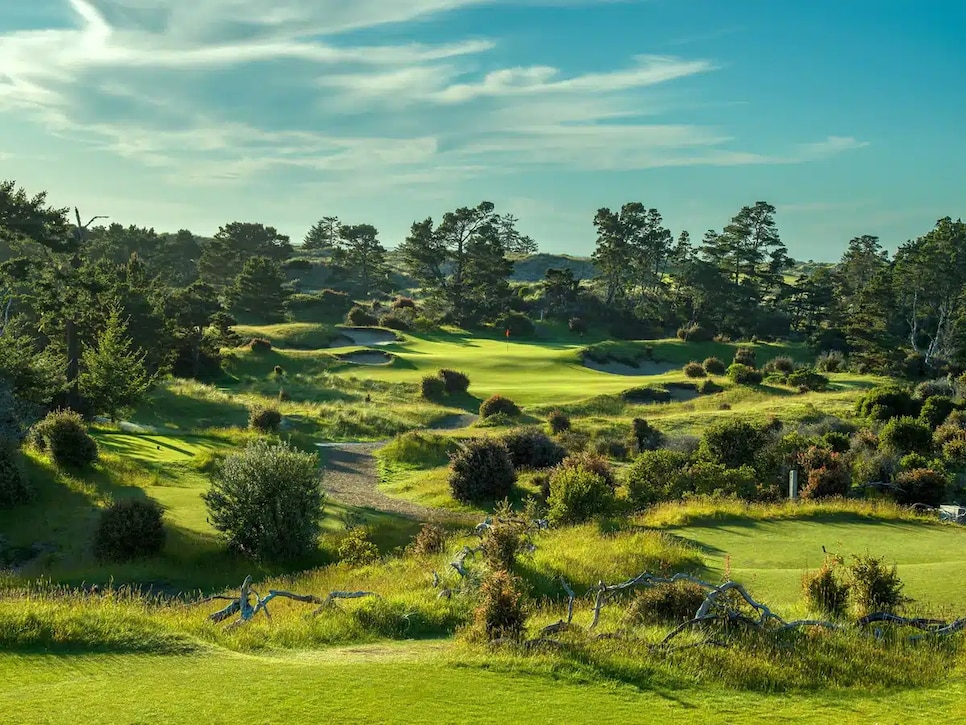 1. Bandon Trails: First off during the winter months at Trails is a truly spiritual golf experience. The long shadows enhance the Coore and Crenshaw subtleties, and while still playable, it feels like a championship golf course.
2. Bandon Dunes: Finishing a trip at sunset at Bandon will almost certainly make you go back. Keiser initially had no intention of building more than one course, which makes this one very special in my mind.
3a. Sheep Ranch: A genuinely fun golf course. It's like an amusement ride that you never want to end. And the pastrami sandwich is remarkable.
3b. Old Mac: It's an acquired taste. But once you've played it a few times you start to learn that sometimes hitting it away from the hole is the easiest way to get your ball close. The greens are insanely large, but Doak did a good job of providing speed slots, side walls and undulations that allow you to be extremely creative.
5. Pacific Dunes. The 3rd tee box offers the ultimate Aha! moment at the resort. You can see the entire coastline and the vastness of the resort and all of its beauty. The coastal holes are amazing, but the inland holes are a little blah.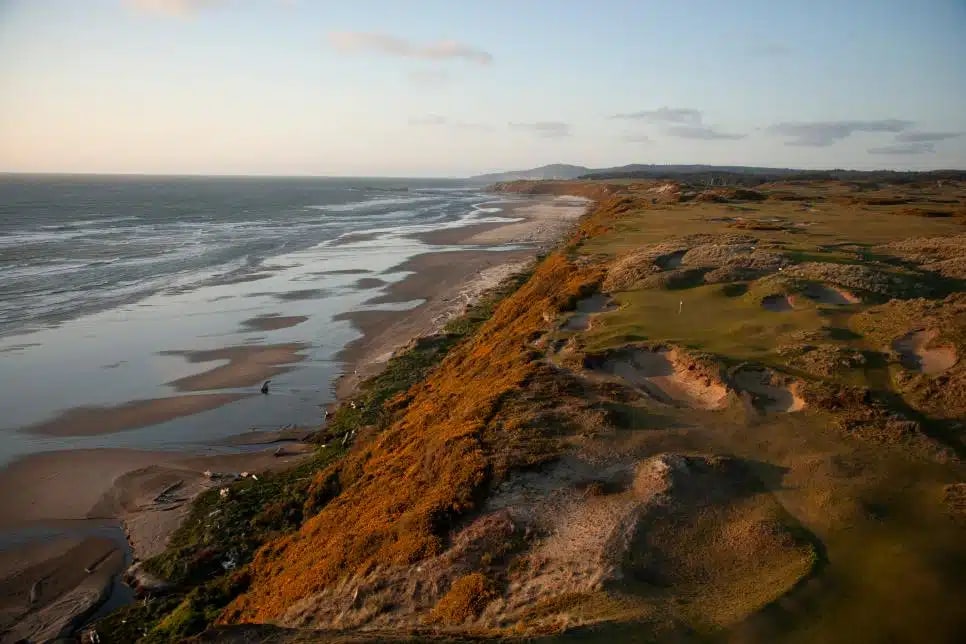 The short, dangerous par-3 11th at Pacific Dunes.
1. Bandon Trails: A departure from the overwhelming ocean lets the design take center stage and Core and Crenshaw shine. Features arguably the worst short par-4 in America ( No. 14), but this is still a "must-play." The least resort-y of the courses for my money.
2. Pacific Dunes: My favorite Doak, which is saying a lot. I felt this was the course where I had to commit the most. Answer the hardest questions, take the most challenging lines to score.
3. Bandon Dunes: It's a resort course, so it's generous, but a revelation (4th hole) to golf as it was meant to be.
4. Sheep Ranch: Asks a different question, which is, "Why isn't all golf like this?" As DaVinci said, "Simplicity is the ultimate sophistication." Or something like that. I rank this fourth, but I hate rankings, and I'd be thrilled to play here for the rest of my days.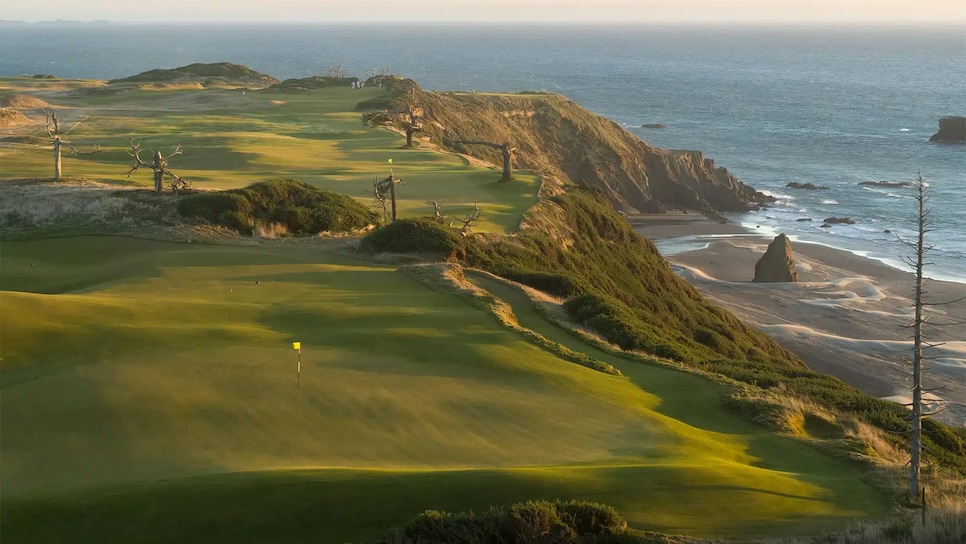 Sheep Ranch's first green (foreground) and drivable par-4 17th.
1. Bandon Dunes: I can remember every shot and the last four holes are an epic stretch.
2. Sheep Ranch: Playing golf in an open field of fescue overhanging the Pacific… When I take a shallow divot from a half-swing 6-iron, I want sand to fly up, not soil.
3. Bandon Trails: I love the movement of the land and all the shots you have to hit. And it's fun to keep an eye on your friends/competitors by yelling across fairways.
4. Pacific Dunes: I think of an ocean hole I loved, and then realize it was at Sheep or Dunes.
1. Sheep Ranch: My favorite as far as playability and ease to walk. A place anyone can play and still enjoy it.
2. Bandon Dunes: I loved the par-3s, and the finishing stretch was unreal.
3. Pacific Dunes: The views and some of the holes were off the charts, but a couple holes are boring and/or quirky.
4. Bandon Trails: Again, it was amazing, but compared to the others, it fell a little short. The opening hole is a snoozer, as are a few others.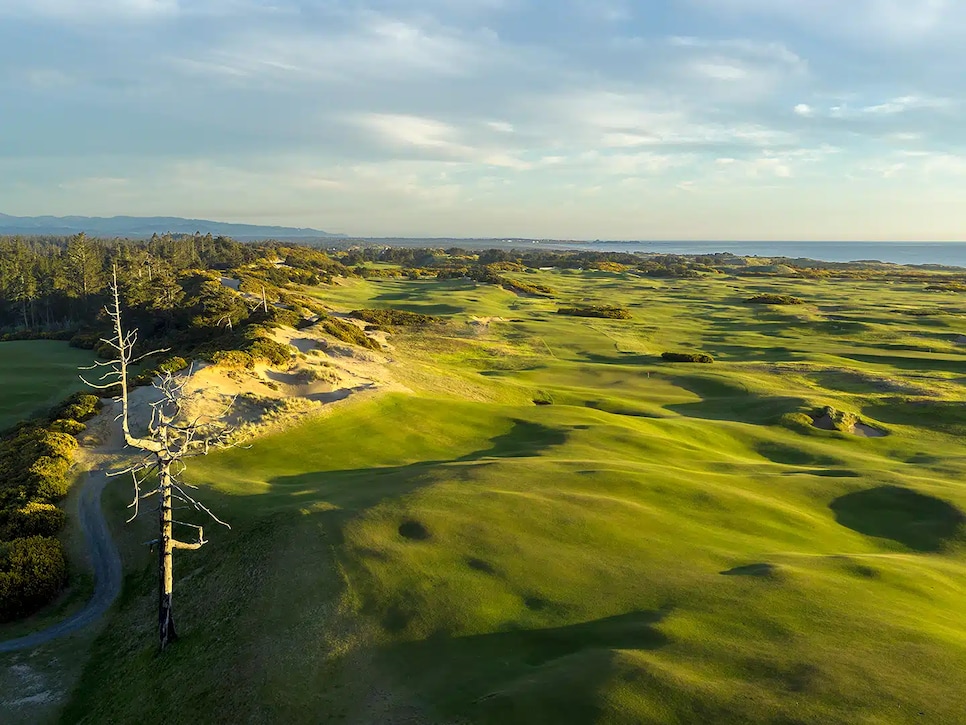 Old Mac's "Sahara" third hole, with a blind drive over a towering dune guarded by the famous ghost tree.
1. Bandon Dunes: A non-stop thrill ride that has the perfect cadence of birdie opportunities, ball-busters and risk/reward. Just outrageously fun.
2. Bandon Trails: One of the most wondrous routings on the planet, with so many unforgettable holes across wildly varied terrain.
3. Sheep Ranch: A joy factory. If this intimate, creative course doesn't make you fall in love with golf… take up pickleball.
4. Pacific Dunes: The first 13 holes are among the most spectacular golf we have, but once you turn away from the seaside dunes the finish is pretty bland. And it's the least playable of these four courses in a strong wind.
5. Old Mac. The 3rd hole is one of my favorites at the resort, and the finishing four are awesome. What's not nearly as fun is the flat, boring stretch in the middle of the round while getting buffeted by gales. Still, almost anywhere else this course would be the featured attraction. Tough crowd!