News
The LPGA Tour's wow factor
PHOENIX, Ariz. - Sometimes things just work out. When the LPGA lost Safeway as a sponsor for the Phoenix stop on tour the event lived one year at Papago Park, a municipal course, with local sponsors, but that was a one-off deal. The prospect of losing a tournament in the golf-mad Arizona desert seemed to shout a warning about the underlying weakness of the tour. Then something remarkable happened.
Mike Whan, the commissioner who took over right as the global economy was tanking, convinced RR Donnelley, the official printer of the tour, to become a title sponsor. And it was decided that the event would honor the founders of the LPGA, which made the fact that the first installment of the RR Donnelley Founders Cup was played without prize money a little easier to swallow, which is not to say there weren't some complaints and a few no-shows.
But almost as soon as players began arriving at the JW Marriott Desert Ridge Resort & Spa last year, even the most vocal critics quickly realized how special this tournament is. On hand were three of the 13 founders - Louise Suggs, Marilynn Smith and Shirley Spork - and a gaggle of Hall of Fame members.
That tradition continued this year with the same three founders in attendance and, on Saturday morning, legends Pat Bradley, Betsy King, Nancy Lopez and Patty Sheehan played a nine-hole exhibition that featured a lot of good golf and even more laughs. That foursome won a combined 148 LPGA tournaments, including 17 majors. It's like watching Mantle, Mays, Aaron and Clemente play baseball.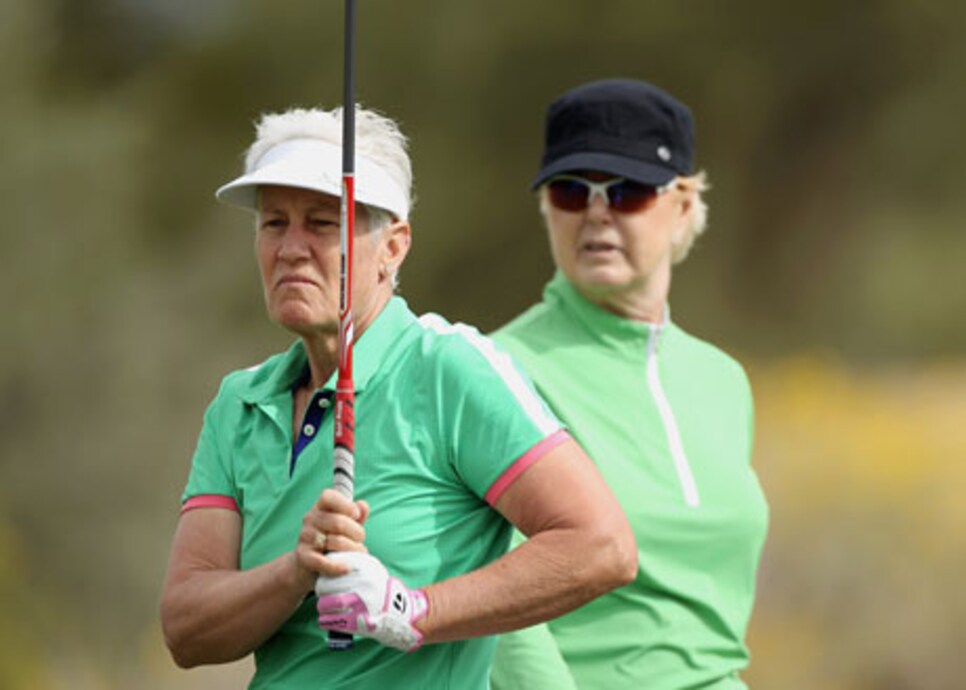 Pat Bradley watches Patty Sheehan tee off. (Photo by Getty Images)
"It's like the good, old days," Bradley said on the first tee. So was some of the golf. With King a limping observer with a banged up ACL hurt while playing basketball at Furman University 35 years ago, the other three all hit the first green and Sheehan rolled in her 15-foot birdie putt.