The Loop
The longest course in history...or at least for now
CHASKA, Minn. -- We live in a warped era when it comes to major championship set-ups, which is to say, nothing surprises you. A 642-yard par 5. A 518-yard par 4. A 248-yard par 3. If anything, what catches your attention when reviewing the scorecard at Hazeltine National is that the next-longest par 4 is 490 yards. "Wow," one almost thinks to himself. "The par-4s are manageable here."
Some of that has to do with the fact that just about every major now features a hole that is the longest something-or-other in history. Hazeltine has the longest par 3, longest par 4, and longest par 5 in major history. At 7,614 yards, it is the longest major championship venue of all time, which might sound terribly daunting if you didn't come across these facts with such mind-numbing regularity.
Or as Geoff Ogilvy wrote on Twitter the other day, "Looking forward to playing a major one day that does not promote itself as the longest ever."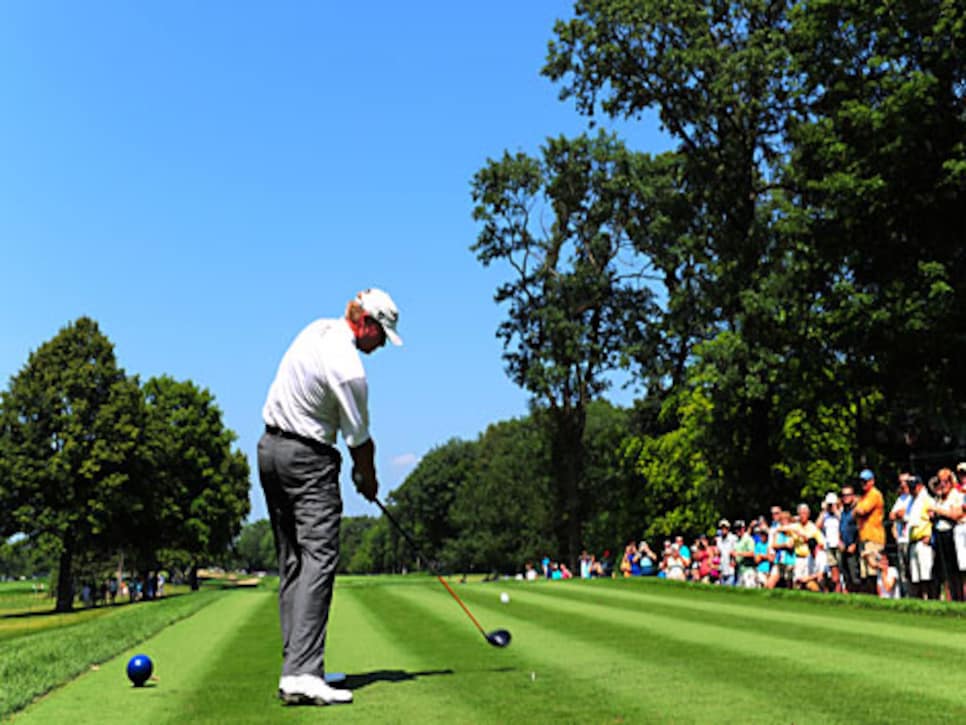 And yet as much as players like Ogilvy appear to resist such set-ups, the reality is they don't. Almost as common an occurrence as hearing about a golf course's imposing length is a player responding with something along the lines of, "But really, it doesn't play that long."
"I don't think the length is such a big deal from what it's made out to be," Padraig Harrington said on Tuesday. "I think the golf course will play quite well."
Of course, there is a psychological component to such rhetoric. One doesn't have to be Dr. Bob Rotella to know that one of the first rules of major championship preparation is to not talk yourself out of the tournament before it starts. Hence, a long course "never plays as long as the scorecard." Or it's long, "but the greens are soft." And if nothing else, "at least the fairways are generous."
And then there is the most damning evidence of all: the scores. In 2004, Whistling Straits was a monstrous 7,536 yards and was the most visually intimidating course anyone had ever seen, but Darren Clarke was still able to shoot 65 in the first round, and there were 144 rounds under par. Two years later, Medinah was 25 yards longer at 7,561 yards, and yet Tiger Woods still managed to shoot four rounds in the 60s on his way to his third PGA.
The point is that length on its own doesn't mean much anymore, or at least not when trying to intimidate the best players in the world. So enjoy Hazeltine's reign as the longest major venue in golf history. Odds are it won't hold that title long.
(Photo: Stuart Franklin/Getty Images)