News
The long view on golf's new fascination with short courses
The Cradle at Pinehurst is the latest example of the game embracing par-3 courses as fast, cheap and fun alternatives for golfers of all skills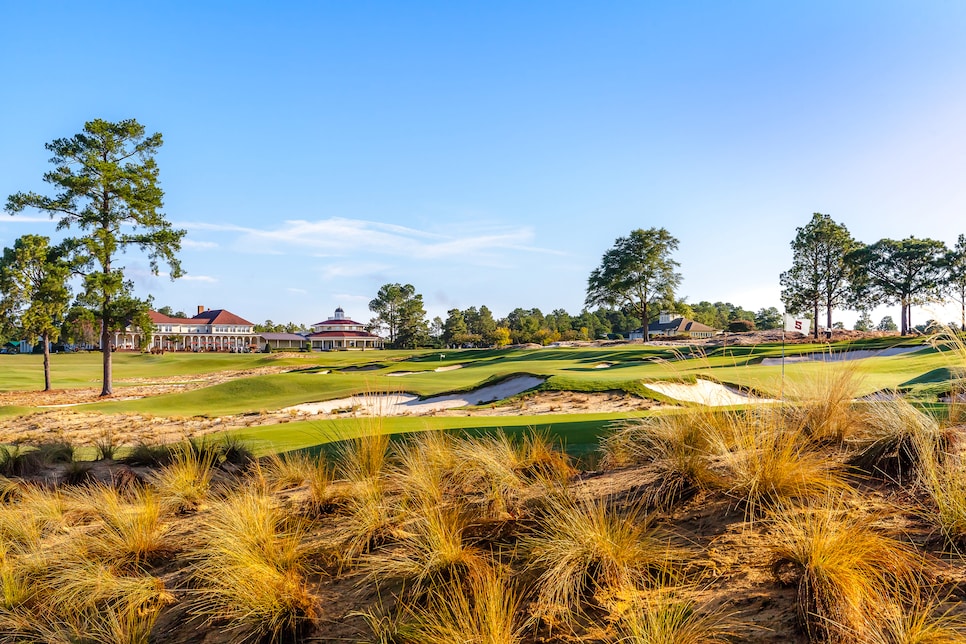 Courtesy of Pinehurst Resort
PINEHURST, N.C. — Is it possible that in the big picture—or at least in a present that needs adjustments—golf is better smaller? That was the feeling I got earlier this week at The Cradle, the newly opened nine-hole par-3 course at Pinehurst Resort, which, along with an adjacent and also new 75,000-square-foot practice putting green, comprises a kind of small-ball paradise.
The overall staging of The Cradle—so named because it sits on the site of the golf mecca's original (1898) course—is pretty perfect. Its gently rolling 10 acres, designed by Gil Hanse and Jim Wagner to replicate the sandy, love-grass-accented look of the famed No. 2 course, complete with dramatically undulating greens, is set directly outside the main clubhouse and veranda. With the holes averaging 87 yards (the longest is 127 yards and the shortest 58), most golfers will only need a few clubs in a carry bag.
Not only are the shots short, so is the time required to play them, usually less than an hour for a foursome. The all-day rate of $50 is also proportionately modest. In this era of power and par 5s nearly as long as The Cradle's 789 yards, small can be beautiful.
Of course, championship golf has to be big—in its footprint and in providing holes muscular enough to sufficiently challenge the players who hit the ball so much longer than ever.
But even at the top levels of the game, there are signs of a new appreciation for the more artful strokes. Jordan Spieth has shown how superior wedge play can overcome bigger hitters, while the improvement of PGA Tour Player of the Year Justin Thomas and current World No. 1 Dustin Johnson can in large measure be attributed to their focusing on their proficiency near and on the green. There's no denying that the little shots count the same as the big ones, and on firm and fast major championship setups, sometimes more.
With so many regulation 18-hole courses struggling to connect with a customer base in economic and cultural flux, par 3s means faster, cheaper and friendlier.
Accordingly, the short par 3 has been getting more attention. As it always is when the Open Championship is at Royal Troon, the 123-yard "Postage Stamp" was a star in 2016 for its genius setting and design. And at the recent Walker Cup, the 15th hole at Los Angeles C.C. North was daringly shortened to 78 yards and drew praise for its shot making challenge.
Why are these holes almost as much fun to spectate as they are to play? Because there is a purity of technique, athleticism and skill over a short distance that touring pros exhibit with the wedges. For all the talk of power, the game is still foremost about ball control. That's never more evident than with the precision required with the most lofted irons. The crispness of the sound, the flushness of contact, the fizzing of the flight, the penetrating (not ballooning) trajectory (what Paul Azinger, one of the best wedge players ever, calls "integrity"), makes up a medley that, to me, defines a pro's gift better than any other part of the game. In Azinger's case, it was the foundational skill, as his instructor, the late John Redman, believed a golfer who could execute a proper pitch shot by definition possessed the essentials of a sound swing.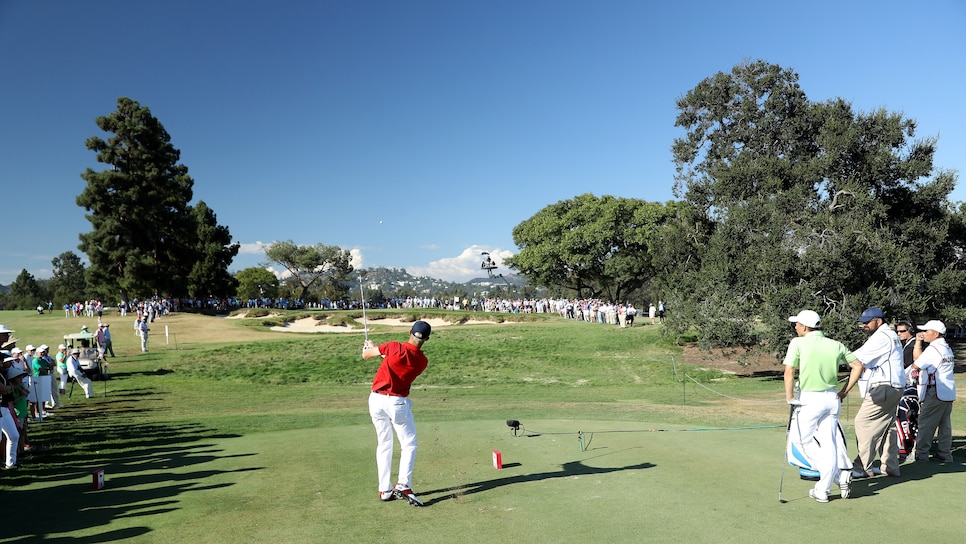 You could make the argument that playing short par 3s builds more competency for the recreational golfer trying to improve than blasting away with the longer clubs. All the more because pitch-and-putts give him or her a better opportunity to go out and play. With so many regulation 18-hole courses struggling to connect with a customer base in economic and cultural flux, par 3s means faster, cheaper and friendlier.
Even at prestigious private clubs, a par 3 is often the most popular course with the members. The par 3 at Augusta National, built in 1958, has always been a big hit, and in the last 20 years more clubs like the Olympic Club, Hamilton Farms, Sand Valley and Colorado Golf Club have added well-designed and maintained par 3s.
The Cradle follows a trend of alternative course openings in 2017, with the new Jordan Spieth-backed six-hole course at the University of Texas, Tom Doak's 12-hole par 3 at Ballyneal, and Dan Hixson nine-hole pitch-and-putt at Silvies Valley Ranch.
You may note a bias toward par 3s in my commentary. Like a lot of guys my age, my first rounds were on scruffy short courses, in my case the Fleming Nine at Harding Park and Golden Gate G.C., both in San Francisco, both enduring jewels from the city's golfing heyday.
I've also seen a big appetite for pitch-and-putts overseas. They can be found in a bunch of little towns in Ireland, usually teeming with an informally dressed crowd whose members tend to nonchalantly pull off very useful bump and runs. And when the Open was held at Muirfield in 2013, the so-called children's course next to the west course at North Berwick was a big hit with visiting American pros and their families.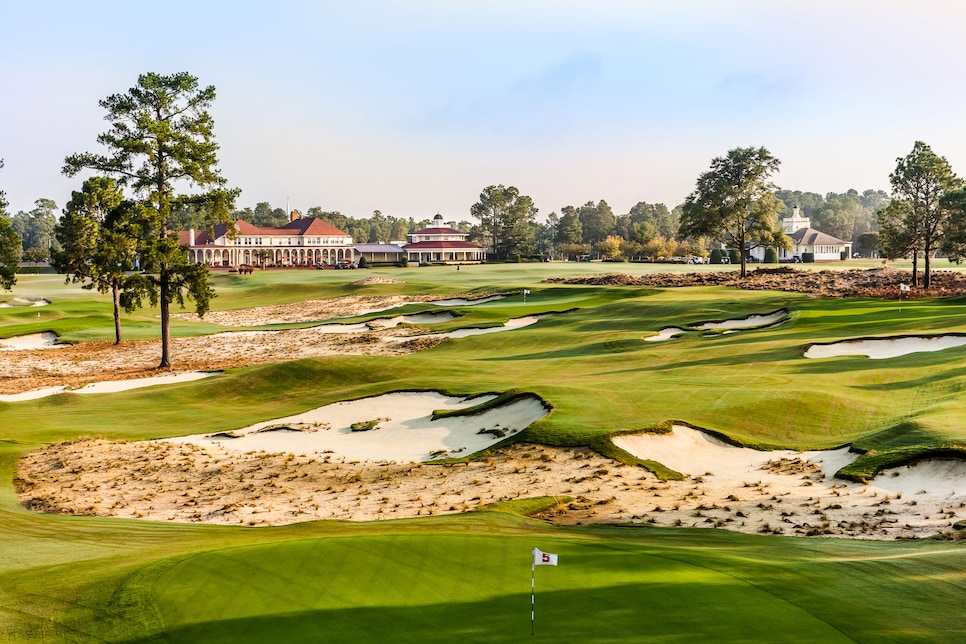 Courtesy of Pinehurst Resort
To me, a good par-3 course works on many levels besides just the price and the pace. A little funkiness in design and even conditioning is a plus, as the capriciousness invites improvisation. The mood should be informal and promote a hint of relaxed raucousness.
Sure, the American hunger for optimization has started a trend toward par 3s for the golfer who has everything. Such courses can be pricey, too penal to avoid slow play, and over spectacular topography that isn't ideal for walking. There have been a few such creations.
But done right, a high end par 3 can become destination golf. And several at major resorts have pulled off that "you've got to play the par 3" allure. The 13-hole Preserve at Bandon Dunes by Bill Coore and Ben Crenshaw is thrilling. So is the short course at the Colorado G.C. by the same team.
The Cradle has immediately joined this club, and may even jump to head of the class. Hanse and Wagner have found a delicate balance between playability for the beginner to average golfer, with difficulty that will challenge and delight the better player. There are no water hazards or unplayable areas, and on most holes the tee shot can be bounced in. But getting the ball close means landing the ball precisely and with some spin, and getting up and down from off the green requires a bit of delicacy. Junior golfers who go round and round The Cradle (it's free for kids 17 or under when accompanied by an adult) will develop a nuanced feel for the scoring part of the game. As for the kind of single-digit sticks that flock to Pinehurst, teams of them will fill the course in the shadowy early evening, perhaps a cocktail in hand, but also fueled by an obsession to conquer a first-class golfing challenge.
"I was trying to find the fun," said Hanse, who shaped both The Cradle and the new putting green, named Thistle Dhu and inspired by the humpy undulations of the vast Himalayas putting course at St. Andrews, which it exceeds in size but not in cost [it's free]. "All of it is right out the front door, so it sets a tone of the game truly being enjoyed. I want to hear some yells, for great shots, crazy bounces, holes in one. I want people sitting outside the clubhouse to kind of bask in this great scene. I hope it just reinforces that true golf spirit that is such a part of Pinehurst."
And which beautifully small courses like The Cradle will spread.
You are using an unsupported version of Internet Explorer. Please upgrade to Internet Explorer 11 or use a different web browser.