Courses
Here are the 5 most impressive amateur architect sketches of 2022
The winner of The Alister MacKenzie Society-sponsored Ray Haddock Lido prize for best original hole concept is Bo Links, a longtime San Francisco-based writer, historian, artist and attorney who currently resides in Oregon. This is the second year in a row Links has won the $3,000 cash prize (subsidized by an additional $2,000 in travel money if he chooses to make the trip to the society's annual gathering in New Zealand), and it is his fourth victory overall since the competition and prize was founded in 1998.
The Lido Prize is based on the contest for Country Life Magazine that MacKenzie entered in 1914 that asked sporting enthusiasts to "design" a golf hole for judging. MacKenzie's multi-option par 4, full of alternate routes and forking paths, won first prize, and architect C.B. Macdonald built a version of it for the 18th hole at the Lido course he was constructing on Long Island.
With the 2022 Lido rules stipulating the hole must be a par 4, it's no surprise that many of the finalists' drawings bore strong resemblance to MacKenzie's original hole. Each had ample fairways that provide hypothetical players aggressive, intermediate and conservative lines off the tee, though each green design is set up to favor specific angles of approach that can be accessed only with a long, daring drive or carefully plotted as a three- or four-shot hole for shorter players.
The finalists also incorporated into their hole concepts some design themes that are currently gaining traction, including the use of fairway undulation and grassy mounds as hazards instead of bunkers, and pronounced kick slopes off protrusions around greens.
Bruce Charlton, president and chief design officer for Robert Trent Jones II Golf Course Architects, judged the competition.
"What stood out in my mind was there were really well-thought-out strategies," Charlton says. "From there I wanted to look at how well the designs embraced MacKenzie's '13 Principles' [of Golf Course Design]. MacKenzie's thought was that a golf course should be fun and it should be a challenge, but it should not be so difficult that average players don't have a reasonable chance of working their way through a golf hole."
The finalists' holes all presented central hazards to negotiate but also multiple routes around them and few forced carries.
Charlton, who lives at Pasatiempo, a famed MacKenzie design in Santa Cruz, Calif., also looked closely at the green elevations, particularly the grades and spot elevations. He wanted to see the types of emboldened shapes and contours MacKenzie might have orchestrated, including putting surfaces with corners, platforms and hole locations that could alter the playing tactics.
"One of the most important takeaways of all the MacKenzie courses I know and that I've studied is that you just don't want to be above the hole," he says. Entries that exhibited these MacKenzie-like contours moved to the top of the board.
Links' par 4, called "Throttle," is a long dogleg that moves downhill off the tee and uphill into a deep, sliver of a green. The angle of the drive differs from each staggered tee complex, with reward going to those who challenge the cascading bunkers on the inside corner. It can be played as a two- or three-shot hole from different fairway positions depending on the risk players choose to take on. Many contestants illustrated this the type of classical strategic tee shot setup, but what most caught Charlton's attention was the green complex—a deep, thin putting surface flanked by bunkers that bears similarities to the fourth green at Pasatiempo, the ninth at Cypress Point or the current ninth at Augusta National, though MacKenzie didn't design that green.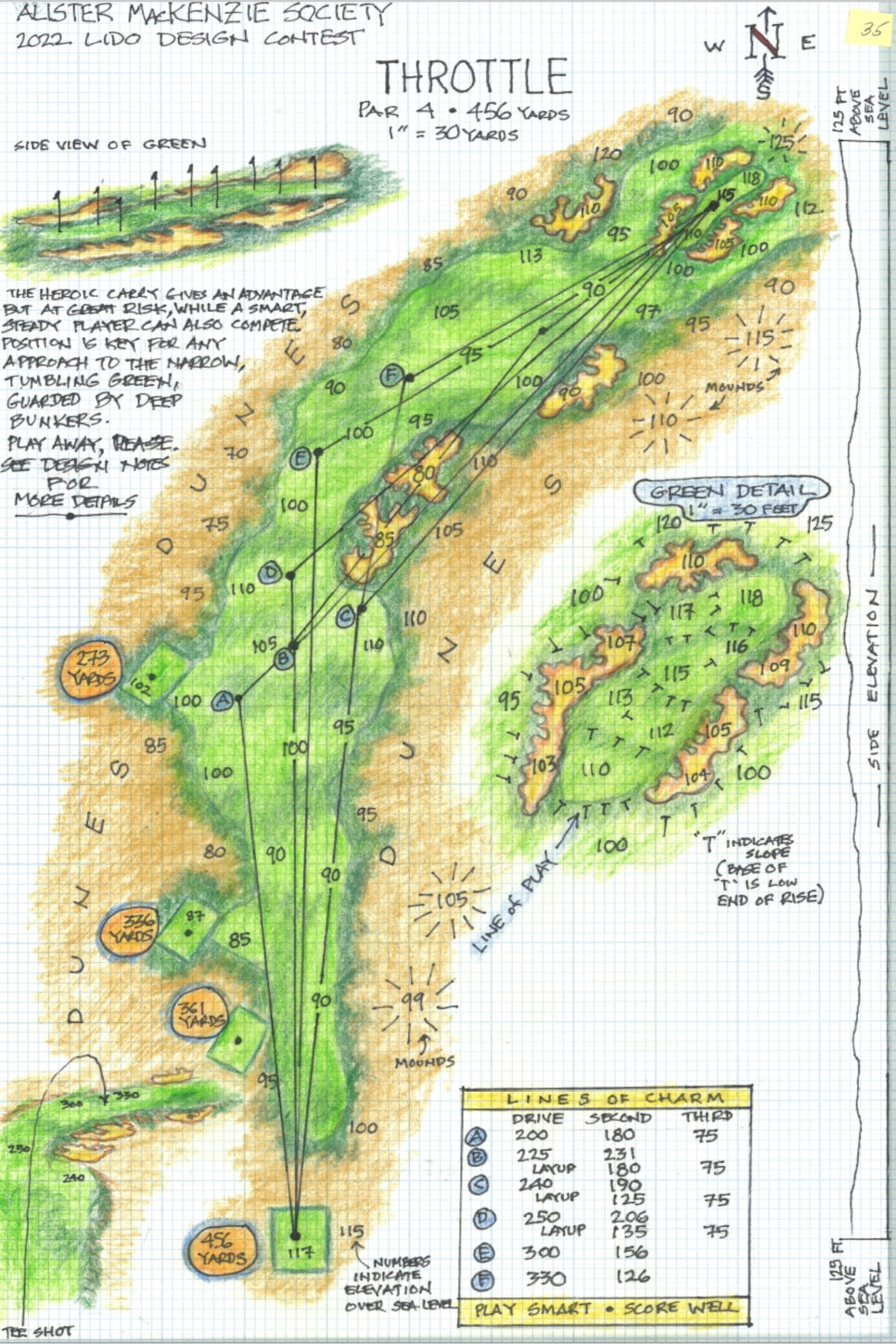 "What I really liked initially was the little side-view drawing of the green, which had these rollercoaster stair steps in it. It was just this very vivid, narrow green that MacKenzie would throw at you quite often," Charlton says. "It's not an artistic contest, but the presentation of the hole just pops off the page in terms of understanding it."
Gene Zanardi, who has chaired the Lido competition for the MacKenzie Society since inception in 1998, says that the quality of the entries has increased each year. Most of the roughly 65 entries this year were, "upper level," he says, a higher percentage than what was regular in the past.
Charlton agreed. "I loved all of them," he says. "But when it got down to the final five, I had to get really picky. And the one I ultimately selected was the one that did the best job of presenting the options, the elevations, had good description of plant material, it detailed the upper and lower levels of the hole, indicated wind direction, and the description clearly expressed knowledge of MacKenzie's philosophies."
There was enough information in the submission, Charlton says, that you could almost go out and build it as is. What better sign of a well-conceived and well-executed golf hole, even for an amateur architect?
Here are the rest of the finalists of the 2022 Alister MacKenzie Society Ray Haddock Lido prize:
From Robert Hoye of Dover, Mass.: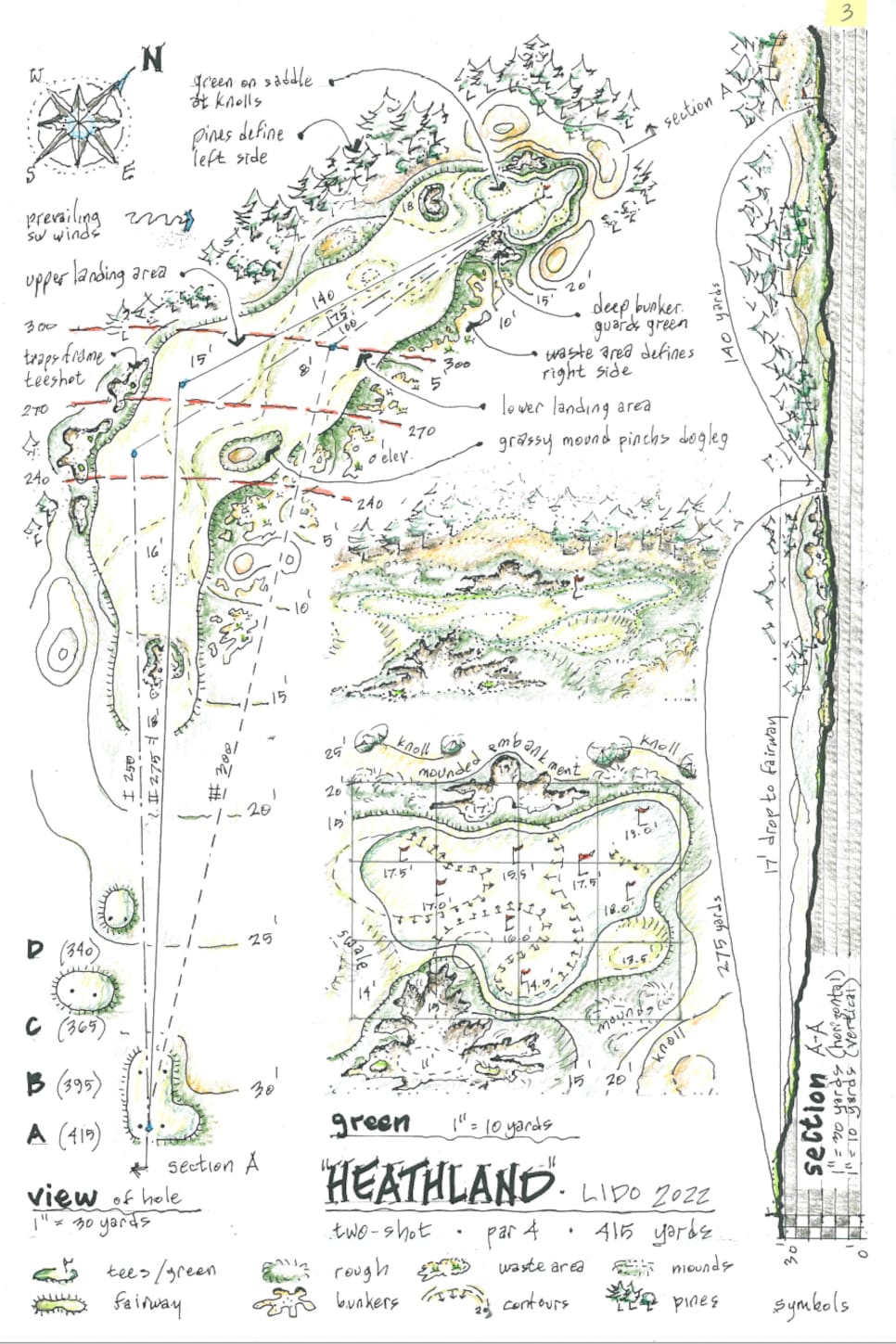 From Craig Snyder of San Diego: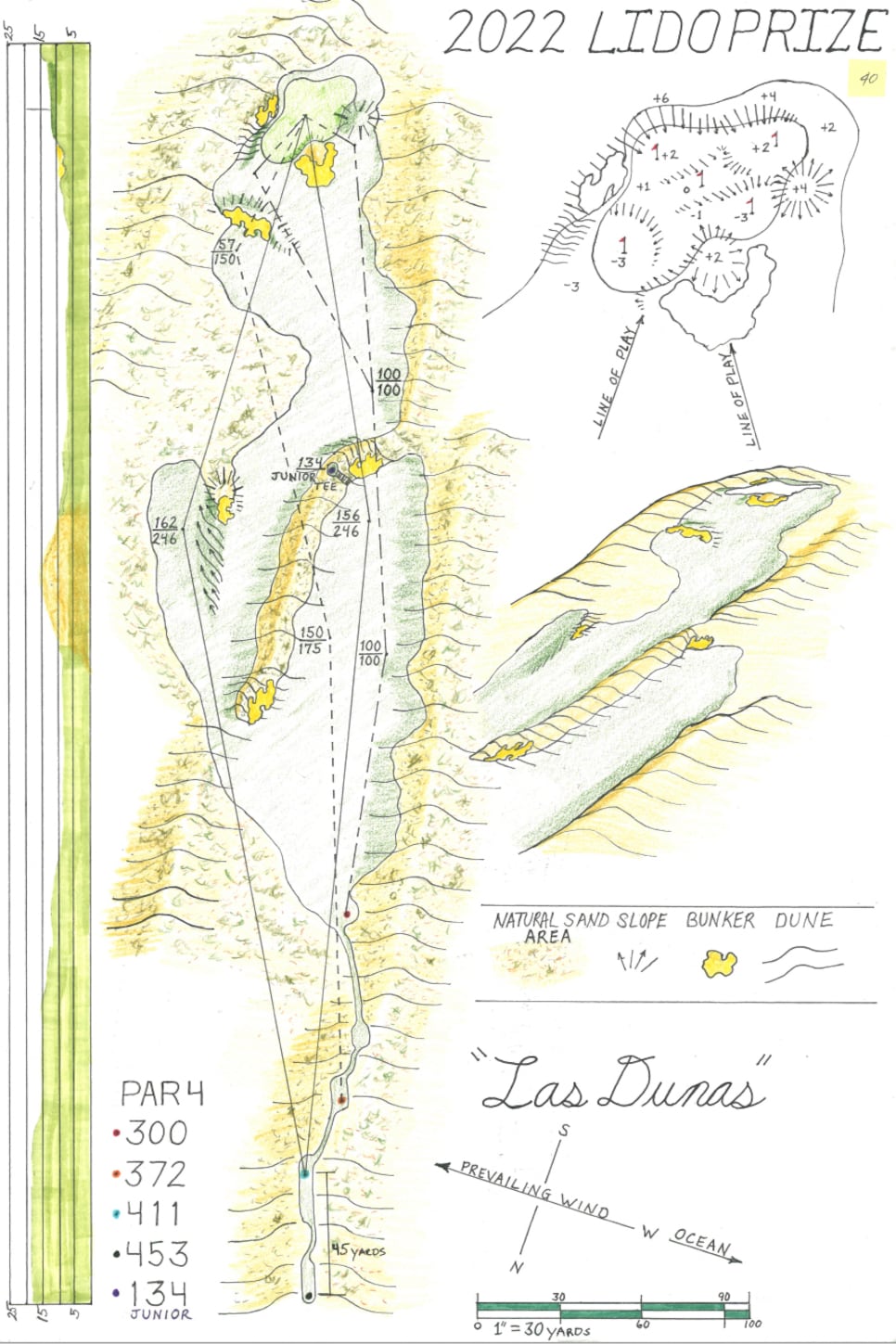 From Cameron Hurdus of Ventura, Calif.: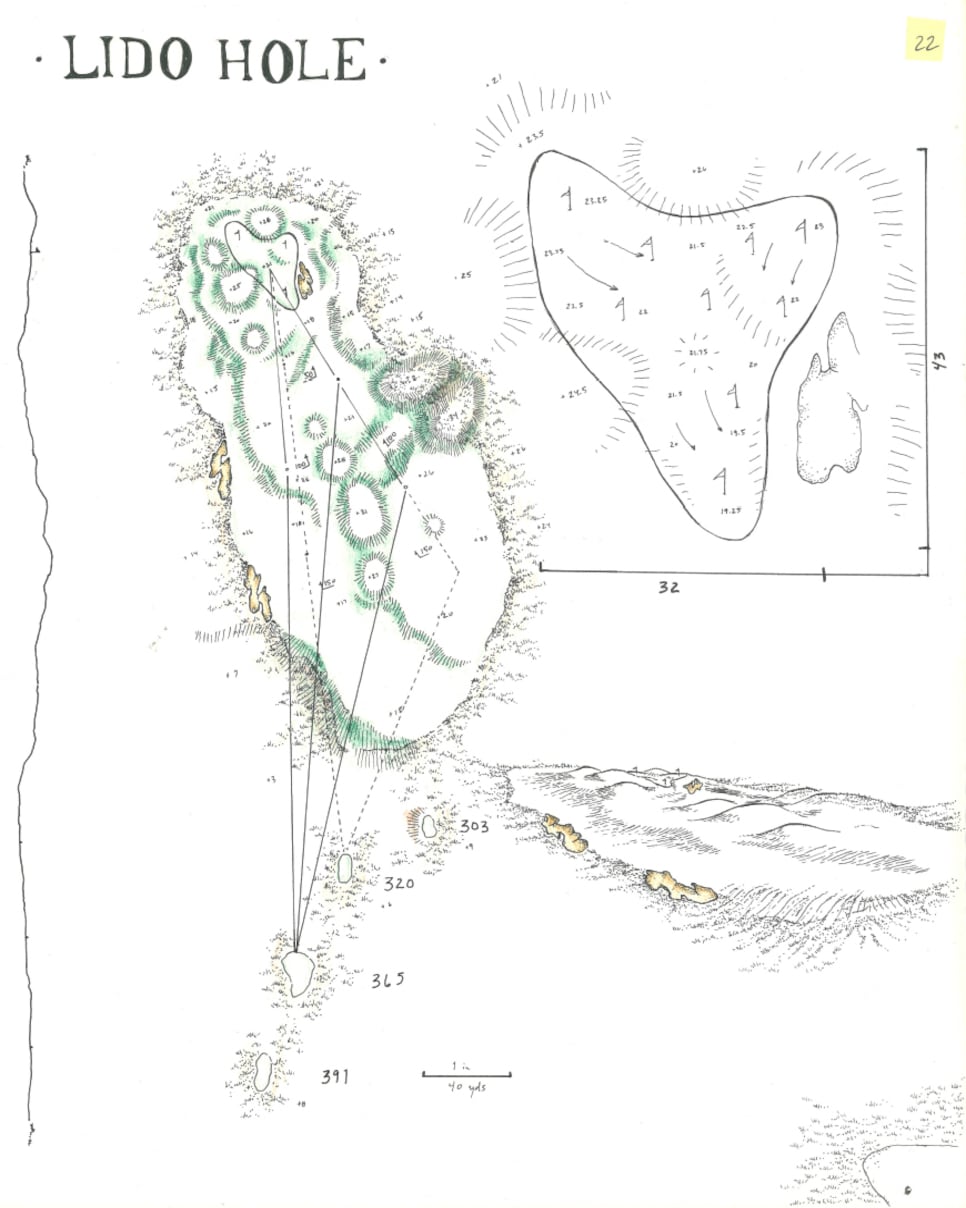 From Phillip Kent of Dallas: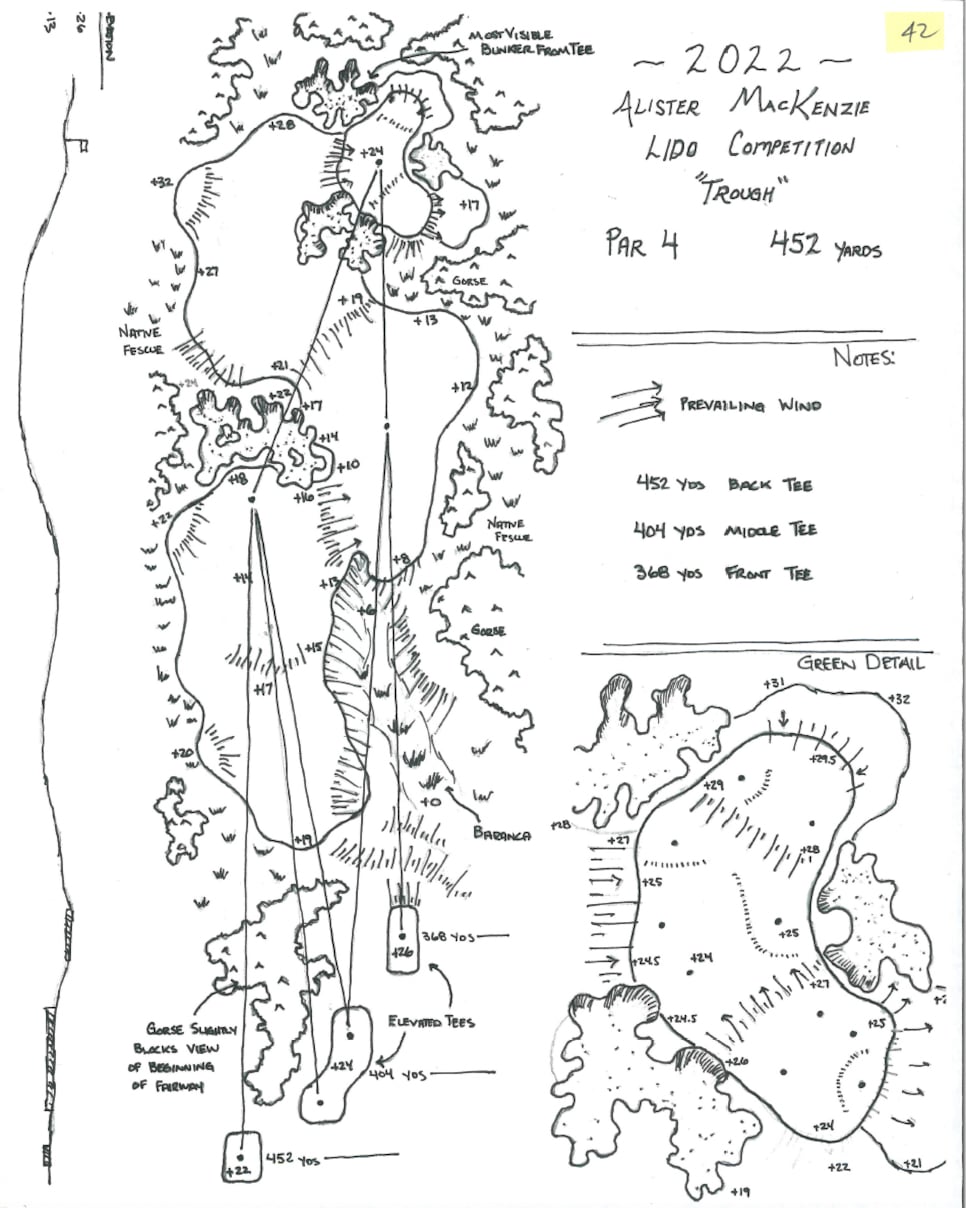 Watch Golf Digest's "Every Hole at: The Old Course" below: