News
The Lexi Thompson-Tony Finau team plays its way into contention at QBE Shootout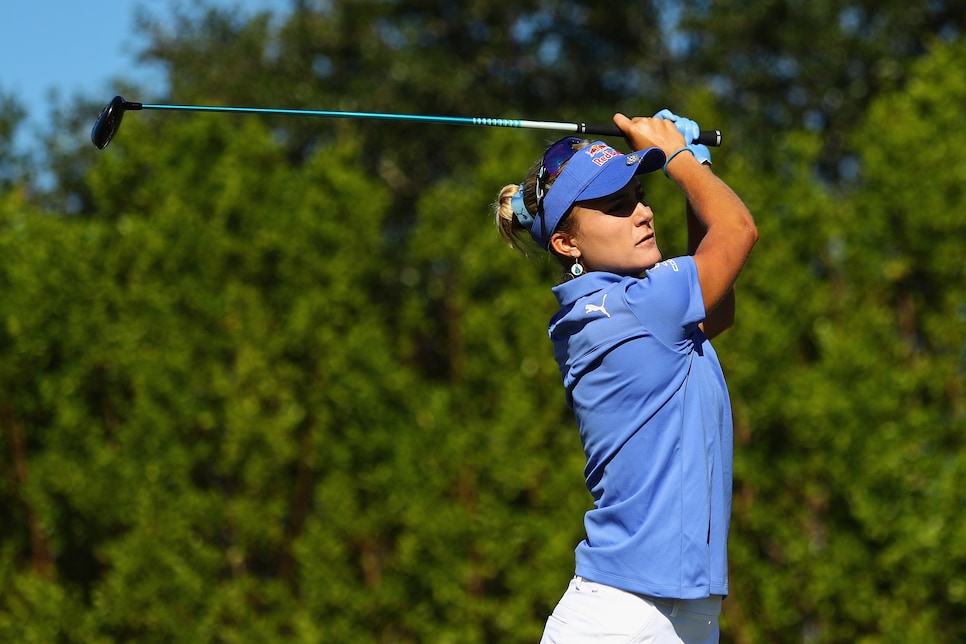 Lexi Thompson and Tony Finau still have a difficult task ahead, but the most interesting team in the QBE Shootout played itself into contention on Saturday.
Thompson, the lone woman in the field, teamed with Finau to shoot a six-under par 66 in a modified alternate shot format at Tiburon Golf Club in Naples, Fla., the second best round of the day.
They moved to within three shots of the co-leaders, the teams of Graeme McDowell-Shane Lowry and Steve Stricker-Sean O'Hair.
McDowell and Lowry posted an eight-under par 64 to complete 36 holes in 18-under par 126. Stricker and O'Hair, the solo first-round leaders, shot a 69.
"Alternate shot is a very tough format," Thompson said, "but I knew if I had Tony on my team and he could hit some of those tee shots out there we would be taking his ball for the most part. He's so nice and just getting to watch his game for the first time is very impressive. It's just impressive to watch all the guys and I'm just enjoying the week."
The final round will be played in a better ball format, which does not favor the Thompson-Finau team. Tiburon is playing in excess of 7,300 yards, typical for a men's event, while Thompson is accustomed to playing courses 6,600 yards or shorter on the LPGA.
If anyone has an advantage on Sunday, it might be McDowell and Lowry, a pair of Irishmen, who are as compatible as any team in the event. They are friends, were partners in the Handa World Cup of Golf in 2016, and often play practice rounds together.
Their opened with an eagle three at the first hole, followed with a birdie at two and went on to play a bogey-free round.
"We said coming in to the week it would be nice to go out to dinner on Saturday night with a chance to do something on Sunday and that's what we have. It's a fun week here and we're having a nice time."